News & Announcements
TFS welcomes artist-in-residence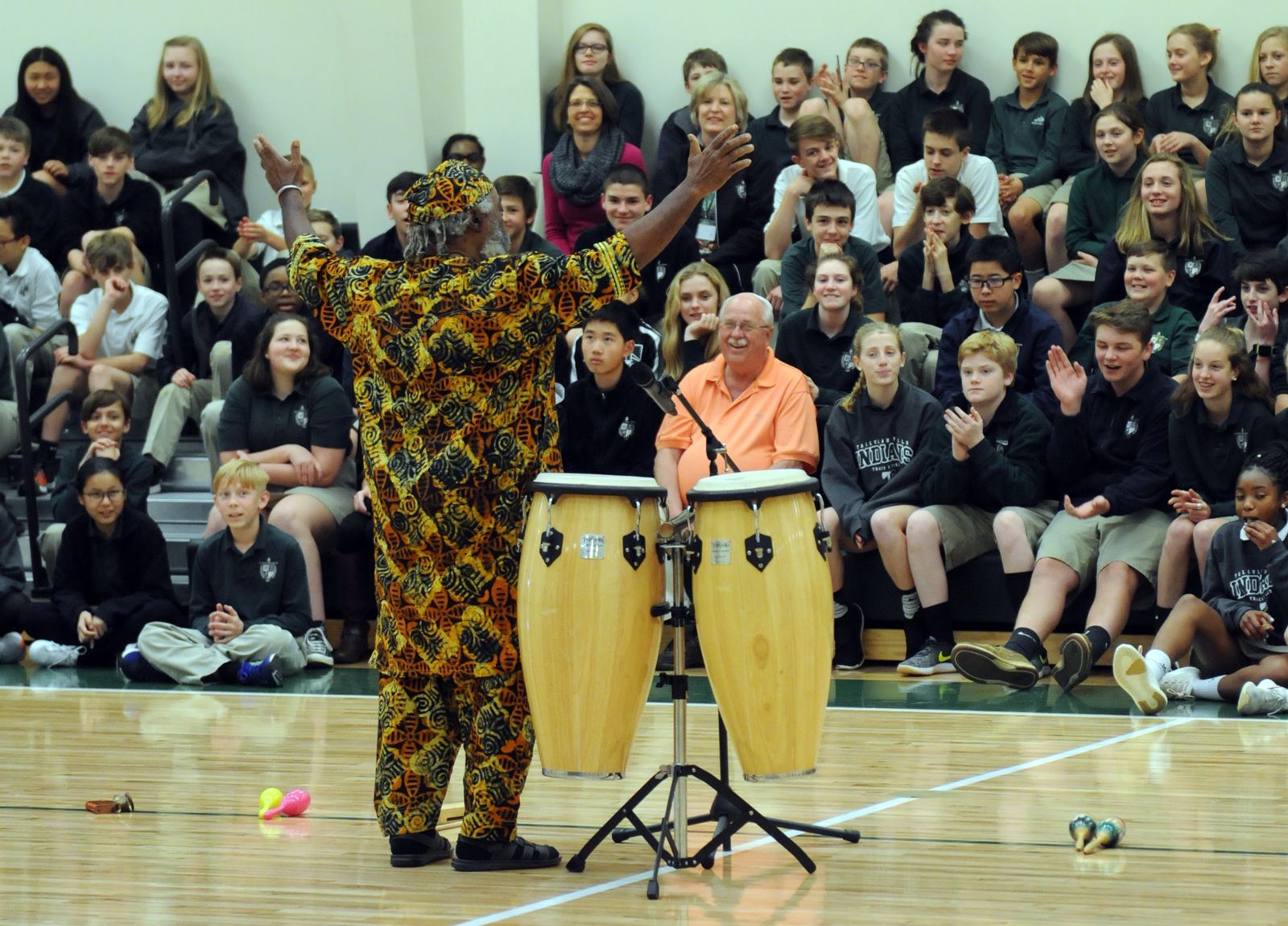 Tallulah Falls School middle school students received helpful insights into the art of telling a story as African storyteller Baba spent a week in residency at the school in March.
Known as Baba the Storyteller or Baba Raa, he is one of the few recognized U.S. born practitioners of the ancient West African storytelling craft known as Jaliyaa. Baba has received numerous awards over the years for his work as a folklorist, traditional harpist, storyteller, community activist and volunteer.
Baba has visited TFS numerous times over the last 10 years. Killeen Jensen, Georgia history teacher at the school coordinated Baba's weeklong residency.
"Our primary purpose for Baba's visit is to engage students with guidance from a professional storytelling artist," said Jensen. "We hope to improve each student's speaking skills for classroom presentations to include the eighth-grade final project presentations."
Middle school students seemed to thoroughly enjoy the special week.
"This week was one of my favorite weeks," said Brinna Docsol, an eighth-grader from Toccoa. "The skills that Baba Raa taught me to be a more confident speaker. I'm not nervous or afraid of people judging me anymore. Baba's great stories always put a smile to my face. The stories taught me great lessons and encouraged me to never give up."
Nafis Rahman, an eighth-grader from Mt. Airy, echoed Docsol's remarks.
"I had a wonderful and exciting time with Baba Raa this week," Rahman said. "He told us great stories and taught us good lessons that can be applied in our lives."
Baba has presented in hundreds of schools and other institutions and organizations around the world. He has been professionally recognized for his creative uses of storytelling and his commitment to community through his work with troubled teens. He has been recognized by the City of Long Beach as an Artist of the Year and received commendations from both the U.S. Senate and the U.S. Congress.
"Coming to Tallulah Falls School is a beautiful opportunity to touch the future through the students," said Baba. "I am so blessed to have the opportunity."
---
Photo:
Brian A. Boyd/Tallulah Falls School
Baba Raa leads an assembly for the entire TFS middle school.