News & Announcements
TFS junior division bass fishing team wins Lake Lanier tournament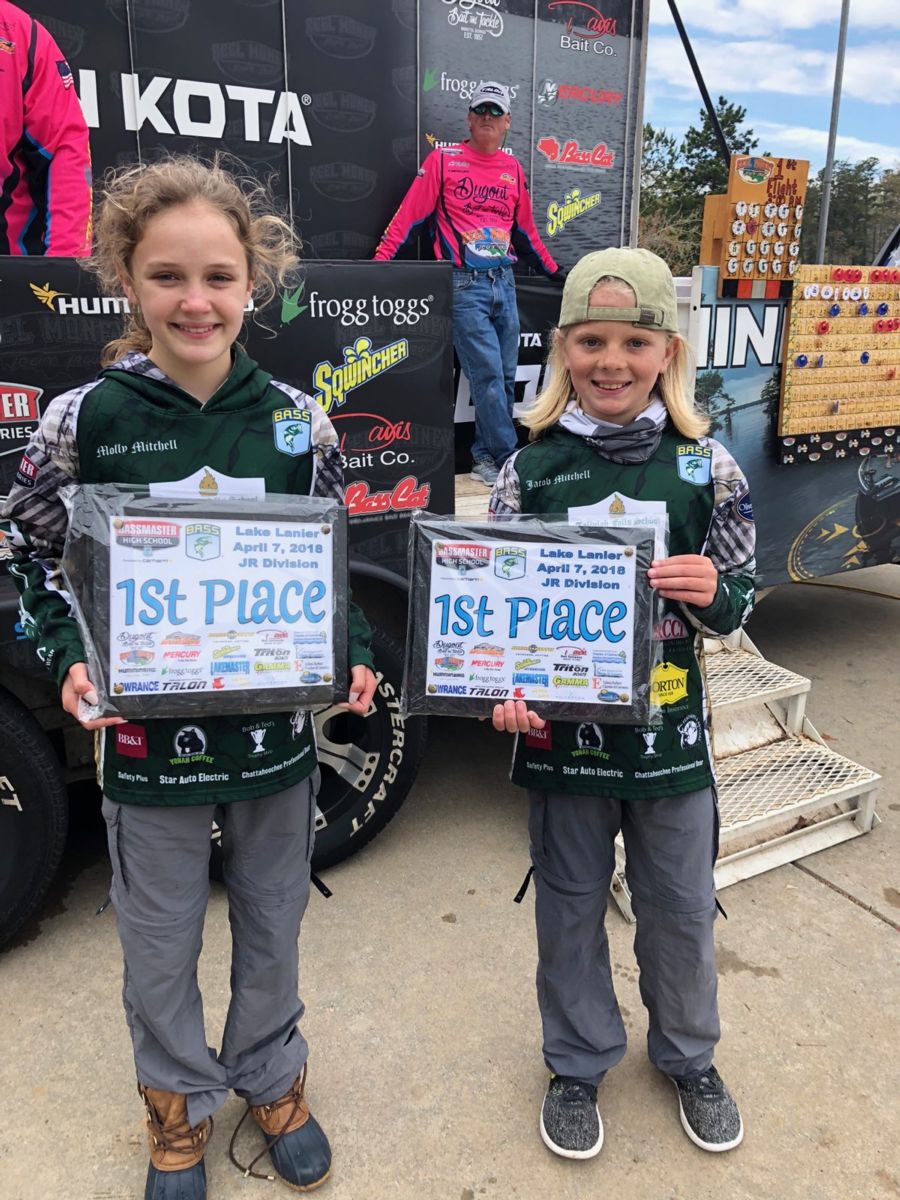 Bass fishing at Tallulah Falls School continues to capture rewards for dedicated student-anglers.
At the seventh regular-season Georgia Bass Nation High School tournament held at Lake Lanier on April 7, junior division sibling pair Molly and Jacob Mitchell earned a first-place finish.
The timing of the tournament during spring break allowed expanded time for pre-fishing, according to team captain Jeff Mitchell.
"The hard work finally paid off for the younger anglers," Mitchell said. "We had lots of bites in the morning, but couldn't get a fish to the boat. I have no idea why – we would have the fish on for five seconds then the fish just come off the hook. It happens; it's just tough to have that happen on tournament day. But around lunch, they hit their stride. Jacob started the flurry off with a nice spotted bass just shy of three pounds. Not long after that, Molly caught a trophy spotted bass weighing just shy of four pounds. At the next spot, Jacob caught a monster spotted bass tipping the scales at just shy of five pounds – his personal best spotted bass and the biggest bass weighed in the junior division."
The high school teams – Team Williams, Team Harrelson and Team Griffis – all brought fish to the scales.
Marshall Williams and Marshall Harrelson finished just out of the top 10 percent in the event but earned points rank them at No. 11 in the state and less than 20 points out of the top 10 teams.
Will Jackson and Thomas Harris caught a lot of fish during the event, but the bigger fish they were catching on Friday did not cooperate on Saturday, Mitchell said.
"Caleb and Caden Griffis were able to pre-fish a couple of days leading up to the tournament, but Lake Lanier's popularity thwarted their efforts," Mitchell said. "They found several locations on Friday that were holding fish. They tested the waters with hookless baits, a technique used by tournament anglers use to see if fish are biting in an area without actually catching them. They had good bites on three or four locations, only to show up Saturday to find other boats fishing in those areas. They were able to adjust and weigh in, but just could not muster the fish they needed to get into that elusive top 10 percent."
Mitchell emphasized the benefit of the timing of the tournament over spring break.
"All the anglers were able to get out on the water the week before the tournament," he said. "And what a great week for that to happen because Lake Lanier is on fire right now! If you want to experience some great bass fishing, you need to get down to Lake Lanier ASAP!"
TFS hosted the tournament, providing lunch for more than 400 anglers and captains.