News & Announcements
TFS Pit Vipers finish strong in barbecue competition debut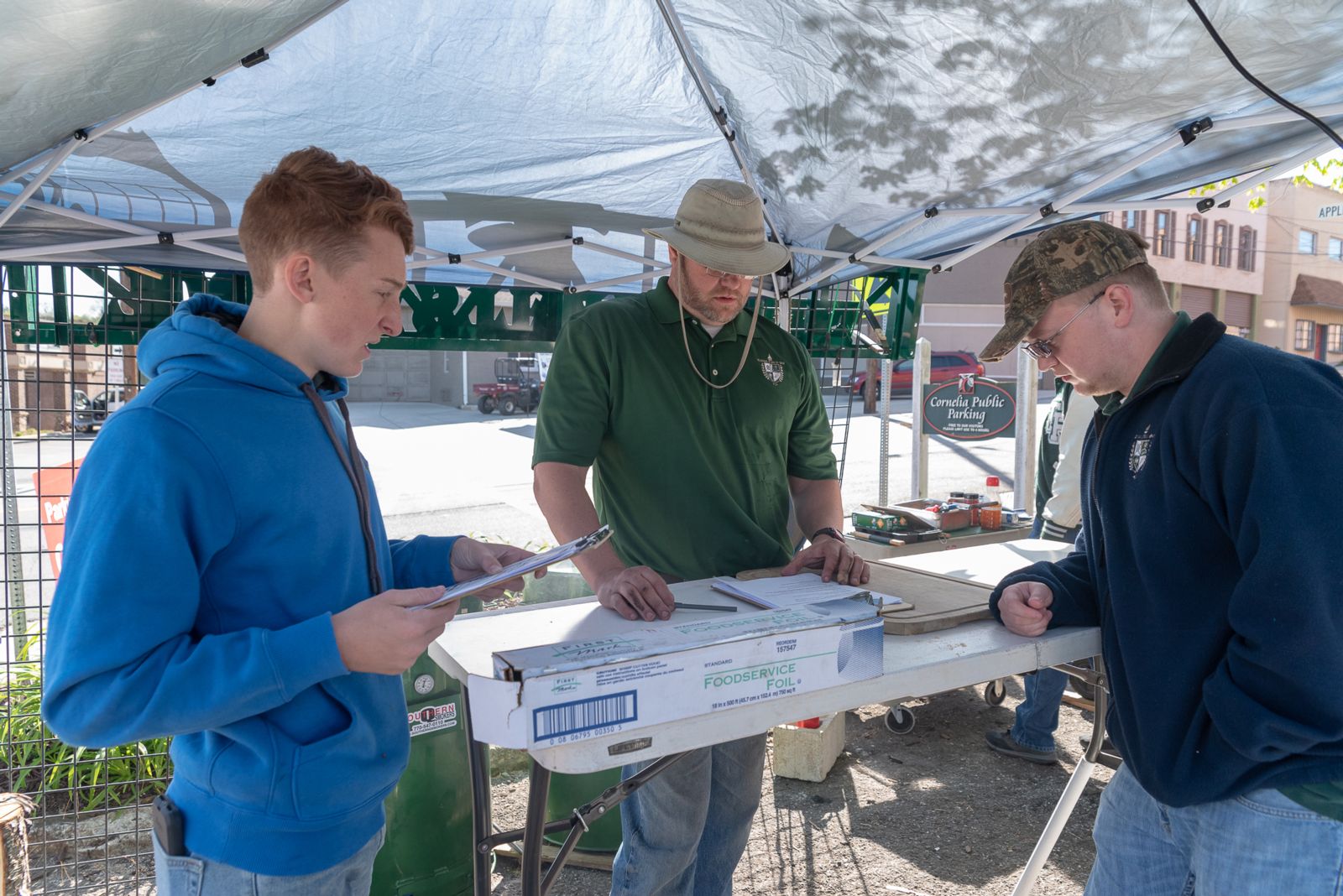 The Tallulah Falls School Pit Vipers barbecue club had a strong debut at the Apple Blossom Festival BBQ Competition held April 21-22 in downtown Cornelia. The Kansas City Barbeque Society (KCBS) sponsored 28 competition teams from all over the Southeast. The club, under the leadership of TFS history teacher Tom Tilley went "all-in," in its first outing.
According to Tilley, It didn't take long for all the barbecue teams and the many KCBS representatives to realize there was something different about this year's Apple Blossom Competition – the presence of teenage pitmasters.
"The KCBS representative gave a 20-minute speech and 10 minutes of it was praising the fact one team was a school full of teens," he said. "The other teams welcomed us with open arms, donating such things as high-end supplies and meat. Most appreciated was their willingness to share cooking tips with the students. Crimson Que of Baldwin offered to come teach the kids. Chattahoochee Que of Dacula donated eight pounds of chicken which fed us during the long hours of prepping on Friday night."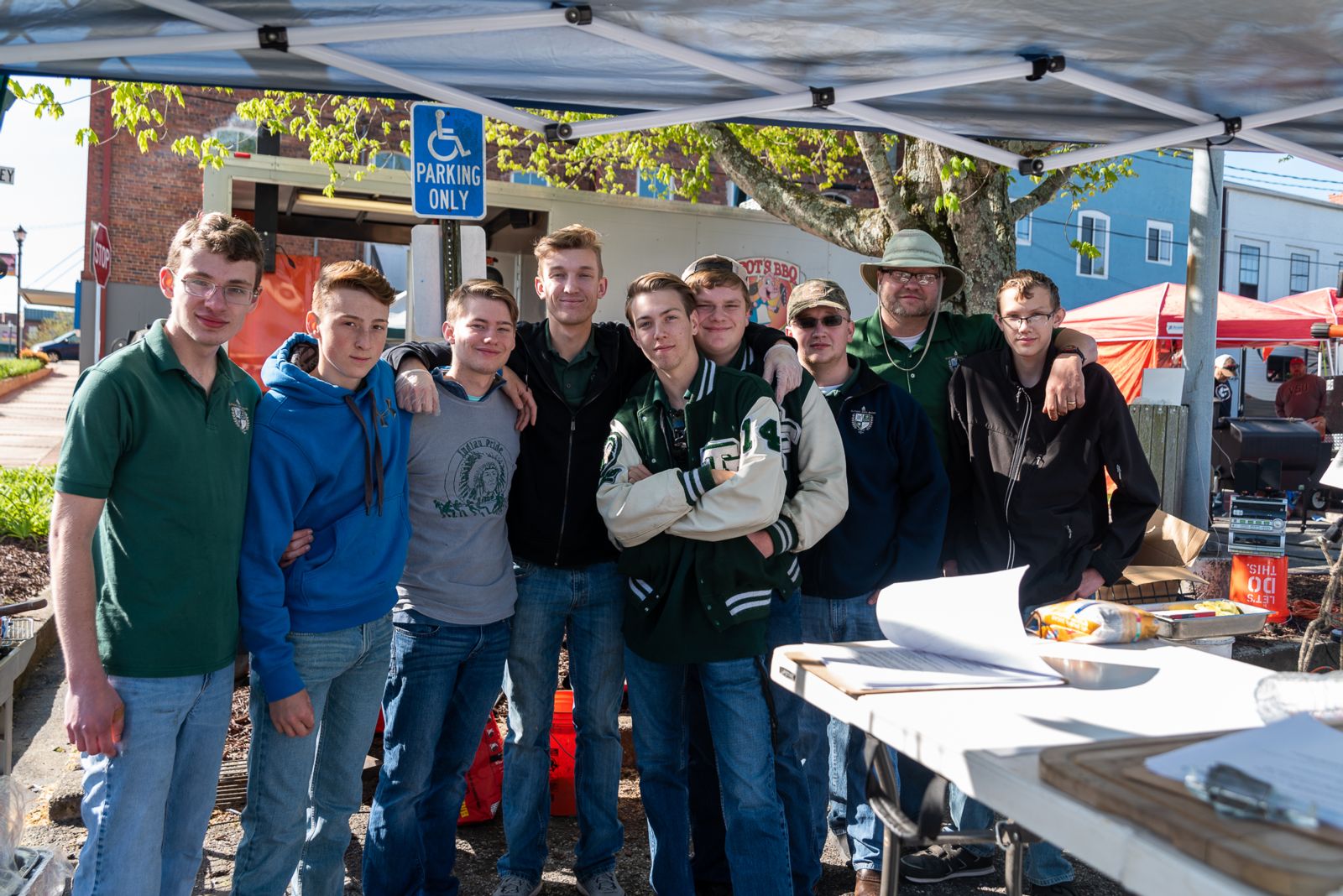 Ten of the 28 members of the newly formed club participated in the weekend event. Participating members included seniors Rylee Hunter of Cleveland, Noah Metcalf of Clarkesville, William Shanks of Clarkesville, Ian Carroll of Toccoa, Colton Meeks of Toccoa, Cade Bramlett of Clarkesville and Eli Clouatre of Clarkesville. Underclassmen included sophomore Darren Fortner of Mt. Airy, sophomore Luke Johnson of Clarkesville and freshman Ty Tilley of Tallulah Falls
The competition is divided into two categories: KCBS judging of both professional and backyard teams and People's Choice, judged by festival guests.
KCBS entrants are judged by a four-person panel with the lowest score thrown out.
The People's Choice category is judged via ticket with each ticket counting as one vote. The KCBS had three meats to judge: chicken, ribs and pulled pork. People's Choice expands the categories to nine meal options, including "Anything Chicken," "Anything Apple," "Pulled Pork" and "Brunswick Stew."
The TFS Pit Vipers worked as a team on the KCBS categories while the People's Choice events were optional among the students and selected individually.
Participants in People's Choice included Ty Tilley (Anything Chicken), Will Shanks (Anything Apple), Darren Fortner (Pulled Pork) and Eli Clouatre (Brunswick Stew).
According to Tilley, in the KCBS judging, the Pit Vipers had an outstanding debut, finishing No. 5 in KCBS Chicken, No. 4 in KCBS Pork, No. 2 in KCBS Ribs ($100 prize), and fifth Overall.
In People's Choice, "Anything Apple" William Shanks finished ninth and in "Anything Chicken" Ty Tilley placed first ($150 prize).
Tom Tilley's pride was evident in reflecting on the high-pressure culinary event.
"Every barbecue team's goal is to get "a call" or "a walk." A call is when the KCBS judges announce your team name, meaning you finished in the Top 4 and a walk is literally walking on stage to get a check, meaning you finished in the Top 3. To get two walks in a debut competition is incredible, not to mention these are teenagers. I am so proud of them."
Tom Tilley said the experience exceeded his expectations.
"Aside from refining their hands-on skills the Pit Vipers became part of a fraternity of barbecue enthusiasts – a family of people working together for a common goal: to have fun and be a part of something great. At the later stages of the competition, I noticed two TFS Pit Vipers helping another team who was a Vietnam vet working alone, as a runner (taking the turn-in box to the judges) and another Pit Viper loading someone else's equipment. That's what it's all about. I couldn't be prouder of these young men."
President and Head of School Larry A. Peevy added his congratulations to the group.
"This special-interest program is a great way to introduce students to a different aspect of life," Peevy said. "Hearing about the experience affirms my confidence in our students and how well they represent TFS in the community."