News & Announcements
Franklin named TFS Outstanding Former Student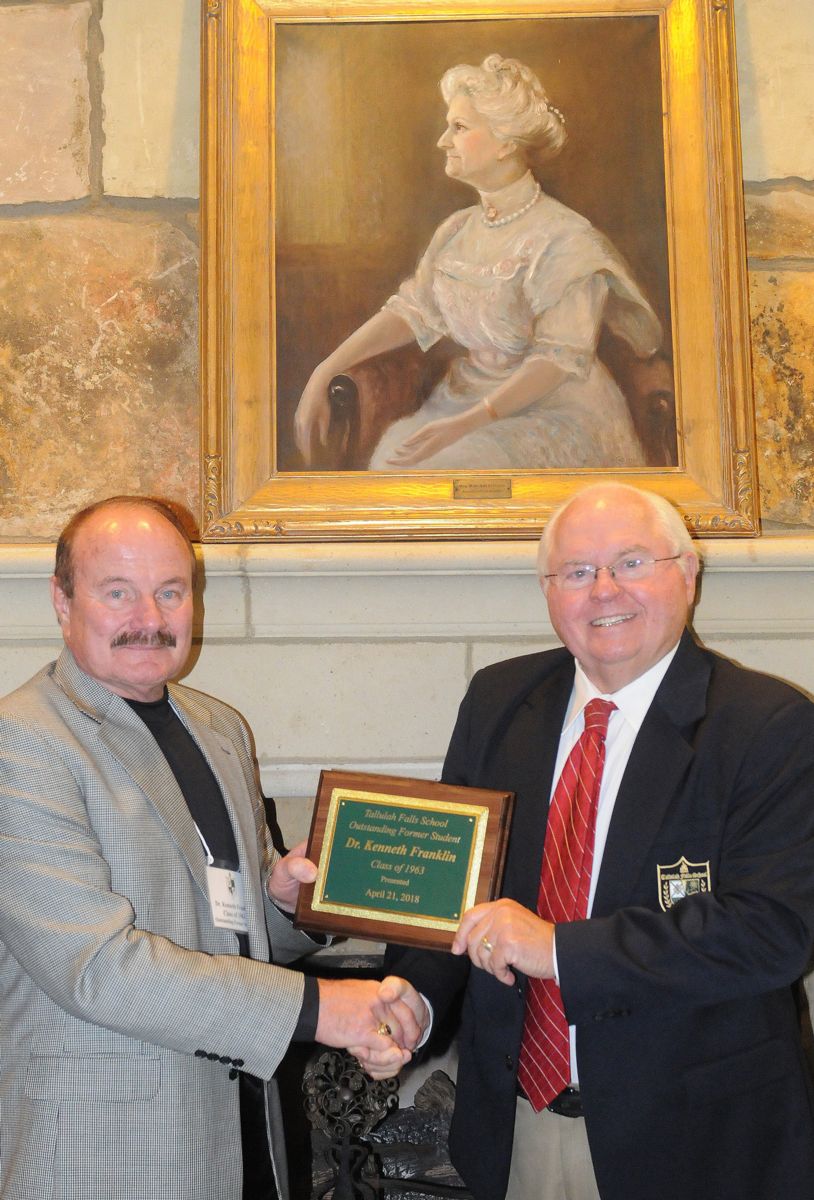 Dr. Kenneth Franklin, a 1963 graduate of Tallulah Falls School and resident of Turnerville, was named the 2018 Outstanding Former Student at the annual alumni homecoming luncheon, held April 21 at the school. Franklin accepted the award from TFS President and Head of School Larry A. Peevy.
"Kenneth has been a strong supporter of TFS for many years," Peevy said. "I can think of no one that represents the values we attempt to teach our students better than Kenneth. I am proud to call him my friend."
Following graduation in 1963 Franklin joined the U.S. Air Force where he served in a variety of capacities including a stint in combat security forces as a part of the Cold War. Afterward, Franklin attended Coosa Valley Technical School and North Georgia Technical College to acquire a degree in electronics. He holds a business degree from Truett-McConnell College, graduating with honors. Dr. Franklin also earned a PhD in Philosophy in Christian Counseling Psychology. He holds a Master's in Metaphysics and is currently working on a PhD in Metaphysics.
Franklin acquired firefighter training from the Georgia Fire Academy and from the Texas Fireman's School at Texas A&M University. He has served locally in emergency response for many years and was a member of the Tallulah Falls Fire Department from 1974-89.
Franklin was employed by the Georgia Power Company for 38 years (1967-2005). His job responsibilities included hydro-power plant operator, power plant electrician and electric team leader.
The versatile Franklin was ordained as a Baptist minister in 1982. He has served as pastor in several churches including Tallulah Falls Baptist Church where has pastored since 2005. He also volunteers as a chaplain for several local organizations.
Many local organizations have benefited from Franklin's generosity of time and talent. He logs many hours annually serving his community. He is a member of the American Legion, Volunteer Chaplains, past member of the Board of Associates of Tallulah Falls School, Citizens of Georgia Power, Tallulah Falls Chapter and is a member of the Georgia Egg Commission.
Franklin and his wife, Franchesca, have two grown children, four grandchildren and two great-grandchildren.
---
Photo:
Brian Boyd/Tallulah Falls School
Shown, from left, Dr. Kenneth Franklin receives a plaque from TFS President and Head of School Larry A. Peevy in recognition of being named the 2018 Outstanding Former Student.