News & Announcements
TFS senior named Gates Scholar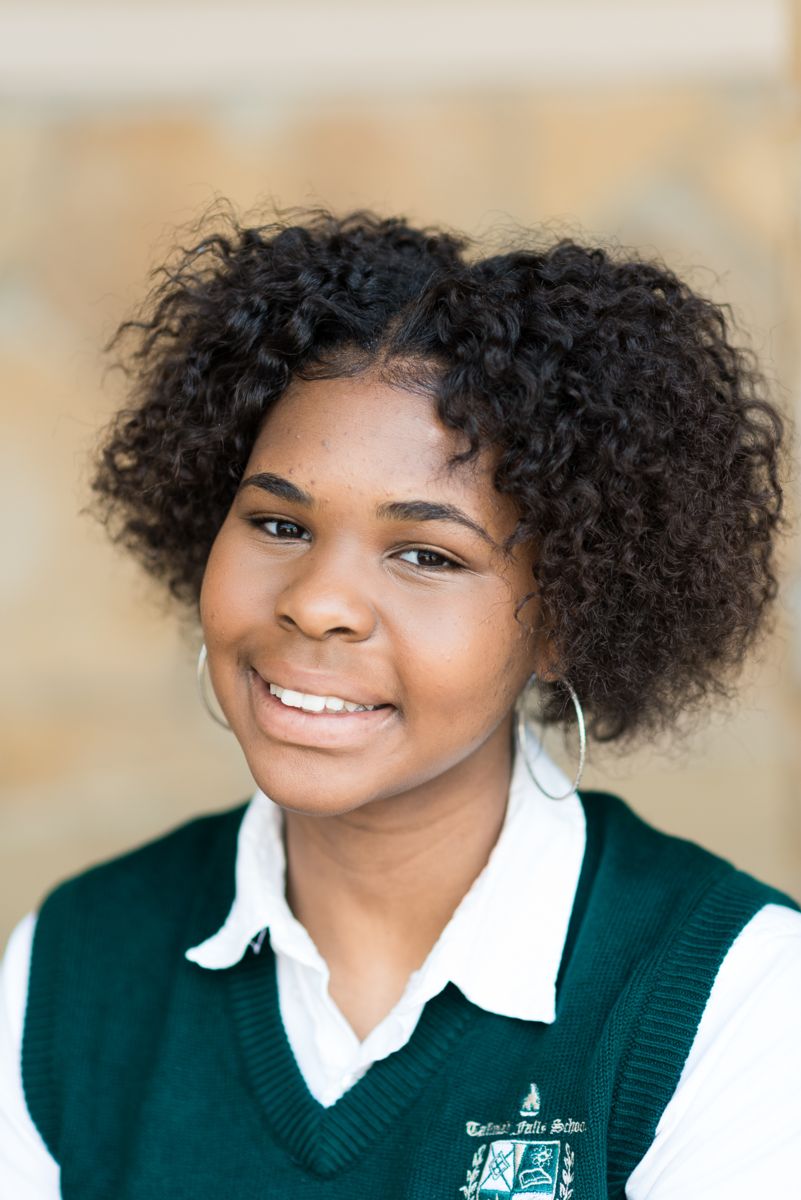 The Bill and Melinda Gates Foundation has named Tallulah Falls School senior Michelle Thevenin of Lithonia a member of the 2018 Gates Scholarship class.
Thevenin is one of 300 individuals accepted from a nationwide applicant pool of 28,700. According to the acceptance letter, she is a "member of an elite group of young leaders – all of whom represent the very pinnacle of academic achievement and have also left indelible marks on their respective high school communities, for service and commitment."
Thevenin applied last summer and was notified she was a semifinalist in November.
"I was required to send in two teacher recommendations. I had Mrs. Kelli Bly and Coach Van Hooser complete the teacher recommendations for me," Thevenin said. "I also had to answer four writing prompts by January. The essays were the most tedious and time-consuming part for me."
An interview was the next step in the application process, she said.
"On April 25, at 7:30 p.m. I was informed that I was chosen…," she said. "When I saw the title message of the email that said 'Congratulations!' I was overwhelmed with joy. It almost felt as if I were dreaming. I immediately called my mom to tell her the good news."
She will now have access to a network of scholars and other support services including mentoring, academic support, career and internship guidance, advice, internship and job opportunities and online courses.
"They [Gates Foundation] will help me prepare for professional life and add me to a network of fellow scholars and other distinguished individuals," she said. "This will be useful for me when I try to find a job in electrical engineering."
In addition to the benefits of being a part of this prestigious group, Thevenin will have access to funding for college defined as a "last-dollar" award. The funding assures that students have no other cost of attendance beyond the Expected Family Contribution as determined by the Free Application for Federal Student Aid [FAFSA]. This includes tuition, books, supplies, room and board, transportation and personal expenses.
"Since I won't have to pay for my undergraduate years, I can start saving to pay for graduate school which I know will be expensive," she said.
After graduating from TFS, Thevenin plans to attend Boston University to pursue a degree in electrical engineering. She was also accepted to Purdue University, Georgia Tech and the University of Georgia.
She is confident her foundation at TFS will serve her well as she takes the next step toward a successful future. She is grateful for the experience and to the faculty and staff.
"TFS has allowed me to prepare myself for college by teaching how to effectively manage my time which will be very important in college," she said. "Mrs. Bly has been very inspirational to me. She is always very caring toward everyone and always wants the best for her students. She did my recommendation for this scholarship and does not hesitate when I ask her to do anything for me. I will forever be grateful to her for everything she has done for me these past two years. I would also like to thank Mrs. [Annette] Cochran for taking me on multiple engineering expeditions this year because I have learned a lot from them."
According to Upper School Academic Dean Kim Popham, Thevenin has honed strong leadership skills in her engineering classes at TFS.
"Michelle has been a wonderful mentor to her younger classmates," Popham said. "We are confident her leadership abilities will serve her well in the future."
President and Head of School Larry A. Peevy confirmed Thevenin was the second student from Tallulah Falls School to receive support from the Gates Foundation.
"We know from past experience the doors this opportunity will open for Michelle," Peevy said. "With her commitment to this program and her intelligence, drive and strong character, Michelle's future success is assured."
All Gates Scholars will gather in June for The Gates Scholarship Summer Institute to learn about the program and how it will impact the future.
Several of Thevenin's teachers and her guidance counselor shared thoughts on her work ethic, drive and potential for success:
Kelli Bly, English teacher
Michelle has been a student of mine for two years (and a guest in my home on several occasions), and I am so fortunate to have met her. She is an unassuming young woman, but it is quite evident that there is an enthusiasm, a dedication and a passion in place for everything she pursues and accomplishes. I feel very honored to have been a part of the process of helping Michelle to achieve the Gates Scholarship by writing her recommendation. I have absolutely no doubt that she is going to make an impact in her life. I'm very proud of her.
---
Dr. Wanda Morris, science teacher
Michelle has been a joy to teach – intelligent, hardworking, dependable and well-rounded. She is focused and goal oriented. She will go far.
---
Beth Huebner, science teacher
Michelle is a bright young lady who is a pleasure to work with. Her dedication and commitment to excellence will serve her well in the future.
---
Michelle Barron, guidance counselor
Michelle Thevenin is an amazing young lady who is committed to excellence and exemplifies the attributes of academic achievement, leadership, service and character. She is quick to serve others and demonstrates an authentic regard for everyone. Michelle has made a positive impact on our campus and will undoubtedly continue to do so at Boston University. I am very proud of this amazing young lady.