News & Announcements
TFS Pit Vipers learn from Georgia's top barbecue chefs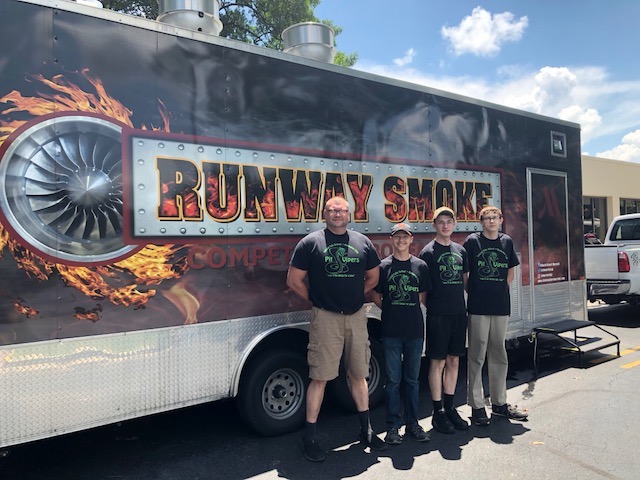 The Tallulah Falls School Pit Vipers barbecue club traveled to Atlanta in June to learn from the 2017 Georgia Barbecue Champions.
The teams included Angry Jack BBQ, No. 1 in Ribs, from Woodstock, Yes, Dear BBQ, No. 1 in Pulled Pork & Ribs, from Savannah and Bald Hawg BBQ, No. 1 in Brisket, from Simpsonville, SC among other top teams.
"A lot goes into building a championship barbecue team and the TFS Pit Vipers were eager to learn," said Tom Tilley, club coach.
Attending with Tilley were junior A.J. Hayes of Cornelia, junior Darren Fortner of Mt. Airy and sophomore Tyrus Tilley of Tallulah Falls.
The Georgia champions instructed TFS students and others on how to compete in the four main Kansas City Barbeque Society meat categories and reviewed other skills such as meat selection, preparation, trimming, rub and sauce selections and box building.
"What could be better? The kids had fun, they learned a lot and they got to taste some great barbecue," Tom Tilley said. "Of course, it was all strictly research."
The TFS Pit Vipers will next compete in the Southern Classic BBQ Competition on Aug. 25 in Madison.
"We invite folks to stop by and see us in Madison and be on the lookout for the Pit Vipers supplying barbecue during the school year," Tom Tilley said.
---
Photo courtesy of Tallulah Falls School
Shown, from left, are TFS Pit Vipers Tom Tilley, coach, A.J. Hayes, Darren Fortner and Ty Tilley.