News & Announcements
Four students honored by Habersham Rotary Club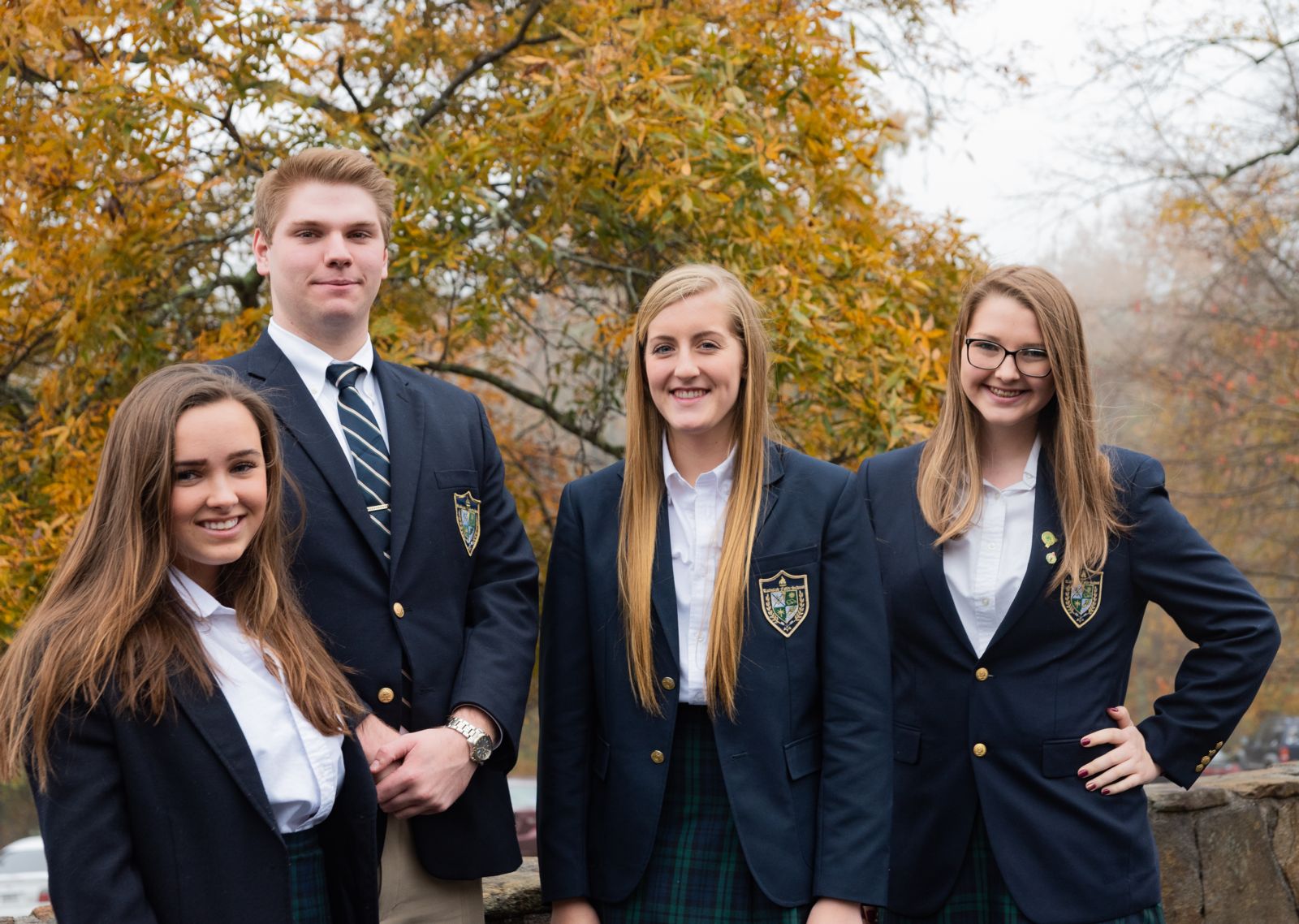 Four accomplished Tallulah Falls School students were recognized during the Nov. 15 Habersham Rotary Club meeting as the students of the quarter.
Dean of Students Jimmy Franklin and President and Head of School Larry A. Peevy accompanied the students to the meeting. Several parents were also present for the event.
"The students are living out the school mission," Peevy said. "They demonstrate a commitment to success in life with an unwavering desire to serve and a drive for excellence."
Honored students are as follows:
Freshman Madison Perdue
Madison Perdue of Clayton is the daughter of Mark and Jodi Perdue. Perdue is involved in Juniorettes, Tome Society, yearbook, and theater. She recently played one of the leading roles in our One Act production of James and the Giant Peach. At competition, she was named an All-Star Cast Member for her or her portrayal as James' mean Aunt Spiker.
Her teachers have said that she is an excellent student as well as a person. She truly shined for TFS at One Act competition on and off the stage. Maddie is extremely kind and outgoing. This young woman has the great ability to always look on the bright side of things. She never complains and encourages her classmates to be positive. She always comes to class ready to learn and is engaged every day.
---
Sophomore Katy Corbett
Katy Corbett of Lakemont is the daughter of Tim and Brandy Corbett. Corbett is a member of the National Honor Society and the National Art Honor Society. She's a school Ambassador, treasurer for Juniorettes, and a member of FCA. She's also on the volleyball and basketball teams.
Her teachers have said that she's respectful, helpful, mature, intelligent, and involved. She works hard and always has a smile and a warm comment.
---
Junior Matthew Weidner
Matthew Weidner of Clarkesville is the son of Jim and Susan Weidner. Weidner is on the varsity basketball team. He is a member of FCA and Key Club.
His teachers have said they are really proud of the leadership Matthew took to organize the school-wide basketball canned food drive. His concern for others is impressive. They also said they have known Matthew since he was a seventh grader across the street at the middle school and have watched him grow into the young man he is today. On the basketball court, he is a force. It is evident in his playing that he is as passionate about his own performance as he is about the team's. In so many ways, Matthew displays attributes that he will continue to polish throughout his life; these attributes will ensure his success and his contributions toward others. I am excited to see the young man whom Matthew will become.
---
Senior Mandy Santana
Mandy Santana of Charleston, SC, is the daughter of Brandy Santana and the granddaughter of Debra Spencer.
Her teachers have said Santana is a quiet, but dedicated worker. In the classroom, she works to enhance her own knowledge and maintains her grades with a tough schedule. Whenever volunteers are needed, she's ready to step up and lend a hand. At school events, she can be seen helping or cheering alongside her classmates. She is an outgoing and helpful student. She is always willing to lend a helping hand to classmates and those in the grades below her. In the dorms, she is a wonderful role model for the younger girls by offering advice and leading through her actions. As far as respectfulness goes, she is one of the best students.
---
Shown, from left, are Mandy Santana, Matthew Weidner, Katy Corbett and Madison Perdue.