News & Announcements
TFS inducts five into inaugural Athletic Legends Hall of Honor class of 2018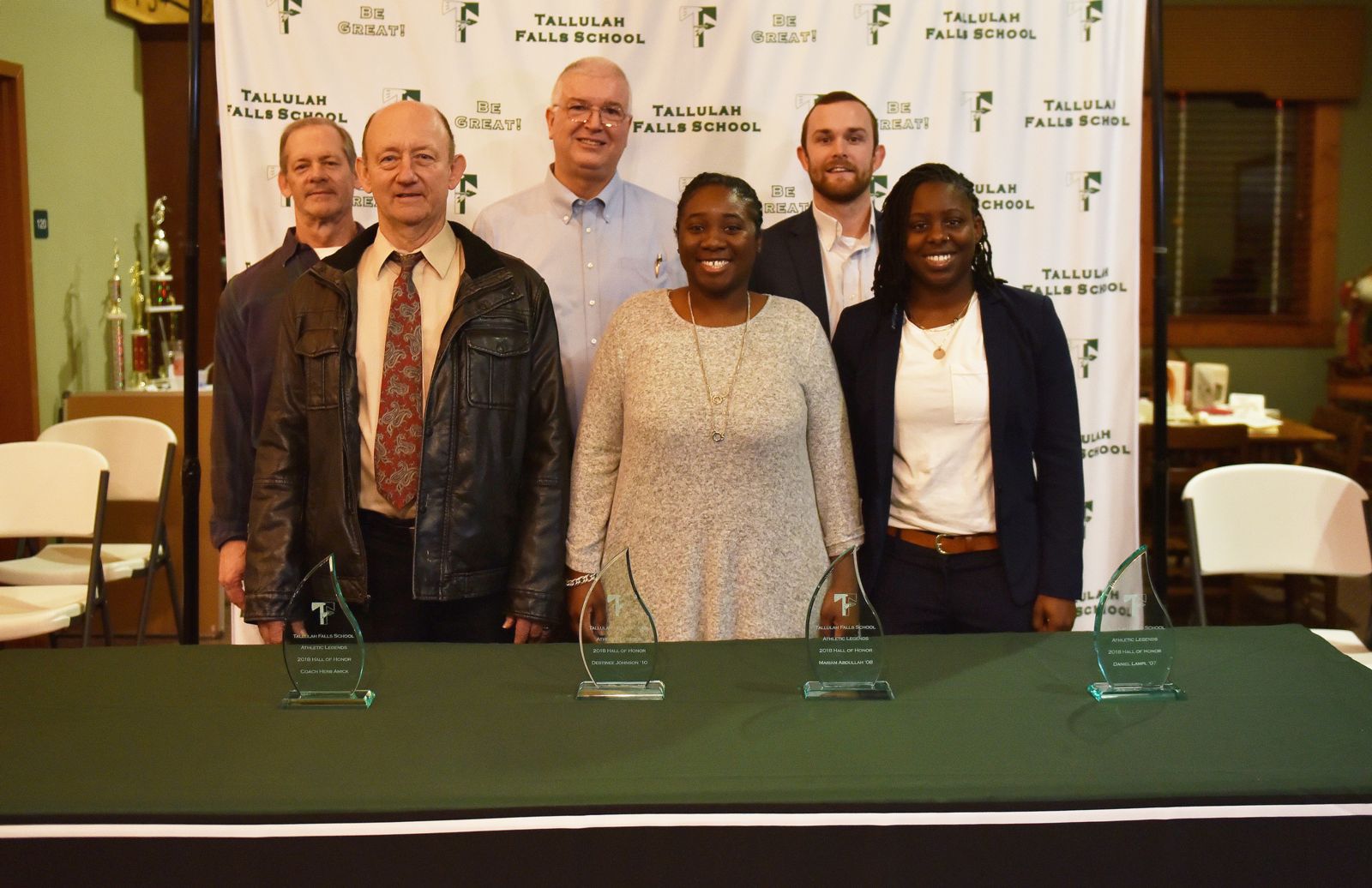 Tallulah Falls School inducted five charter members into its newly-established Athletic Legends Hall of Honor in a ceremony held on Friday, Dec. 14.
The pioneering members of the Hall of Honor are Mariam Abdullah, Herb Amick, Mike Dale, Destinee Johnson and Daniel Lampl.
According to TFS Athletic Director Scott Neal, the Athletic Legends Hall of Honor was created to honor former TFS students and coaches who left an impactful legacy for others to follow and emulate.
"We have had this project on the back burner for some time now, but varsity boys basketball coach Jim Van Hooser had some great ideas and was the impetus for the timing," said Neal. "His leadership and support, as with as all of his endeavors, was superb."
"We are so proud of our 2018 inaugural inductees and want their light to continue to shine brightly from the mountains of TFS," Neal continued. "It is a privilege for TFS to remember and recognize our Legends who have developed excellence with GREAT character in their performances, teams, the athletic program, school and community."
---
Mariam Abdullah
Mariam Abdullah, a graduate of the TFS Class of 2008, is one of the most accomplished athletes to ever don a TFS uniform. Abdullah's athletic achievements include four-time TFS track & field Most Valuable Performer, three-time region long-jump champion, three-time region triple-jump champion, three-time Indian of the Year and holder of 14 school records. She holds numerous TFS state track & field records as well. She was an accomplished multi-sport athlete which also included volleyball and basketball.
Abdullah earned numerous other accolades for her academic prowess and as a member of the TFS community. She was selected as a TFS Student Ambassador, received Boarding Student of the Year honors, was a member of the Tri-M Music Honor Society and was elected as president of her junior class and senior class.
Following graduation, Abdullah attended Winthrop University where she earned a Bachelor's Degree in Business Administration (Entrepreneurship). She also competed collegiately in track & field at Winthrop for four years. Following college, Abdullah was employed with Playworks Colorado as a regional trainer and is the founder of Culture Energized. She was recognized as Playworks' Rookie Coach of the Year and was the Head Coordinator for the White House 'Bring Your Kid to Work' event. The TFS Alumni Association recognized Abdullah in 2015 with the Outstanding Former Student Award.
---
Hervey "Herb" Amick
Hervey "Herb" Amick is a pioneering athletic figure at TFS. Amick arrived at TFS in 1953 and his influence was felt across the campus as he served in a variety of capacities. Amick was the school's first athletic director, first full-time coach and started interscholastic football, basketball and track & field programs. Amick came to TFS at a time when athletic facilities were virtually non-existent. He supervised the construction of the football field. Under his direction, the fledgling football program became competitive and enjoyed several winning seasons.
Amick's former players have described him as a "father figure," "a guiding light," "an exceptional coach," "dedicated," and a "great influence."
Amick's TFS tenure ended in 1957 when he accepted a position at Stephens County High School. He went on to earn Coach of the Year honors in 1958 and 1959. His 1958 team won the state championship (12-0 record) and his 1959 team also went to the state finals. Amick went on to have a successful career in academic administration and served as principal at Forest Park High School. Amick passed away in 2014 and Tallulah Falls School honored him the very next year by naming the upper field in his honor.
---
Mike Dale
The second coach to be honored was Mike Dale, who enjoyed a 38-year career at TFS. Dale began his TFS adventure in 1978 and over his long and successful tenure served as dorm counselor, dean of students, director of boarding, director of giving, director of information services, athletic director and manager of Tallulah Gallery. Dale is credited with resurrecting the cross country and track & field programs in the mid-1980s. In 1990 his cross country team won the region cross country championship and he was subsequently named the Region 8A cross country coach of the year.
During his acceptance remarks, Dale commented on the early days of the school's relatively small athletic program.
"We were always the underdogs," Dale said. "We were always outnumbered. These obstacles became tremendous motivators. I challenged each athlete to be the best he or she could be, not just in athletics but in the classroom and in life."
---
Destinee Johnson
Destinee Johnson, Class of 2010, attended Tallulah Falls School from seventh through twelfth grade. She went on to earn her bachelor's degree from Emmanuel College in Sports Management in 2015. Johnson was a four-year participant in volleyball, basketball and track & field. Her many TFS accolades include both the Coach's Award and the Heart Award in basketball, Coach's Award in track & field, Outstanding Strength & Conditioning Award and Indian of the Year for the 2009-10 academic year.
During her collegiate career at Emmanuel College, Johnson competed in track and field, basketball and lacrosse, earning a varsity letter and receiving the Coach's Award in lacrosse. She earned All-Academic Team honors and ended her collegiate lacrosse career at Emmanuel as the #2 in ground balls. Johnson also served on the Emmanuel College student-athlete advisory committee.
After college Johnson served as an assistant coach for the University of Alabama - Huntsville lacrosse team for two years before being named the head women's lacrosse coach at the University of Dallas, where she is currently in her third year with the program. She lists among her goals to continue to grow the sport of lacrosse, to continue to mentor young athletes to eventually coach at the Division One level and to start lacrosse at TFS.
---
Daniel Lampl
2007 TFS graduate Daniel Lampl is the final of three athletes inducted into the Athletic Legends Hall of Honor this year. Lampl was a basketball standout during his TFS tenure. The TFS basketball team earned state qualifier status for two years while Lampl was a member. The 2005-06 squad fought their way to a 26-4 record and region runner-up honors. The 2006-07 team was also region runner-up and progressed into the Sweet 16 of the state playoffs before bowing out, a first for TFS. Lampl was named the Most Valuable Player for his senior season.
Following his graduation, Lampl continued his basketball career at Piedmont College where he played for four years. Lampl earned all freshman-team honors as well as all-academic team honors for all four years of his collegiate career. Following the 2010-11 season, Lampl was one of four Piedmont men's basketball players to be named to the National Association of Basketball Coaches Honors Court. Lampl was also named the team's Most Valuable Player his senior season.
Lampl graduated magna cum laude from Piedmont with a Bachelor's in General Business and graduated summa cum laude with a Master's in Business Administration. While earning his MBA, he served as an assistant coach on the Piedmont women's basketball team. Lampl founded DL Impact, a youth basketball skill development and life lessons program, and has worked with Mansfield Oil and Waste Management, Inc.