News & Announcements
TFS senior signs with Florida Gulf Coast University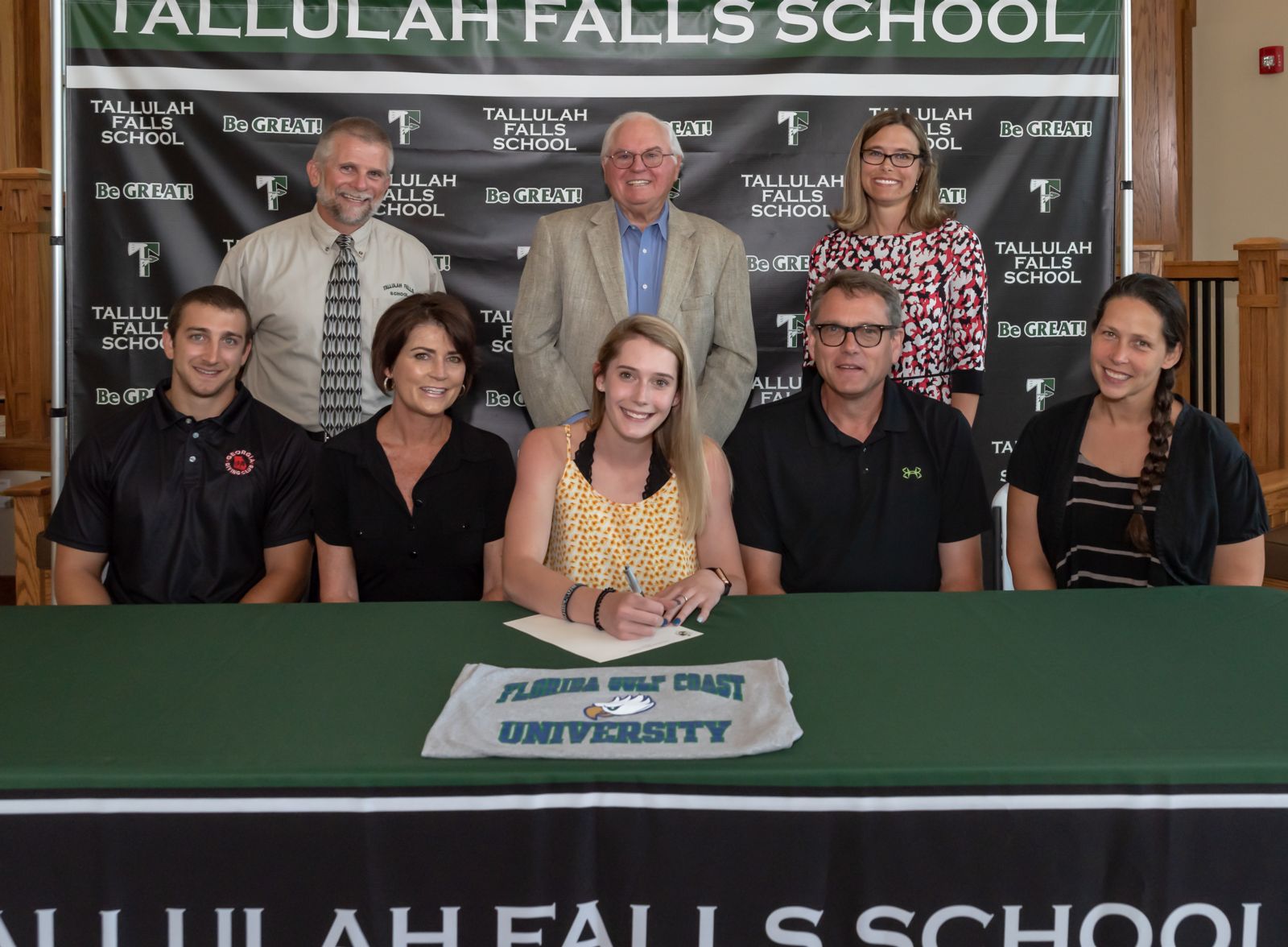 Tallulah Falls School senior Isabeau Keene of Demorest, GA on May 7 signed a letter of intent to compete in diving for the Florida Gulf Coast University (NCAA Division I – Atlantic Sun Conference) in Fort Myers, Florida.
"We are thrilled to welcome 'Beau into the FGCU Family! Her incredible personality and work ethic will only continue to push her further and further in her sport," said Head FGCU swim coach Dave Rollins. "We are thankful to her family for trusting us, and excited to get her to campus this fall."
David Boyko, FGCU diving coach echoed Coach Rollins' enthusiasm.
"We are very excited for Isabeau to join our team," Boyko said. "She is an extremely talented athlete and I am looking forward to watching her grow as a diver over the next four years."
President and Head of School Larry A. Peevy expressed his pride in the senior's accomplishment.
"Isabeau has had a very successful year and I believe her future swimming activities at FGCU will continue to be outstanding," Peevy said.
TFS swimming coach Annette Cochran said Keene was an amazing first-year diver.
"At her first meet she was a bundle of nerves and was not sure how she was going to do. As the scores were being announced she was disheartened because her name had not been announced by the time they got to third place; that's because she won the first meet and qualified for state," Cochran said. "That set the tone for the year. At each meet, she improved her scores. She poured her heart into her dives; she was always striving to be better." Keene placed third overall in Class A-5A at the state diving championships.
Keene worked with diving club coach, David Zarb throughout the year.
"We are all proud of what she has accomplished We have been blown away with it; she is an extremely hard worker," Zarb said. "She's dedicated and willing to do anything to make her better. She is always supporting and pushing all of her teammates in anything they're doing. She is just an all-around great person and athlete. We will miss having her around the pool every day but we are extremely excited to see her continue her career at FGCU."
Athletic director Scott Neal spoke of Isabeau's overall contributions to the life of Tallulah Falls School.
"In addition to her inspiring rise in diving accomplishments in such a short time, Isabeau was always a very positive influential leader at home games as a student section leader and could always be counted on to enhance school pride," Neal said. "She leaves a legacy of following a new passion with strength of character, focus and enthusiastic discipline."