News & Announcements
TFS sends six student-anglers to state bass fishing tournament 
The 2018-19 fishing season closed with six Tallulah Falls School student-anglers competing among the top bass fishing teams in the state of Georgia.
According to team captain Russell Williams, there were 102 high school division teams and 25 junior division teams fishing at the Georgia BASS Nation High School state championship held June 7-8 at Clarks Hill Lake.
Team Williams – senior Marshall Harrelson of Clarkesville and junior Marshall Williams of Toccoa finished 11th in the high school division.
Team Harrelson – senior Will Jackson of Clarkesville and junior Thomas Harris of Clarkesville finished 42nd in the high school division.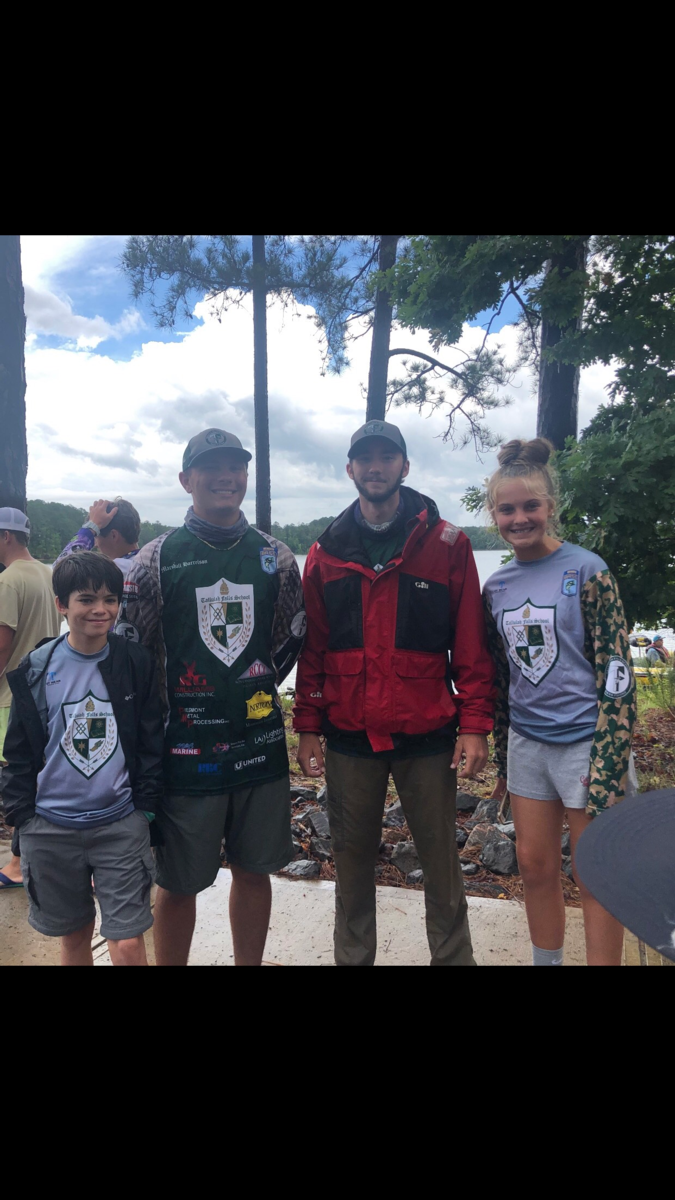 Team James – sixth-grader Haygen James of Cornelia and sixth-grader Koen Eller of Cornelia finished 18th in the junior division.
According to Williams, persistence paid off for Team Williams, ultimately netting the pair a top 20 finish.
"At the end of the tournament, they weighed in a two-day total of 23.20 pounds," Williams said.
Additionally, the end of the season marks the end of the Angler of the Year points contest.
"There is a cumulative points competition based on team performance throughout the year," he said. "This determines how a team is ranked statewide."
Out of 48 junior division teams competing during the 2018-19 season, TFS Team James with Haygen James and seventh-grader Molly Mitchell of Cornelia finished in fourth place and Team Mitchell with sixth-graders Jacob Mitchell and Koen Eller, both of Cornelia finished in eighth place.
Additionally, in the high school division, 219 teams competed this year.
"Team Williams had another strong year, placing 11th in the AOY rankings," Williams said.
Team Harrelson with Jackson and Harris, finished at No. 40, he added.
First-year freshmen student-anglers George Ketch of Clarkesville and Luke Ferguson of Demorest finished at No. 72 overall.
"All of the student-anglers had a great time competing this past season," he said.
Although unable to fish in the tournament due to scheduling conflicts, junior division student-anglers Jacob Mitchell and Molly Mitchell and high school division student-anglers George Ketch and Luke Ferguson all qualified for state.
Six student-anglers will return for the 2019-20 season, with Harrelson and Jackson graduating this year, Williams said.
For more information about bass fishing at TFS, call 706-839-2024.
---
Junior Division Team stats
| | | | |
| --- | --- | --- | --- |
| Team James | No. of fish | Weight | Place |
| Day No. 1 | 3 | 4.02 | 21st |
| Day No. 2 | 2 | 10.02 | 11th |
High School Division Team Stats
| | | | |
| --- | --- | --- | --- |
| Team Harrelson | No. of fish | Weight | Place |
| Day No. 1 | 4 | 8.71 | 52nd |
| Day No. 2 | 4 | 9.26 | 42nd |
| Team Williams | | | |
| Day No. 1 | 4 | 11.46 | 21st |
| Day No. 2 | 4 | 11.76 | 11th |