News & Announcements
'All In' speaker energizes Upper School students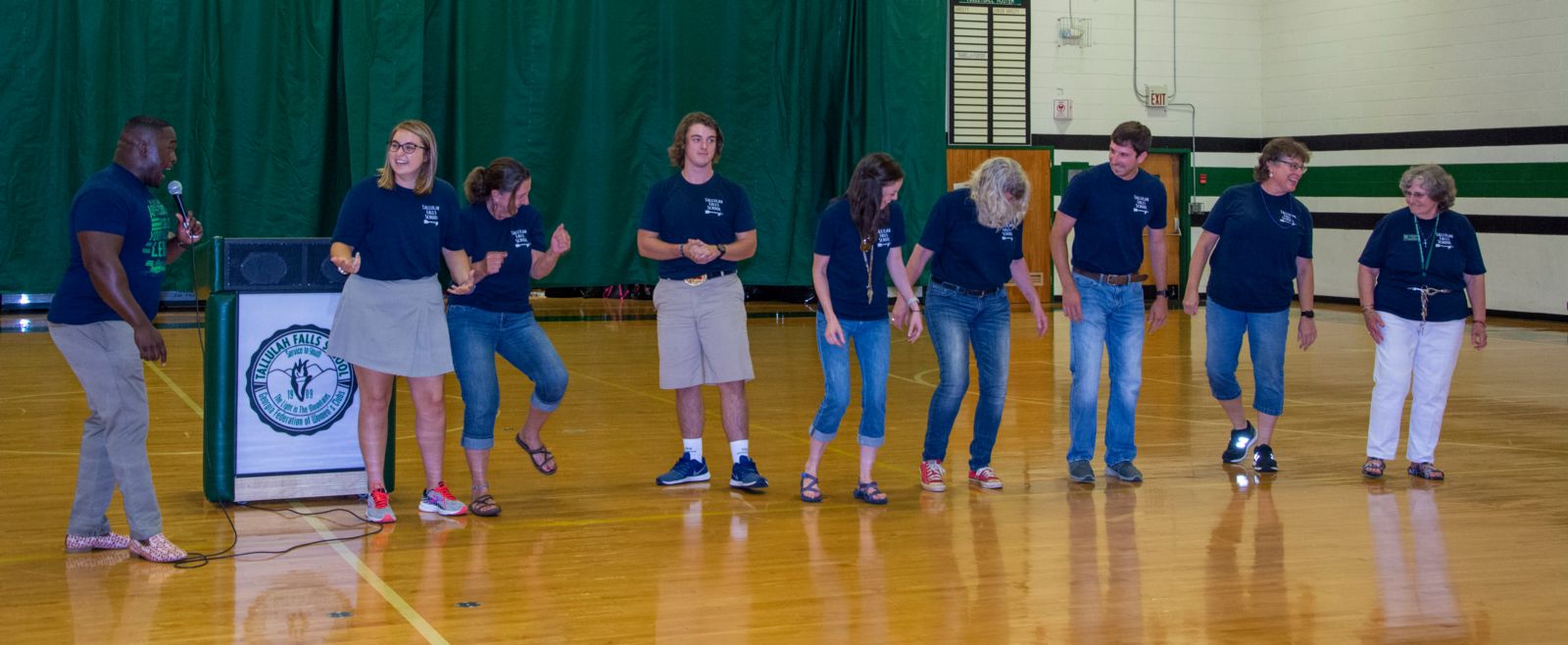 Republished with the permission of The Northeast Georgian
By KIMBERLY BROWN
"Energetic" was the feeling on Friday, Aug. 23, when Tallulah Falls School (TFS) high school students enjoyed a motivational talk from special guest Bob Mackey.
The talk was part of the school's "All In" initiative. Each month, the school has a different theme in the initiative, including August's theme of energy, and upcoming themes of attitude, resilience, patriotism, generosity, service, community, empathy, creativity and determination.
Upper School Assistant Academic Dean Jim Van Hooser said the "All In" initiative has two purposes: to get students to pull together in fundraising "to support something bigger than ourselves," and to have functions where the students and staff can interact with fun activities.
According to a BGCNCG press release, Mackey was named CEO in 2017. He has also served as senior executive director for the Pete Nance Club of Greene County. His service to youth began in 2005-2010, when he worked as a juvenile probation officer for the state of Georgia. He joined BGCNCG to prevent kids from going into the juvenile justice system, the release states.
Mackey told the assembled crowd of TFS upper school students and staff that he is a high school dropout.
"You're going to be able to do something that Mr. Bob will never be able to do in his life," he said. "That is walk across the stage to get a high school diploma, and that's going to be huge."
Mackey said he focuses on "TNT," things that "take no talent." Those include respect, excitement, enthusiasm and a positive attitude.
"Excitement scares people," he said. "You can be so excited people will tell you to calm down. But I don't need to calm down. What I have in me will change the world."
Mackey told the students that he didn't have a lot growing up, "But the one thing I had was a positive attitude."
He also encouraged the students to be aware of their friends' attitudes.
"Show me your friends, and I'll show you your future," he said. "If your friends don't encourage you, find new ones. If your friends aren't the first ones telling you, 'Good job,' find new friends."
Mackey encouraged the students to focus on "service" in their high school years and their future careers.
"People will tell you there are more important things in life than money," he said. "But make all the money you can while you're young, then find a good cause that's close to your heart and do things to help that good cause. I want you all to be built on service. When you're built on service, you never go out of business. Service first."
Mackey said TFS students have opportunities that students in most schools he visits don't have.
"Your environment is helping you to get where you're going," he said. "There is no excuse for not getting there."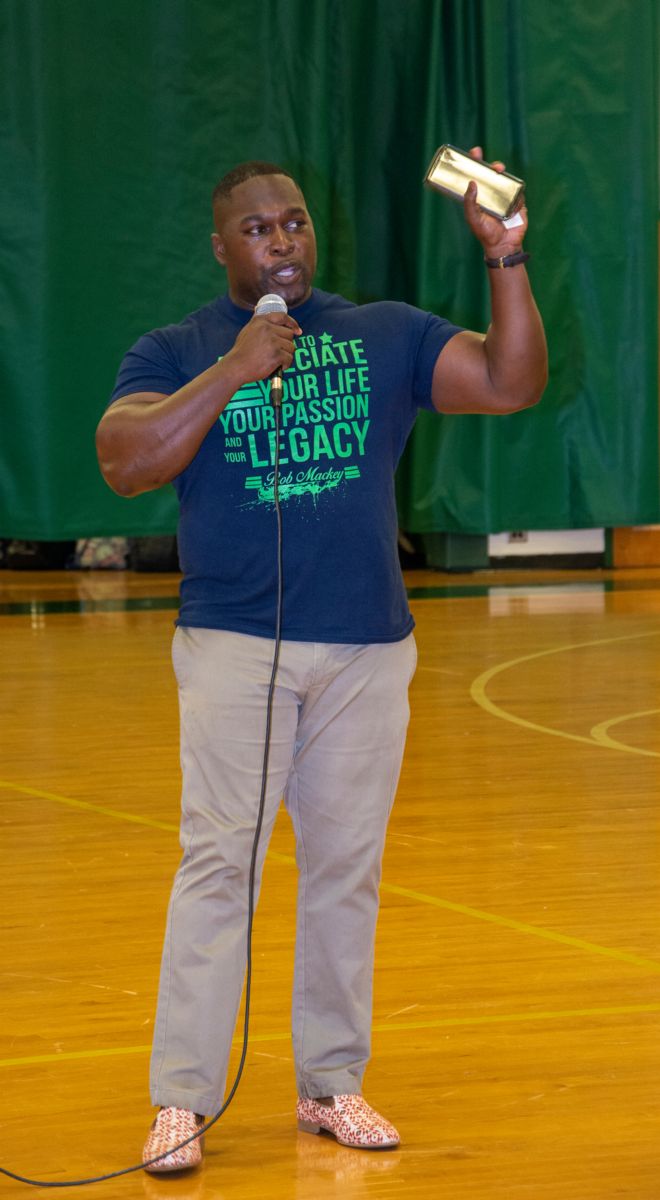 "I'm standing in a room full of champs," he added. "Each of you has one punch that can knock a difference into the world and the lives of everyone you touch. … Keep at it. Don't stop because you feel a little pain."
After the presentation, Mackey told The Northeast Georgian that TFS is a different venue than schools he usually visits and that he was impressed at the students' "attention and attentive listening."
"They were on time and they were ready to go, and that's amazing to me," he said. "It didn't take 20 minutes to corral everybody. As soon as they came in, they were ready to learn and to listen."
When asked why he believes visiting schools is important, he said, "I believe there's something in us that we owe to the world. Kids are our future. I know it's a cliché. But truthfully, if you want to know how the economy will work tomorrow, look at the kids of today. These kids here (at TFS) are amazing. Most of the time I'm called in … to get kids in shape. This was strictly a motivating message, so I didn't have to focus on the negative to get to the positive."
Van Hooser said Mackey's message "fit right in" with the August "All In" theme of energy.
"Sometimes our kids think they've got it made and they're ahead of the game, but someone else may be out there working harder," Van Hooser said. "He brought a great message."
Upper School Academic Dean Kim Popham agreed.
"This is a great way to kick off the year," Popham said. "Tallulah Falls prides itself on being family, and what better way than an All-In event, where we're all together."
Regarding Mackey, she said, "the kids needed to hear" his message, and she was pleased with the energy he provided.