News & Announcements
Lunch career series continues with medical professional
Tallulah Falls School continued its series of lunch and learn events on Sept. 26, with Heather Burke Cody, a certified nurse practitioner, affiliated with the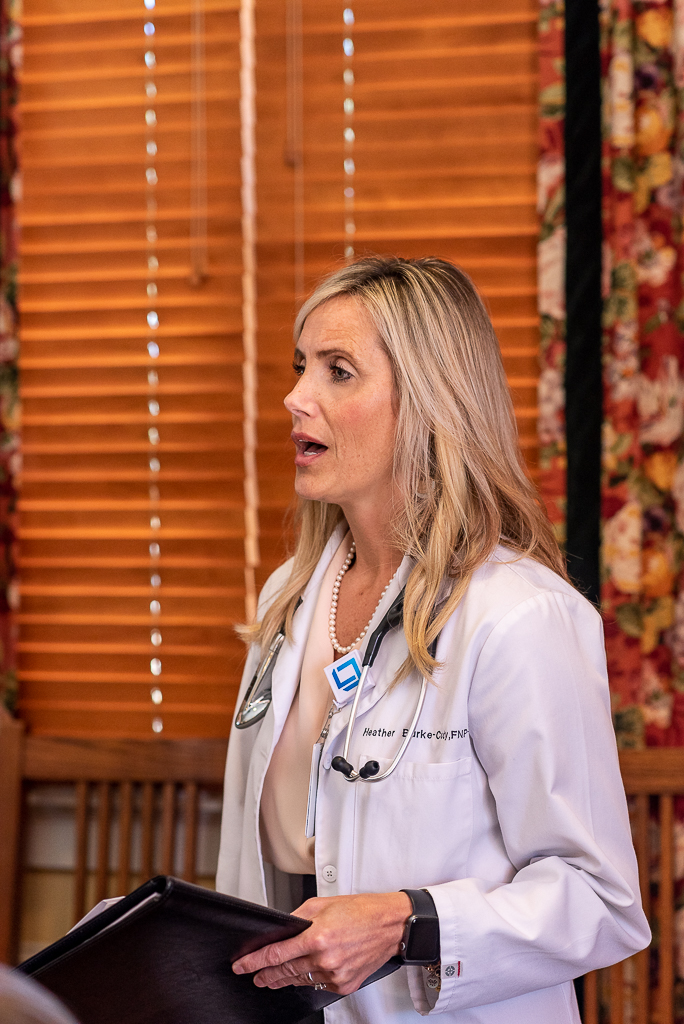 Longstreet Clinic.
The series is designed to connect upper school students to career professionals, according to Upper School Academic Dean Kim Popham.
Cody provided an overview of her college and career path, encouraging students to trust the journey. Her first dream was to be a writer and a missionary but she was encouraged to seek a more lucrative career path.
She enrolled in the University of Georgia, declaring a pre-med major. After completing her undergraduate degree, she applied to the Medical College of Georgia with plans to enroll in physical therapy school.
As she waited to hear from medical school, her sister, a nurse, encouraged her to apply late to nursing school at the University of North Georgia.
"Miraculously, I got accepted," Cody said. "I fell in love with the field of nursing. I'd spent 1,000 service hours working in a physical therapy setting; it felt like a tedious job. The 15 minutes I'd spent in a clinical setting in nursing felt like a joy."
Her path set, she soared through nursing school and spent 16 years in a hospital setting before heading back to school to complete her course work to be a certified nurse practitioner.
She told students to remain faithful that there was a higher purpose at work in their lives.
"There is a real something or someone working for your good," she said. "Be encouraged by that."
She told them the course work in the healthcare field, although difficult, was worth the struggle.
"It was the first time I recognized I found something I was passionate about," she said. "It was an unconventional path. It was all uphill. It was winding. It was curvy."
She never lost her call to serve and eventually had the chance to experience the international mission field.
"That little soul pull never went away," she said. "In 2010, I went to Guatemala. I found I was limited in my scope as an RN."
In 2011, Cody traveled to Kenya and returned more determined to serve in a higher capacity.
"Women would walk for days to get medical care," she said. "Nurse practitioners and physicians could treat anything."
That was when she decided to go back to school to broaden her scope of practice.
She told students to keep setting goals; to keep on reaching for new goals.
After spending five years in internal medicine, she moved to the Longstreet Clinic, where she focuses on women's health.
"I've loved that," she said. "I've treated everything from flu to cancer. I've given good news. I've given bad news. I've delivered babies. I've sat at the foot of the bed where people died. That's what nurses do."
Life tips included:
Learn something new every single day
Understand the start of the path will look different than the end of the road
Trust the process
Choose a calling over career
Remember everyone has unique gifts
Learn the difference between passion and profession
Before closing, she shared with them a favorite quote from Frederick Buechner: "The place God calls you to is the place where your deep gladness and the world's deep hunger meet."
As for writing, Cody is an occasional columnist with The Northeast Georgian and is the founder of The Everyday Good, a blog featuring reflections about the goodness that flourishes all around us.
Student feedback:
Senior Sarah Edwards, Sautee Nacoochee
I loved hearing Mrs. Cody talk about the nursing profession. I learned so much about how to become a nurse and the different types of nursing. It was neat to be able to hear her first-hand experiences and the reasons why she became a nurse.
---
Junior Katy Corbett, Lakemont
"I am very thankful that Mrs.Cody took time out of her day to come and talk to us! I gained a lot of new knowledge about the possible career paths I can choose, especially about what it takes to become a nurse practitioner."
---
Sophomore Caroline Turpin, Clarkesville
Mrs. Cody shared with us valuable information about working in the field of medicine, while also using examples from her own experiences. She incorporated many life lessons in her discussion, and she has inspired me to continue my journey of becoming a medical doctor. I learned about not only medicine but also life in general, and I can use this advice to remind myself to always try my best in everything that I do.