News & Announcements
Equestrian program kicks up a notch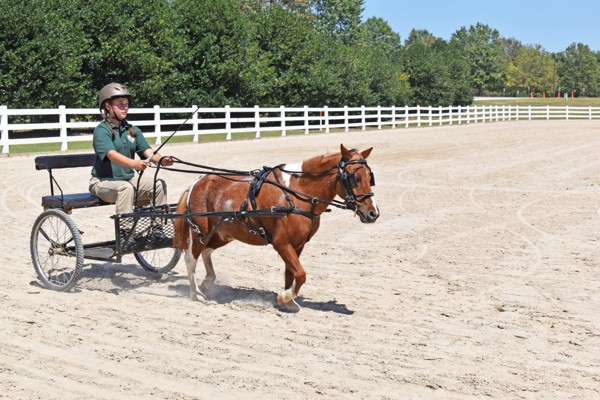 The Tallulah Falls School equestrian program started competing in several events last spring – jumping, showmanship and driving.
Led by Dinah Peevy, an award-winning horsewoman, the student-equestrians are following in her footsteps, garnering awards and accolades. Despite being new to competition, the team has done well in the shows they have competed in thus far.
"We started competing last spring," Peevy said. "The girls have placed in every event they have been in, which has been extremely exciting for me to see. For these girls to have just started driving and showing horses in the spring, it has been incredible to watch them. The girls themselves are smart and have motivation."
Four middle school students are competing, Peevy said. As the group gains experience, Peevy hopes the program will expand.
This year's team consists of eighth-grader Brooke Hayes of Cornelia, eighth-grader Lucy Ladd of Cornelia, seventh-grader Kylie Loudermilk of Eastanollee and sixth-grader Isabella McClain of Toccoa.
"We limit our team to four girls in the program," Peevy said. "We have to keep the group small, just like the golf team does. We want to keep it small so we can do more and work more. Right now we are limited to jumping, showmanship and driving. I hope next year that we can expand to some halter classes and obstacle classes."
The girls work with various horses to deepen their experience by learning how to control horses with different personalities and temperaments. This allows each student to grow and develop in the sport, Peevy said.
"No one is assigned to one particular horse," Peevy said. "Some of the ponies have more talent in one class than another. By swapping and working with each of the ponies, they have a larger scope of experience."
While showing the horses is important, Peevy hopes other facets of the equestrian program have a positive impact on the young competitors.
"Each child is responsible for helping prep a pony," Peevy said. "They are responsible for bathing, cleaning harnesses, equipment and carts, and when we are finished they help load the ponies. We all work together. The girls work together and learn teamwork. They work together and develop greater responsibility. We have parents and grandparents who help us as well. The girls are willing to go the extra step because they want to show."
As these girls continue to compete and grow within the sport, Peevy believes the experience will remain with them for the rest of their lives.
"It can hopefully develop into a lifetime sport," Peevy said. "I was given my first pony when I was 6 years old, and I am still enjoying the sport."