News & Announcements
TFS inducts three former student-athletes into Hall of Honor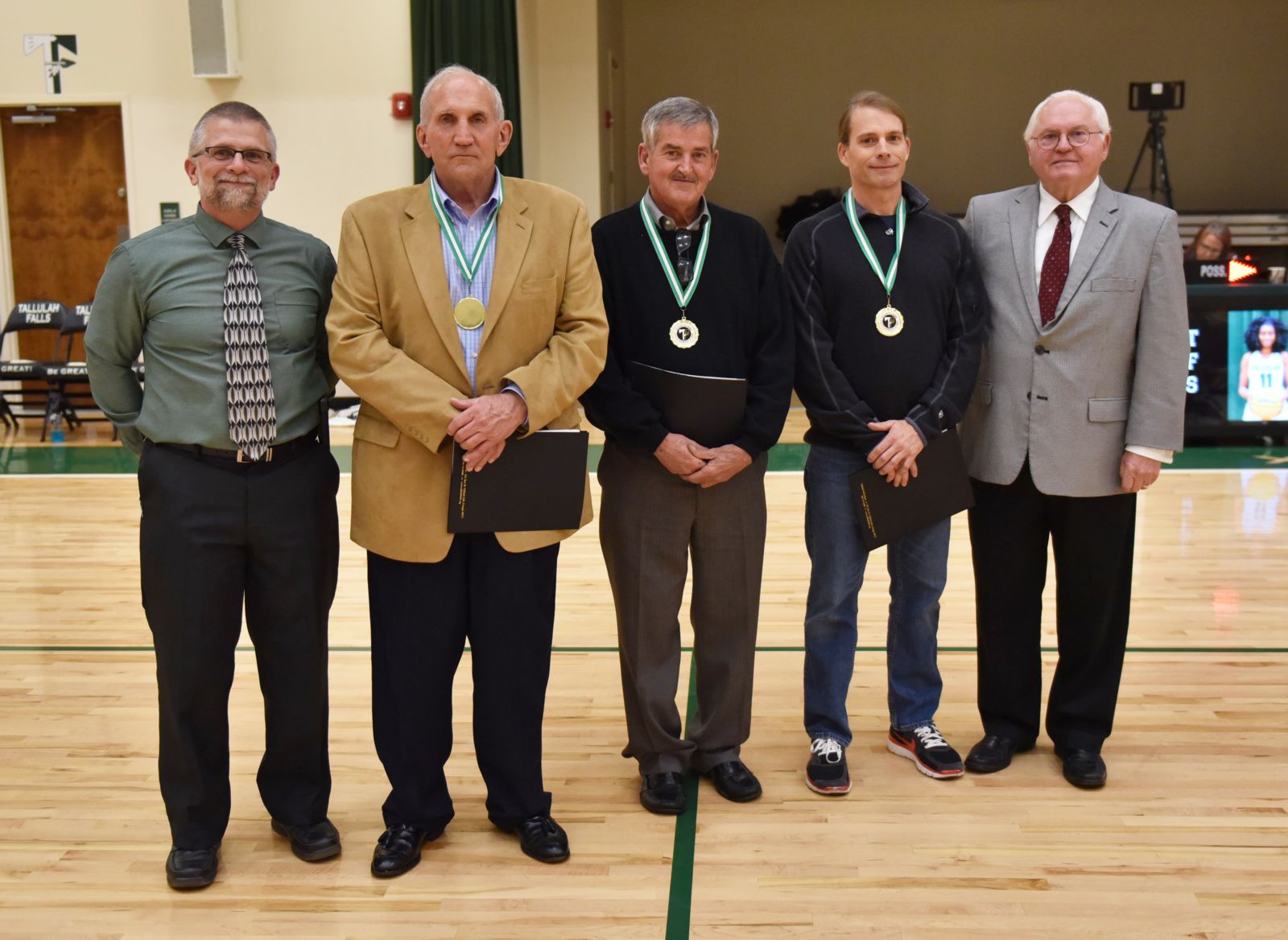 Friday, Dec 13 was a big day for three former Tallulah Falls School student-athletes as they became the most recent inductees into the school's Athletic Legends/Hall of Honor.
The three 2019 inductees were Ralph Daniel, Mike Kemp and Chris Pic.
According to TFS Athletic Director Scott Neal, the school created the Athletic Legends/Hall of Honor to honor former TFS athletes and coaches who left an impactful legacy for others to follow and emulate.
"These TFS athletic legends have contributed immensely to TFS athletics and have been role models of GREAT character while exhibiting professional excellence," Neal said. "We are thrilled to celebrate Ralph Daniel, Mike Kemp, and Chris Pic for demonstrating GREAT character, distinct competitive excellence, and significant contributions in their communities and careers. Each has represented TFS athletics as distinguished role models and are worthy of being inducted into our second annual Athletic Legends Hall of Honor. We truly appreciate them and what they have accomplished and the positive standards of service and excellence throughout their life. Ralph, Mike, and Chris all leave a legacy worth emulating."
---
Ralph Daniel – Class of 1967
Ralph Daniel became an accomplished athlete during his three-year tenure at TFS. He lettered in football all three years, earning All-State Honorable Mention his sophomore year and All-State First Team his junior and senior years. As a senior, No. 77 wreaked havoc on opposing teams and was named the Class C Lineman of the Year.
Publications from that era listed Daniel as 6'2" and 240 pounds, which made him a "big man on campus" during that era of play.
His coach, Lorry Cain, remarked, "Ralph Daniel is the best lineman I've ever coached."
After graduation, Daniel continued his storied football career at Clemson University, where he earned a full scholarship. Daniel played on the freshman team in 1967 (a requirement for first-year students at the time) and red-shirted in 1968. He then became a starting tackle for the team, playing for legendary Clemson coach Frank Howard in 1969, 1970 and 1971. He was a member of the Block C Letterman's Club and earned his degree in Recreation and Parks Administration.
Daniel worked in the special needs educational field for six years before transitioning into the nursery and landscaping business, where he enjoyed a successful 35-year career.
"He is an intensely humble man who looks to the future, not to the past. He believes in the Golden Rule and in treating people with respect," Neal said. "To Ralph Daniel, work is good. He is an exemplary role model of work ethic and inclusiveness."
---
Mike Kemp – Class of 1969
Mike Kemp was a four-year football letter earner who served two years as the captain of the football team. He was the first athlete to earn a letter in three different sports at Tallulah Falls School.
Kemp received accolades throughout his gridiron career. Kemp was named to the Class C All-State Football team in 1967 and 1968; he was selected as the Class C Lineman/End of the Year and the GHSA AJC Back of the Week (Oct 4) in 1968. He was also named the TFS Most Outstanding Football Player in 1968. Kemp scored five touchdowns in one game five different ways versus Dawson County in 1968.
Kemp's team had a four-year record of 27-6-1 while scoring 1065 points and surrendering only 312. He was also a state qualifier/placer in track and field in 1968 on a team that finished fifth in the state. He was also a state competitor in cross country in 1968. His No. 15 jersey was retired on Mike Kemp night in October 1968. Kemp graduated from TFS with honors.
He went on to earn an A.A. in Political Science from Gainesville Jr. College and a B.A. in Political Science from the University of Georgia.
Kemp's career highlights include surveying, interior design, law firm clerk, and sales and construction.
During his introduction, TFS athletic director Scott Neal described Kemp as "dependable with an excellent work ethic. People who know Mike can 'bank on him.'"
"Mike Kemp is one who always gives his best effort and stresses respect for others in all he does," Neal said.
---
Chris Pic – Class of 1988
Chris Pic is a TFS 'lifer,' having attended from the sixth through 12th grade. In his seven years as a student, Pic crafted an impressive resume both athletically and academically. His cross country teams set an inspiring standard as region runner-up in 1985 and 1986 and region champions in 1987. The 1987 team finished sixth in the state. The team won 10 of 15 dual meets over two years. Pic's 5K record time of 16:41 stood for 32 years. His performances earned a ninth-place finish in 1985, a third-place finish in 1986 and 14th place finish in 1987. In track & field, Pic is a former 3200 meter TFS record holder and state placer.
Pic excelled academically as well as athletically at TFS. He was the 1988 TFS Salutatorian and a member of the National Honor Society, French Club, Ski Club and earned a place on the academic commendation list.
Following graduation, Pic studied mechanical engineering at Southern Polytechnic State from 1990-92 and graduated in 1994 from Georgia State University with a B.S. in Kinesiology/Exercise Science.
In a move that would foreshadow future accomplishments, Pic initiated the transition for the GSU cycling club to become a fully-funded sport where it earned collegiate cycling national runner up accolades.
Pic's passion for cycling turned professional upon graduation and he raced professionally from 1992-2004. He has ridden as a member of pro cycling teams in 45 states and many countries across the globe. Pic participated in the Olympic cycling trials in 1992, 1996, 2000 and 2004. His career endeavors have included home health care, product development and project management for sports equipment companies. Pic works with an international SCUBA supply company currently.
TFS Athletic Director Scott Neal expressed his admiration for Pic as he provided introductory remarks at the induction ceremony.
"What became apparent was all of your life experiences have melded together, providing succeeding knowledge and wisdom as you make an impact across the world, in your industry and at TFS," Neal said.
---
Brian Boyd/Tallulah Falls School
Shown, from left, are TFS Athletic Director Scott Neal, Ralph Daniel, Mike Kemp, Chris Pic and TFS President and Head of School Larry A. Peevy.