News & Announcements
TFS launches new academic year
Students took cautious but confident first steps into the new academic year at Tallulah Falls School on Aug. 24.
With enrollment for the 2020-21 academic year at 531 students – 423 day students and 108 boarding students, the Light in the Mountains remains bright.
Although face coverings masked smiles as students arrived on campus Monday morning, sparkling eyes and muffled greetings to friends, teachers and other staff members delivered a hearty dose of positivity.
New students, greeted with welcoming words, made connections with peers while faculty and staff made sure everyone passed through health screening portals before entering academic buildings.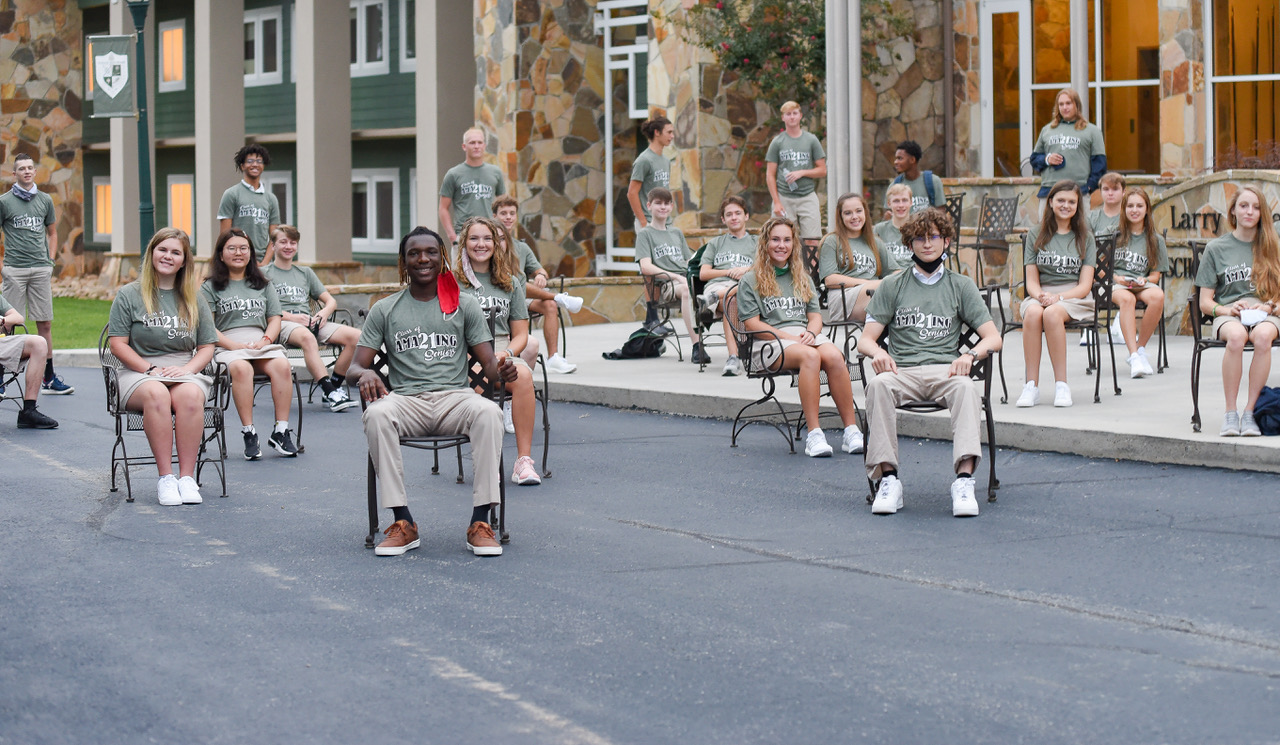 "We are pleased with the start of the new year," said President and Head of School Larry A. Peevy. "We are optimistic the extensive preparations we put in place for our reopening will minimize the exposure to the virus; we are counting on the TFS family to partner with us when students are away from campus."
As students return to classrooms and other areas, physical distancing is required and frequent handwashing is encouraged throughout the school day.
Members of the class of 2021 arrived extra early to meet the sun and to savor biscuits with classmates before commencing with the business of preparing for graduation. Feedback from the seniors illuminated the determination of the group to live out the first month's theme – "Better Together."
---
Grey Bourlet, Tallulah Falls
If the first day of school is any indication of how the rest of the year goes, I'm excited for what's to come!
---
Caleb Carter, Demorest
After staying home for so long, I was ready to accept whatever the school had to offer just to be able to go. I was pleasantly surprised though by how smoothly everything went on my first day, as everyone had to deal not only with COVID-19, but also with a new block schedule. So far, I have enjoyed the changes that the school has undergone this year and I am hopeful that we will be able to finish the year on campus.
---
Katy Corbett, Lakemont
The senior sunrise was the perfect way to kick off the new school year. After many months apart, it was a great way to reconnect as the Class of 2021. We are so lucky and blessed to be back at school and I can't wait to experience a fantastic senior year!
---
Rebekah Jennings, Clarkesville
My first day of school made me realize senior year is going to be very exciting and lots of fun. Although I have a few difficult classes, I can't wait to experience senior year with friends! Since Covid-19 is still active, we are taking all precautions in school, and I think it will be effective in the long run. I can't wait to see what my senior year holds!
---
Brinson Hall, Mt. Airy
The first day of school has been something I have been looking forward to most of summer. Although there were many changes due to the pandemic, it was great to be able to see all of my friends and teachers in person. I love how the school has been able to change the types of privileges for seniors with all the regulations we have to follow. TFS has tried really hard to make this an amazing senior year, and I believe it will be. I think the class of 2021 has a special opportunity to get creative in the memories we make and the adventures we embark on. I am excited about what this year has to hold. I believe it will definitely be a year to remember.
---
Maggie Jackson, Clarkesville
Every year returning from summer is different, but I think everyone will remember that intense feeling of gratitude when they came to school Monday morning. Not everyone has the same opportunity to come back together, and I know that I won't take it for granted. I can't express enough thanks to the administration, staff, and faculty for their work in providing us with this blessing. Even though we won't be able to do most of the traditional senior activities, I know that just being here and trying to make the most of every moment will be enough to leave with a full experience.
---
Simeon Respress, Cornelia
So, my first day of school was good. I was really happy to see my main friends in person rather than just talking to them on the phone. I was really glad to see my teachers and know that they are doing okay.
---
Trent Thomas, Bahamas
I haven't been so happy to see so many beautiful happy faces in a while. The day went by fast but it was very enjoyable. There are a lot of changes that the students have to get used to but over time it will get better. This year will be hard but I feel that the TFS family can do it. This year will be full of surprises and changes, and it will be a year to remember.
Click below to view more images from the first day of the 2020-21 academic year: