News & Announcements
Legacy Leader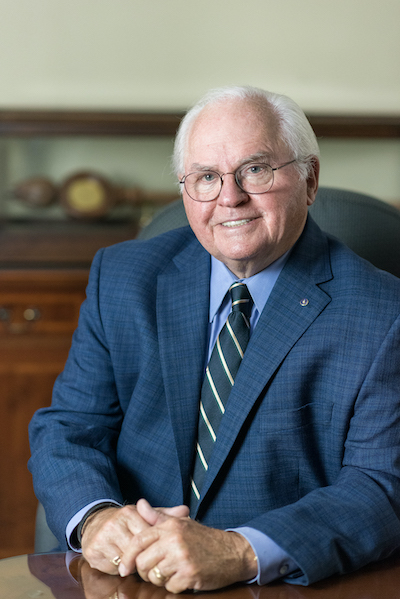 Reprinted courtesy of The Northeast Georgian
By Eric Pereira/The Northeast Georgian
Tallulah Falls School President and Head of School Larry Peevy has been named a Legacy Leader by Georgia Trend magazine. He was featured in the 35th anniversary edition as the recognition highlights 15 people who have dedicated themselves to improving lives across the state.
"My first reaction was surprise when I received the letter," he said. "I thought of the hundreds of strong legacy leaders across the state of Georgia and when I saw that I had been named, it was a tremendous honor and I felt totally humbled being named one of the top 15 in this group of outstanding leaders."
Peevy's career in education spans multiple decades as he spent his first 35 years in administrative roles at the University of Montevallo, Georgia College and State University, and Georgia Military College according to the Georgia Trend article.
In 2007, he joined TFS as president and head of school which brings in students from across the country and globe today. "The private five-12 day and boarding school has elevated its academic rigor, expanded its facilities and grown its student body to more than 500 students from seven states and 20 countries," the article reads.
Peevy served 23 years in the U.S. Army Reserve Program, this included voluntarily enlisting towards the end of the Vietnam conflict and he was on active duty during Operation Desert Storm. Peevy spoke of his most important lessons he has gained in his time in education and the military.
• Be flexible. "No two days are alike and every day presents not only tremendous happiness but also a new set of challenges," he told The Northeast Georgian;
• The second most important lesson, whether in the military, education or administrative area for him is to know and truly believe that you don't know everything and that you don't have all the answers. "So, you have to learn to put your confidence in the people that surround you," he said;
• When solving problems, don't look at it as a major problem facing you but rather a series of small problems that you can easily solve;
• Give back to your community. The local Chamber of Commerce, Rotary Club, and other clubs and organizations are a good place to start helping build a better community, he said;
• Do things right not fast. Accomplish tasks by thinking things through thoroughly before taking action;
When asked about those who deeply influenced his career path, the first person that came to mind was his father, Aubery Peevy, who helped develop the instrument unit for the Saturn Five Rocket and was also highly involved in the launches of all the Apollo missions. The second was Major General Peter Boylan, he was President of Georgia Military College while Peevy worked for him as Vice President for Enrollment and Retention Services.
Members of the TFS Board of Trustees spoke to how Peevy has excelled at surrounding himself with the best-qualified people in his administration. His communication to the board regarding any change or activity was also highly praised.
TFS Board of Trustees member Judy Forbes said initiatives such as the school's character education program which focuses on student development and Peevy's leadership during the COVID-19 pandemic are just a few of the exemplary actions he has made.
Peevy appointed a Risk Management Committee when he first learned of the COVID-19 pandemic to analyze what challenges they faced and to develop a plan and methodology to solve each problem one by one. The school has since welcomed students back with in-person and blended online learning.
"They have done an excellent job developing a plan that I believe will continue functioning well for Tallulah Falls School as we meet the challenges of providing a quality education in a safe environment," Peevy said.
TFS Board Chair elect Jim Weidner applauded Peevy as a bright leader that is dedicated to TFS and his position.
"He turned around that school. His imprint has made it what it is today," Weidner said of Peevy's legacy. "All of his efforts throughout the years have resulted in one of the finest preparatory schools in the nation."