News & Announcements
TFS seniors win in final home match against East Jackson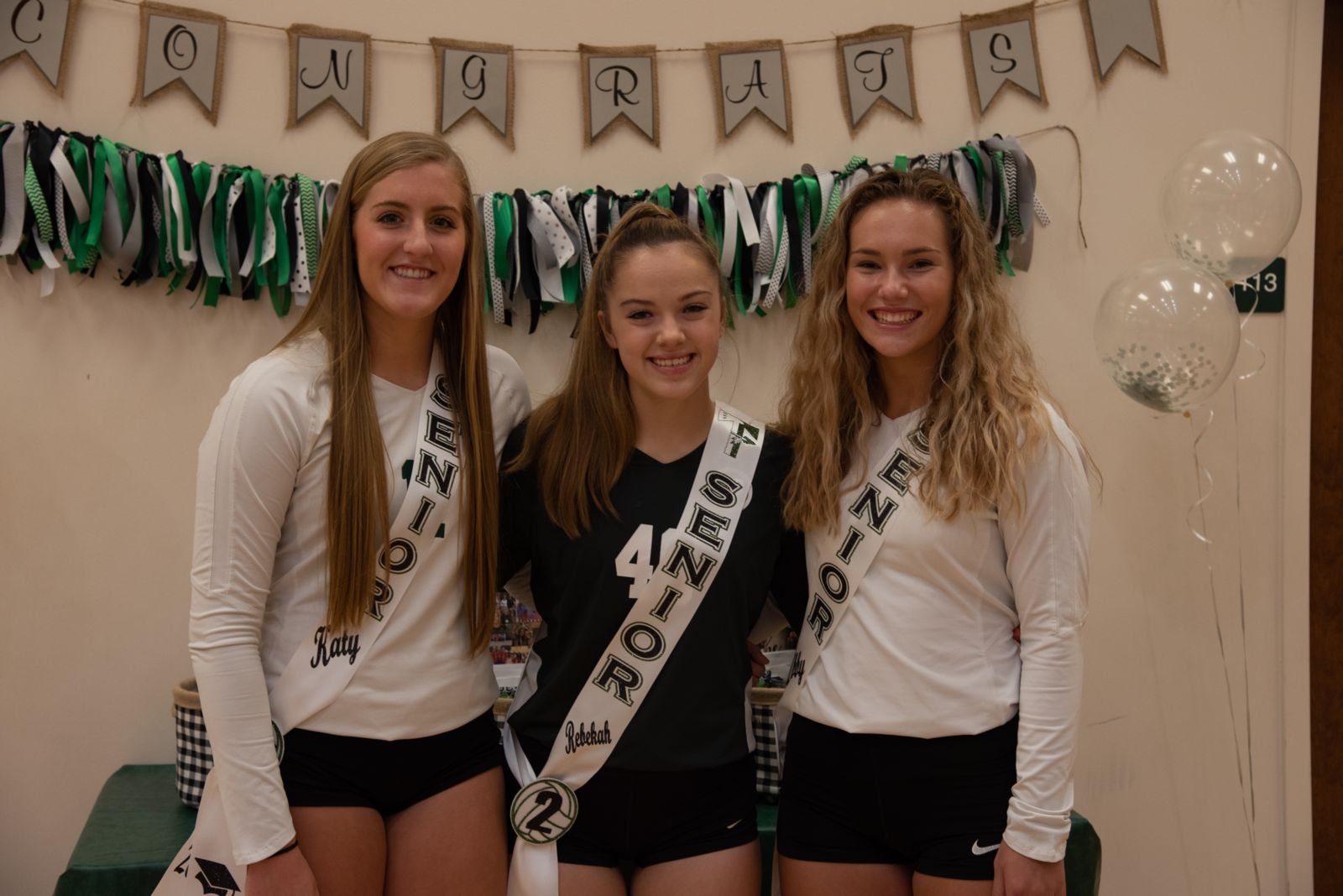 The Lady Indians walked off the court Thursday night as winners over East Jackson. On a night where TFS honored its three seniors - Abby Carlan, Katy Corbett and Rebekah Jennings - the Lady Indians earned a 3-1 win to eclipse .500 play for the first time this season.
The 3-1 win was closer than the score might indicate, as it took a strong stand in the third set and a furious comeback in the fourth to claim the victory. Tallulah Falls School used a complete team effort, winning the first, second, and fourth sets.
In the opening set, TFS cruised to a 25-11 win. Corbett had an early kill, Sarah Jennings recorded three early, and Allie Dalton had an ace as the home team ran out to a 7-1 lead. That prompted an early timeout by the visiting Lady Eagles. Corbett went on a big serving streak as TFS went up 19-8 and eventually taking the 25-11 set.
East Jackson got out to a quick start in the second set, as both teams traded points early. Barrett Whitener made a great play, while Corbett chipped in with multiple kills and a block as the Lady Indians charged to within 5-7. Evette Corwin made an incredible play to set up Sarah Jennings with a crucial kill to bridge the gap to 15-16.
The Lady Eagles rallied to go up 21-15, but again TFS responded. Whitener had a big kill, while Alba Romanos Gracia recorded three aces, forcing a timeout as TFS trailed just 19-21. East Jackson held on for the 25-21 win to even the match at a set apiece.
In the best-of-five match, TFS started quick, 7-1. Dalton went on a 5-point serving stretch, while Romanos Gracia made great serves throughout the set. After taking a commanding 18-8 lead, the Lady Indians held off a furious comeback by East Jackson, and won the third set 25-17.
The final set saw TFS play from behind. Initially, Corbett served for a stretch as the girls took a 6-2 lead before East Jackson raced back to take a 9-7 lead. The deficit grew for Tallulah Falls, as the Lady Eagles went up 15-11. In a hole, the Lady Indians clawed back to tie it up at 20 with Romanos Gracia's serving.
The set got intense when East Jackson was at 24-21, one point from evening up the match. Corbett came up clutch numerous times, leading the Lady Indians back to tie it at 24. Rebekah Jennings served to get TFS up 25-24, and finished it off with an ace to secure the match and set win.
TFS moves to 13-12 overall on the season, and remain 3-1 in area play. The Lady Indians have been remarkable in the month of September. After starting the season 3-10 in August, they have since gone 10-2. TFS returns to the court on Tuesday with a road match against Prince Avenue Christian and Oglethorpe.
SCORE RECAP
W 3-1 vs East Jackson: 25-11, 21-25, 25-17, 26-24