News & Announcements
TFS campus sustains damage during recent storm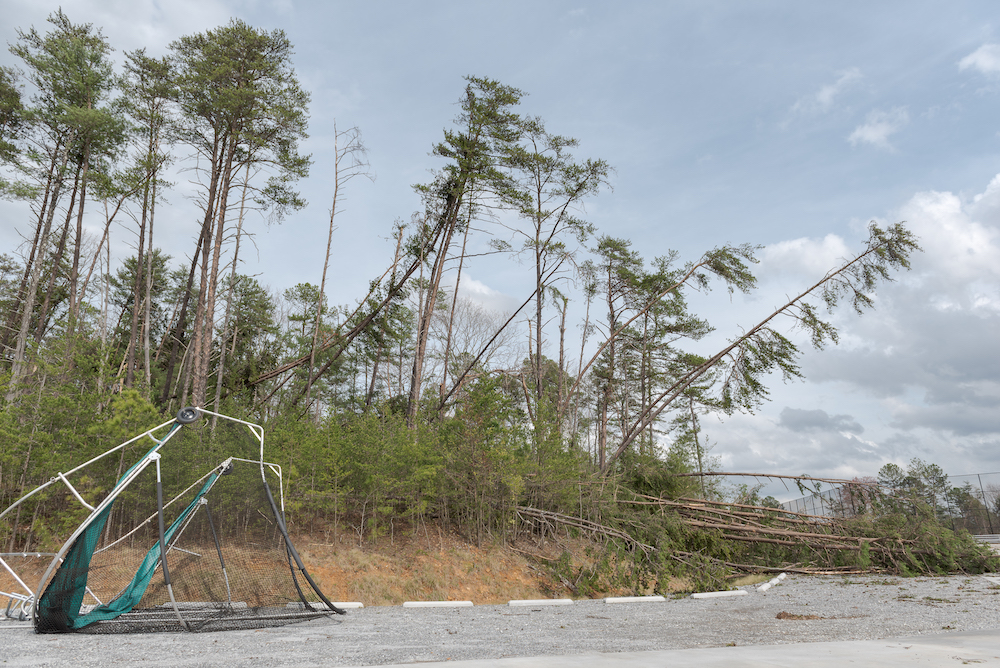 On March 26, a severe thunderstorm warning was issued for Tallulah Falls. Between 1:30 and 1:50 a.m., a storm blew through campus, bringing high winds that left a path of downed trees, power outages and other isolated damage. A majority of the damage was sustained on the southern side of campus, including the soccer and baseball fields, according to President and Head of School Larry A. Peevy.
As the sun rose on Friday morning, the full effects of the storm were evident. It left a path of destruction from the Plant Services complex, down through the athletic fields and into a residential area as it exited the TFS campus.
Approximately 400 to 500 trees were toppled, as well as considerable damage incurred to the Track and Field pole vault and high jump pits. Winds were high enough to carry the pole vault mats up to 100 yards from their original locations. The patio outside the Upper School Media Center sustained minor damage. One campus residence was affected as trees fell on two vehicles doing considerable damage.
"The true blessings lie in the fact that the storm's path was through a relatively unoccupied campus section and there were no injuries. The storm did blow by three large buildings without any significant structural damage," Peevy said. "It was encouraging to see the TFS staff working together to get all the trees off campus roadways and have the roads open by daybreak, in addition to all the other work necessary for classes to resume on Monday morning."