News & Announcements
Indians win first-ever Track & Field Area Championship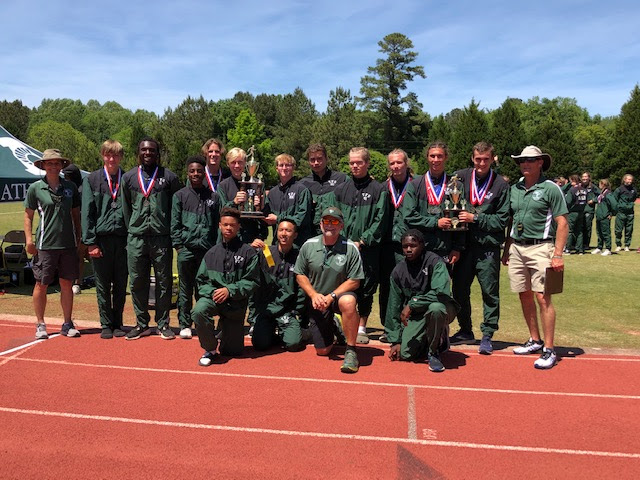 Another first has been accomplished by TFS in 2020-21, as the boys track and field team took the top spot in the Area 6-A Private Championship, securing first place on Saturday.
Though TFS has a storied track & field history in regards to particular successful individuals at the region and state levels, the depth and overall quality needed to win the region/area championship has lacked, that is, until now. In fact, TFS has never stood atop the region/area pinnacle. The last time TFS was even a runner-up was with the boys in 2003.
TFS finished with 151 points, defeating Athens Christian (149), Athens Academy (138), Providence Christian (82), Prince Avenue (41), Hebron Chrisitan (35), Loganville Christian (29) and George Walton (22).
Senior Grey Bourlet and junior Evan Prince tied for the Area 6 High Point Award; both scored 32.5 points to earn the individual top scoring trophy. Bourlet won the pole vault and both hurdle races, whereas Prince won the 800 M, 1600 M, and 3200 M. Both ran the fastest leg on their victorious relay team, the former in the 4x400 which ran a season-best by five seconds and the latter in the 4x800, which won handily in an easy, within-a-second PR. Both advance another week in each of their events.
Moving on from "day two" to the section meet next Saturday, May 8 at Providence Christian Academy (top five advance) include Walker Bailey (800 PR, 3200 M 5th place), Zhigao Henrry Xiong (800 PR 4th place) and Charlie Cody (PR 400 4th place), Blair Moore (PR 400 M 5th place), and the winning, season-best setting 4x400 relay (Moore, Respress, Cody, Bourlet) that edged out Prince Avenue by .06 to seal the team's historical memory. The 400 M relay team (Moore, Tyler Brown, Jaden Andews, Respress) ran .03 faster than ACS and also have another week to get better.
Others scoring points that led to victory include Xiong (3200 M 7th place), Gavin Atkinson (110 MH 7th place PR) and Brown (300 MH 8th place PR).
"The memories of this meet will live on in legacy," says coach Scott Neal. "Some recollections will be the shade tree bonding, the reliance upon a teammate for collective success, the necessity of being needed for the team to win, the hoisting of the prize, the mental fortitude forged, the trove of emotions, or the avoided squirrels."
TFS results https://ga.milesplit.com/meets/420076-area-6-1a-private-2021/teams/4745#.YI4nWO5Kipo
Full results https://ga.milesplit.com/meets/420076-area-6-1a-private-2021/results/740696/raw#.YI4Q0u5Kipo