News & Announcements
TFS girls finish fifth in area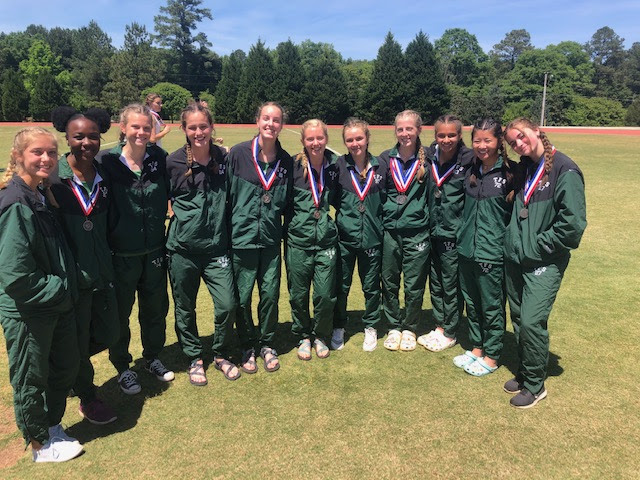 The youth-dominated, senior-less TFS girls track & field team performed well on the day two finals of the Area 6 A-Private Championships, closing with a fifth-place finish. The 4x100 relay (Lois Ibeh, Julianne Shirley, Lucy Ladd, Macy Murdock) started out the day by eclipsing their season-best as the runner-up and advance to Section II next week.
Murdock in both sets of hurdles was the Area runner-up on her way to scoring 19.5 points, setting significant personal records in both, advancing to Section II as the #3 seed in all of A-Private.
Junior captain Lucy Alexander, after setting an 800 M PR prior, placed third in the eight-lap race to advance next week. Frosh Shirley chopped off two seconds from her previous best and passed two other runners in the final 30 meters of the single oval to add three points to the team total. Dani Prince scored three points for a PR sixth place in the 100 MH and one point for 8th in the ¾ lap hurdles. Ladd (100 M) and Ibeh (200 M) both placed 7th to score two points each.
The 4x400 relay quartet of Molly Mitchell, Ladd, Shirley and Murdock placed 3rd with a four-second relay best to finish out the day.
"The girls got the day rolling with high expectations, focused throughout the afternoon, and finished with a flurry while laying the groundwork for their own state quest in the future," says coach Scott Neal. "They continually displayed poise, persistence, patience and purpose while representing TFS with a distinctly positive attitude. They are role models of GREAT!"