News & Announcements
Yearbook released to great fanfare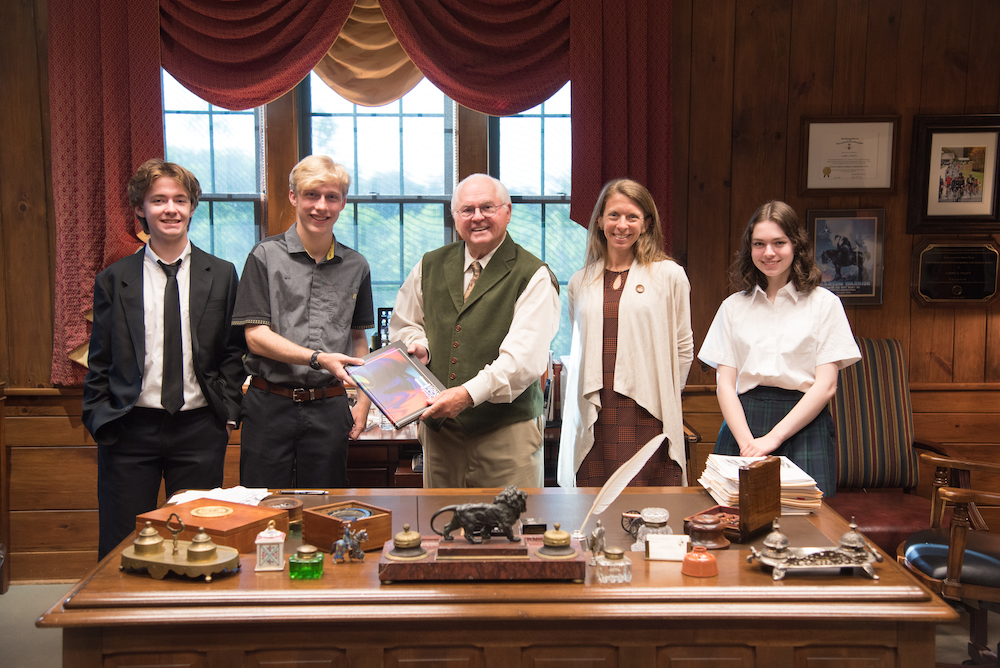 Students, faculty and staff took a first peek at the Tallulah Falls School yearbook this week.
With the leadership of advisor Elisha Boggs, yearbook staff members collected stories and images that reflect a year marked by a pandemic. Incorporating the theme of "This Side Up," a trio of editors led the project – seniors Charles Mullis and Collin Kelly and junior Flannery Hogan.
Yearbook advisor Elisha Boggs and the three editors presented the 2021 Legend to President and Head of School Larry A. Peevy on May 5.
"This publication illustrates the commitment of these student-leaders to authentic storytelling," Peevy said. "I am proud of the yearbook and of the students who worked so hard to put it together."
Mullis said the task was a vast undertaking.
"A majority of our staff were freshmen who hadn't had much experience with print publications. It was fun working alongside my fellow editors Collin Kelly and Flannery Hogan who shared the burden of guiding our future generation of journalists," Mullis said. "Mrs. Boggs, our advisor, provided lots of support for what the class was doing. We thank her for the incredible amount of work she put into making this year's book possible. I hope those who take charge after me will continue to exhibit the enthusiasm I have for journalism."
Boggs acknowledged the challenges of publishing a yearbook during the extraordinary year.
"The TFS yearbook staff did a tremendous job capturing images and stories while working within the confines and challenges of the pandemic," Boggs said. "The theme selected by the editors encouraged the staff to look at the bright side of their world that tried to cast shadows. The staff used vibrant colors and stories to reflect the strength and brilliance of the TFS family. I am proud and honored to have had the opportunity to work with the students on the 2021 yearbook publication."