News & Announcements
Two wheels, one heart - Josie Plaisted 'Born to Ride'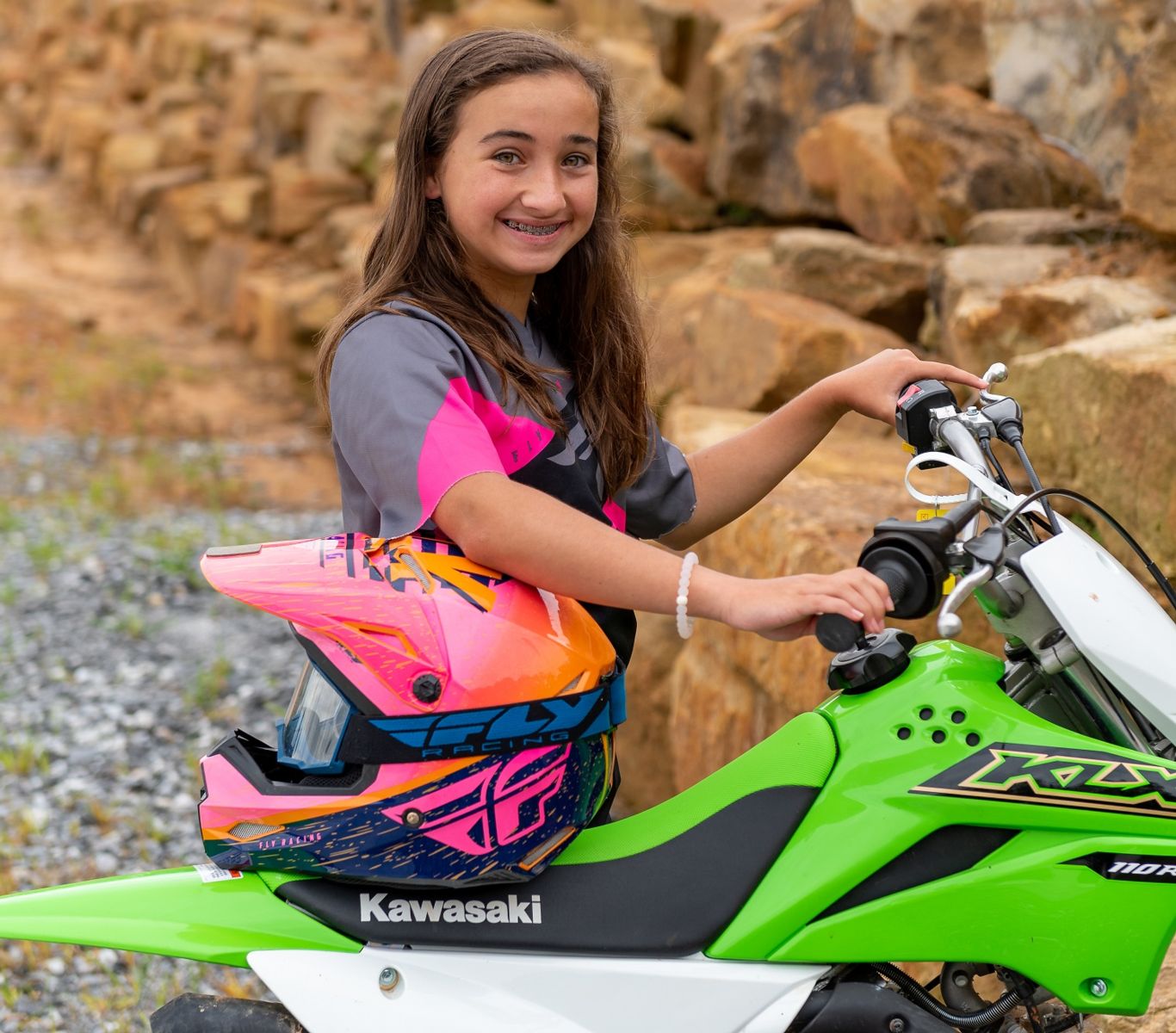 There's a natural draw for people who love to be outside. For Tallulah Falls School seventh-grader Josie Plaisted, it's being able to size herself up against creation, nurturing her mind, body and spirit. Outdoor enthusiast Plaisted has collected such hobbies as dirt biking, fishing, wakeboarding, hunting, hiking, kayaking and swimming.
"Spending time outdoors is fun, but even more importantly, it's good for my brain, body and soul," says Plaisted. "Being among nature's most amazing features has a way of putting me in my place, reminding me that I am a part of something so much bigger than myself, and helping me to focus on what really matters. I feel happier, think clearer and move more when I get outside."
One of her favorites is dirt biking, as she and her dad and brother often rode trails together. Though it runs in the family, there's a reason she has gravitated toward the hobby.
"The freedom, the adrenaline rush and my strong passion for two wheels," says Plaisted on what attracts her to the bike. "I enjoy the thrills my riding adventures bring. A dirt bike can take you to places others never get to see unless they backpacked or rode a horse for a couple of days. You can cover distances very fast on a dirt bike and get to see some fantastic sights. It gives me a great appreciation for my natural surroundings."
Josie and her family moved into a neighborhood that had a private practice track for a few local riders when she was eight years old. She'd walk through the woods to watch others who were riding.
"I eventually got to know everyone and started going to a few races," recalls Plaisted. "My dad and brother took me on many of their dirt biking adventures, too. Finally, when I was 10, I got my very own dirt bike and have been hooked ever since."
Wise beyond her years, Plaisted knows her outdoor hobbies have helped make her more well-rounded as an individual.
"My passion for outdoor hobbies has allowed me to explore the world around me," states Plaisted. "Nurturing my curiosities while discovering the world has significantly expanded my horizons and helped me see new perspectives. Getting out of my comfort zone has helped me develop and grow my views so that they are more well-rounded. Trying new outdoor activities has diversified my experiences and made me a more informed and versatile person."
Her love for the outdoors takes up a chunk of her time, meaning the TFS student and soccer player has to be conscious of how she allots her time.
"I have learned that if my personal life is happy then my academic life will follow suit," adds Plaisted. "When I spend any amount of my free time outdoors with family and friends, it allows me to focus more on my school work and other important responsibilities. Having an amazing school support network at Tallulah Falls School, learning to minimize distractions in my home environment, and managing my time wisely, has given me a healthy and happy school-work life balance."
The future is bright for Plaisted, and most certainly includes riding her dirt bike.
"I aspire to continue my passion of riding dirt bikes," says Plaisted. "This will keep me both physically and young at heart. It will keep me wanting to have fun and that will translate into other areas of my life, like being engaged with my kids one day. There is no better way to stay in shape, keep sharp and focused than the thrill of dirt bike riding. Who knows, one day I may become the fastest female motocross racer who stands out of the pack, like Ashley Fiolek. I believe I have the ability to go above and beyond the normal realm of what is expected of the female rider. With confidence and a level head, I will take each lap for what it is, to keep pushing and progressing, reaching my fullest potential."