News & Announcements
Sponsors confirmed for seventh annual Twin Rivers Challenge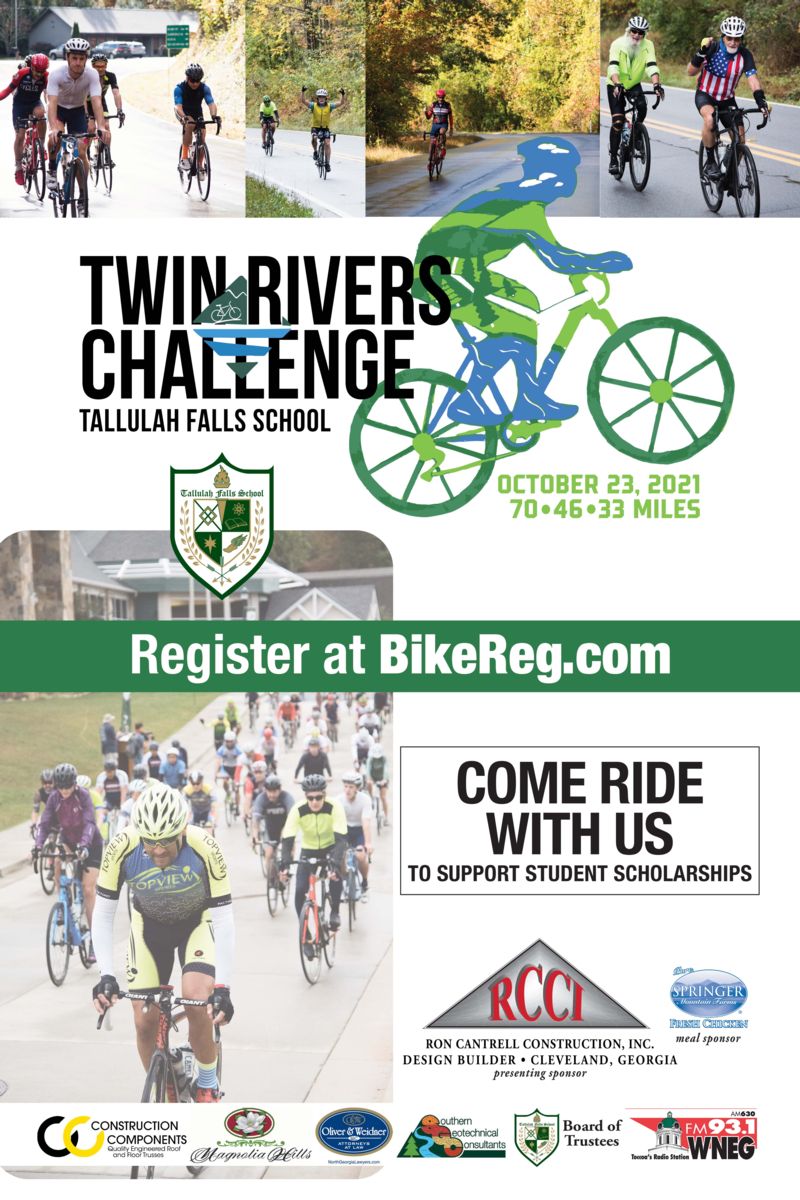 Community support remains strong for the upcoming seventh annual Twin Rivers Challenge, a cycling event to benefit student scholarships at Tallulah Falls School.
More than 150 corporate, organization and individual sponsors are now confirmed for the ride set for Saturday, Oct. 23.
"We are thrilled about how the community has embraced this event over the past seven years," said President and Head of School Larry A. Peevy. "With Ron Cantrell Construction, Inc. again making a firm commitment as the presenting sponsor to cover the cost of the ride and Springer Mountain Farms taking care of the post-ride meal, 100-percent of all other donations and support go directly to fund scholarships for motivated students.
"It's a great way for cyclists from throughout the Southeast and beyond to enjoy the beauty of Northeast Georgia in the fall," said Sonya Smith, Executive Director for Advancement. "This event has become a favorite tradition for the TFS family."
Many former riders have expressed appreciation for the post-ride experience, with a meal provided along with a warm serving of TFS hospitality.
In addition to the strong support from presenting sponsor Ron Cantrell Construction, Inc. and meal sponsor Springer Mountain Farms, the following companies, individuals and organizations are confirmed for 2021:
Presenting Sponsor
Ron Cantrell Construction, Inc.
---
Meal Sponsor
Springer Mountain Farms
---
Tallulah Sponsors
Construction Components Truss Division
Georgia-Carolina Radiocasting Company, LLC
Magnolia Hills
Oliver and Weidner, LLC
Southern Geotechnical Consultants
Tallulah Falls School Board of Trustees
---
Soque Sponsors
A&A Storage
Allied Interior Services, LLC
Camp Evergreen
Chick-fil-A Cornelia
1st Franklin Financial
Habersham Broadcasting
Habersham EMC
Harbin Lumber and Load Star
Hayes Automotive
Highlands Aerial Park
Jennifer Kyle, Harry Norman Realtors, Luxury Lake & Mountain
Life Point Medical, LLC
McDonald's of Toccoa & Hiawassee
Morris Nursing Home Investments, LLC
Peach State Federal Credit Union
Peach State Freight Lines
Rabun County Chamber of Commerce and Forward Rabun
Raymond James, Kenneth C. Johnson
Toccoa Falls College
Wood's Mercantile
---
Burton Sponsor
Amanda Stewart Real Estate
Anonymous
Augusta Aquatics, Inc.
Roxie Barron, Keller Williams Lanier Partners
Brother John's Subs
Carl Patterson Flooring
Clarkesville Dermatology & Medical Associates
Duvall Automotive Group
Eliel Cycling
Engineering Management, Inc.
Ethicon
Eubank Family Dentistry
Gresham Planning & Development, Inc.
Peter Goldfine, Life Insurance & Retirement Solutions
H. E. Hodge Company
Habersham Drug
Happy Jack Graphics
Harry Norman REALTORS, Luxury Lake and Mountain
Senator Bo Hatchett
Headrick Signs & Graphics
Homestar Financial
Insurance Office of America
JFM Contracting, LLC
Kinetic by Windstream
LaPrade's-Keel Marinas
Lew Oliver, Inc.
Mama G's Italian Restaurant
MCG Mechanical
Melanie Sims, MD
Mixon, Mixon, Brown and Tench CPAs
Mt Yonah Contracting, LLC
North Georgia Credit Union
North Georgia Technical College
Northeast Georgia Physicians Group
Northstar Bicycle, LLC
Poss Realty
Pro Turf & Landscape Maintenance, LLC
Rabun County Bank
Radlee Heating & Cooling, Inc.
Frank Su
Linda Thomson
Town of Tallulah Falls
United Community Bank
---
Rabun Sponsors
A to Zinc Health Store & Smoothie Bar
Acoustic Cellar Guitars
Acree Oil Company
American Water Services, Inc.
Baldwin Wash Systems
Blackhawk Fly Fishing
Blue Graphics
Blue Willow Home & Gifts
Carter's Royal Dispos-All
Citizens of Georgia Power
City Barber Shop
Clayton Paint & Flooring Center
The Clayton Tribune
Committee to Elect Judge Brian M. Rickman
Complete Comfort, Inc.
Cornerstone Animal Hospital
Currahee Security Systems
Deal's Appliance Service
Connie and Hugh Dillingham
District 10 State Representative Victor Anderson
Eagle Cleaning Services
Edison Concrete
Fenders Alley
First Citizens Bank
Foothills Land Design
Gateway Fence Co.
Georgia Hapkido Academy
Gilbert Foodservice
Glen-Ella Springs Inn & Meeting Place
Goats on the Roof
Gotta Go Portable Toilets & Perteet's Plumbing
Habersham Chamber of Commerce
Habersham Retreat
Stacy & Ivy Hall
Hammock Realty North Georgia
Hillside Memorial Chapel and Gardens
Hire Dynamics
Industry Nine
KenClay, LLC
Kennlock Construction
Lulu & Tully's
Dr. and Mrs. Ronald MacBeth
Martin Construction and Grading
McClure, Ramsay, Dickerson & Escoe, LLP
McDonald's of Habersham
McGahee-Griffin and Stewart Funeral Home
Mills Flooring and Design
Milton Martin Toyota
The Northeast Georgian
Omega Technology Group
Patterson Pump
Perry Gas
Piedmont Metal Processing
Piedmont University
PropertyStewards.com
Joanna Radford, Realtor, Poss Realty
Rogers Strategies, LLC
7 Hills Fire Protection
Small Business Access Partners
South State Bank
Rick Story
Stout's Construction, LLC
Sugartopia
TAG, Inc. - Electrical Contractors
Tatum Tutorial & Consulting
Thornton Brothers
Tida Nails
TJT Investments
Toccoa Machine Products, Inc.
Turnerville Garden Center
Vibez Entertainment Technology
ViewSonic Corporation
Virtucom
W&W Collision Center
White County News
Wilkinson Concrete
---
Logistics partners
City of Cornelia; Georgia Dept. of Economic Development/Explore Georgia; Georgia Power Land Office; Georgia State Patrol; Habersham County Sheriff's Office; Habersham Emergency Management Agency; Higgins Construction Company; Rabun County Sheriff's Office; Tallulah 1882; Tallulah Falls Police Department; Tiger Baptist Church and U.S.D.A. Forest Service
---
About the ride
The Twin Rivers Challenge is an autumn ride through some of Northeast Georgia's most spectacular scenery, with this year's event set for Oct. 23.
Hosted by Tallulah Falls School, the road cycling event is a fundraiser for student scholarships at the school.
Riders will have the choice of three challenging and scenic routes – 70, 46 or 33 miles. The ride will begin and end on the campus of Tallulah Falls School with routes taking riders through both Habersham and Rabun counties and across two rivers – Tallulah and Soque.
All rides will begin at 9 a.m. on Saturday, Oct. 23. Registration opens at 7:30 a.m. Parking is located directly in front of the Tallulah Falls School upper school. Registration/check-in on the day of the event will be located in front of the TFS upper school classroom building. Support and Gear (SAG) stops will be available at regular intervals along the routes. A post-ride meal will be provided for all riders.
For route details and to register details, visit www.bikereg.com For more information, visit tallulahfalls.org/TRC or find the event on Facebook.