News & Announcements
TFS sixth-graders collect supplies donations for animal shelter
Members of the sixth-grade class at Tallulah Falls School collected supplies and donations for the Habersham County Animal Care and Control Department, making the delivery in person on Oct. 15.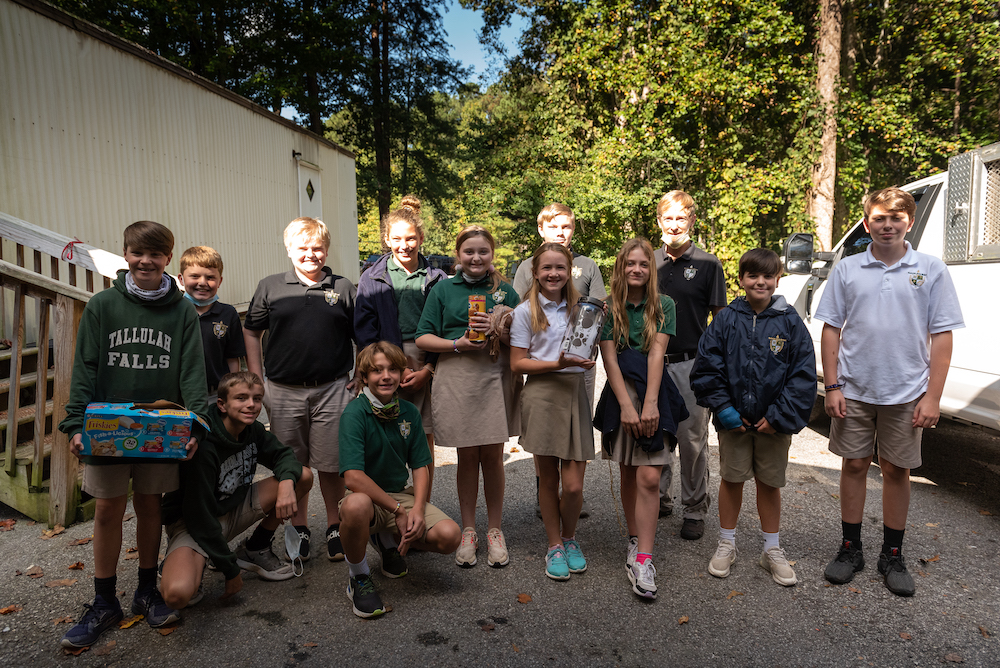 According to English teacher Travis Mullis, the project is a community-service component relating to a novel study on Eric Knight's classic, Lassie Come-Home. Midway through the book, a young girl asks an older gentleman what happened to all of the stray pets that went to the pound. Mullis said that the response was not what the character wanted, so she inquired if they could be adopted and given new homes.
"For the second year in a row, that fictional conversation has prompted my students to ask the same question about their communities: what happens to homeless dogs and cats where we live?" Mullis said. "This year, the classes contributed a significant amount – more than $260 – in addition to food for the shelter animals."
Shown, from left, are Garrett Dorsey (holding food), AJ Dills, Asa Popham, Tate Colston, Brody Irvin, Stella Rose Bowman, Madi Williams, Catherine Harris, Patrick Rowland, Veronica VerBerkmoes, Travis Mullis, Luke Thomson, Lincoln Hicks