News & Announcements
Montgomery Dampier signs with Georgia Southern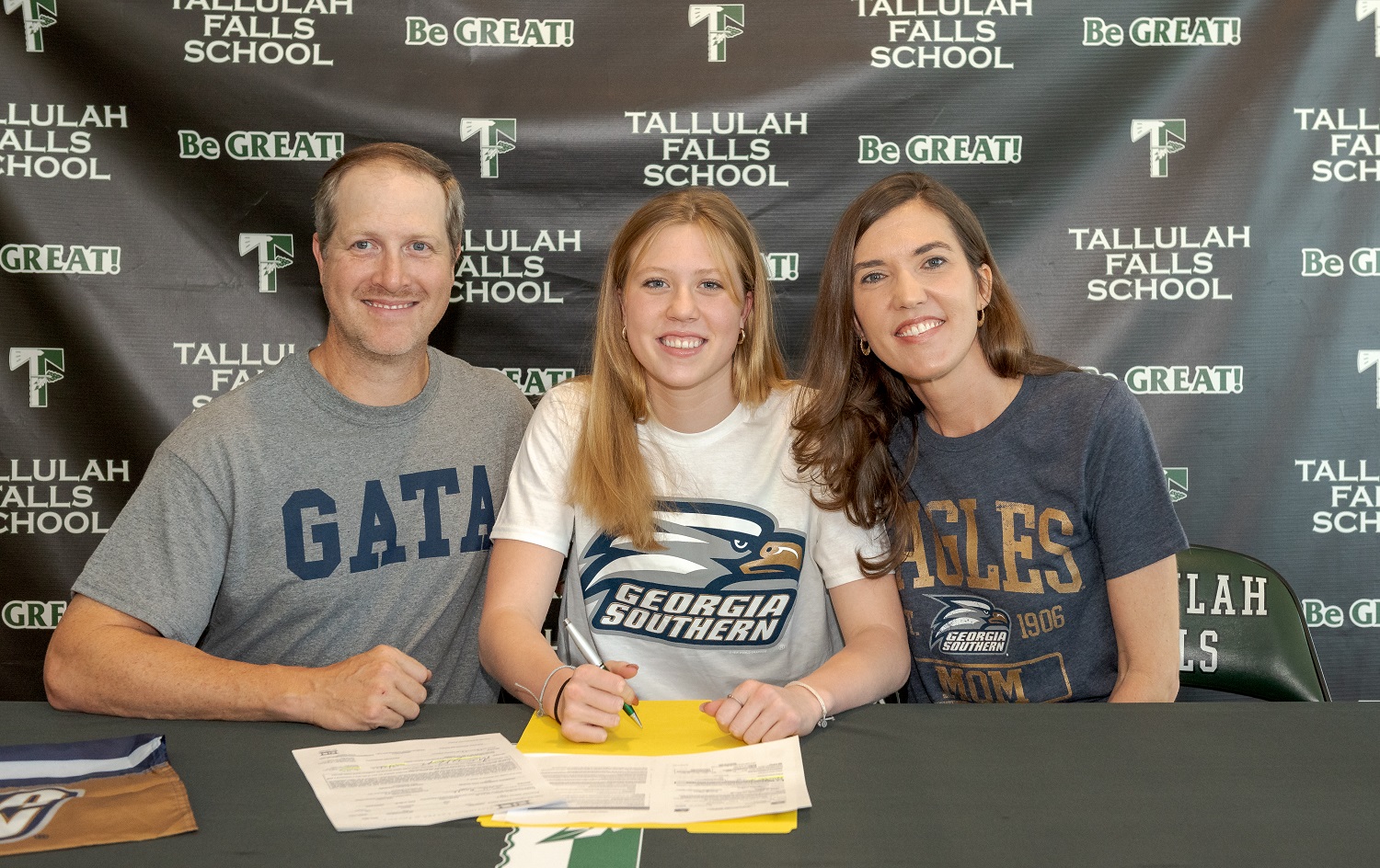 Tallulah Falls School elite swimmer Montgomery Dampier put pen to paper in her commitment to continue her swim and academic career at Georgia Southern University on Thursday afternoon.
Dampier, of Tiger, signed her national letter of intent with the Georgia Southern Eagles, an NCAA Division-I member of the Sun Belt Conference. Dampier will continue her career in Statesboro beginning next fall.
"I am very excited for Montgomery to be joining us here at Georgia Southern in the fall," says Georgia Southern coach Amanda Caldwell. "She will make an immediate impact in our distance events and I look forward to her adding to our growing championship team culture."
Dampier joined TFS just this school year, and wasted no time in becoming a leader.
"Montgomery quickly fit in at TFS and demonstrated a distinct ability to listen, learn, and lead," says Athletic Director Scott Neal. "Respected and appreciated by her peers, she swiftly earned a legacy of performance, purpose, and positivity. She has set her sights high and put in the work to match those aspirations, setting an example for others."
Dampier, who was surrounded by family, friends, teammates, and others in the TFS community, celebrated her signing in the brand new TFS Natatorium. Dampier has been outstanding in the course of her senior season so far. She currently holds the school record in the 500 Free at 5:16.45, and is part of the school-record setting 200 Medley Relay (2:00.91).
Dampier is the first TFS athlete this year to sign a letter of intent to pursue an athletic and academic career in college. She is the 6th TFS swimmer in history to go on to compete at the next level.
Coach Rachel Nichols spoke at the signing about how Georgia Southern is not only getting a great swimmer, but a passionate and detail-oriented one. TFS President Larry A. Peevy stated that he believes Dampier will raise the standard at Georgia Southern, while her father, Kyle Dampier, thanked the TFS community for their love and support to the family.