News & Announcements
TFS 9-11 Grade Awards: 2022-23
TFS hosted its annual 9-11 Grade Awards Day on Wednesday to mark the end of the 2022-23 academic year. Honors and awards presented included:
Presidential Scholars
Freshmen: Elijah Barker, Dalton Blackwell, Emily Cai, Lupita Carrillo, Ashlyn Cleveland, Jessica Cook, Penny Damron, Lily Gaglio, Kate Gary, Kiersten George, Harrison Goldfine, Carsyn Griffis, Kelly Jun, Azaria Junaid, Zoie Kelly, Sarah Lundy, Mitchell McGahee, Sarah Morris, Mattie Patterson, Bryson Perdue, Kaylin Pickett, Caden Polley, Martin Raybon, Laith Reynolds, Molly Rickman, Jackson Savage, Charlotte Stafford, Jack Thomson, Keira Webb, Sarah Wilkinson, Walker Wright, Allison York.
Sophomores: Ade Akisanya, Katie Anderson, Allison Bailey, Emma Barron, Timothy Beck, Landry Carnes, Zachary Carringer, Josie Chesser, TJ Cox, Carlos De Andres Alcantara, Marina Dumas, Raegan Duncan, Nick Edenfield, Chloe Erwin, Wyatt Franks, Alvaro García Bretón, Miah Gragg, Ava Hamon, Mia Hamon, Kalleigh Hartzog, Millie Holcomb, Jacé Ibemere, Milos Ivancevic, Haygen James, Kyleigh Loudermilk, Madeline Martin, Jacob Mitchell, Cristian Paramo-Gonzalez, Grayson Penland, Brooklyn Reed, Kelton Reynolds, Leah Rogers, Emmet Sims, Caroline Smith, Chesney Tanksley, Jedd Thomas, Rylee Vandiver, Victoria VerBerkmoes, Danny Grant, Lizzy Wanner, Breelyn Wood.
Juniors: Adrijana Albijanich, Piper Allen, Marcos Alvarez Carrasco, Kyndal Anderson, Maddox Anderson, Austin Ball, Tiana Bojovic, Joel Bourlet, Luka Burmazevic, Reilly Chatman, Jenna Chesser, Eli Damron, Makhi Edgecombe, Camden Elrod, Nnamdi Ezunu, Tessa Foor, Katarina Foskey, Lawson Fulbright, Anna Grant, Mia Heyl, Jane Ibemere, Marija Ivanovic, Annabelle Jackson, Emilee Jones, Claire Kelly, Ariel Kelsick, Sam Ketch, Angelina Kim, Lucy Ladd, Maddie LeBlanc, Manda Mandic, Addy McCoy, Joseph McGahee, Molly Mitchell, ChiChi Nwachukwu, Pola Pilicka, Dani Prince, Lucia Rajkovic, Henry Rickman, Octavio Santana Campuzano, Jackson Shadburn, Brit Shaw, Julianne Shirley, Ethan Simmons, Gabe Smith, Grace Stout, Sivheng Sun, Ellia Tanenbaum, Zakhar Valasuik, David Vasic, Caden Walker, Jake Wehrstein, Andrew Whittle, Reese Wilson, Ashlyn Yaskiewicz, Skylyn Yaskiewicz.
english award
9th Grade - Kaylin Pickett
10th Grade - Zachary Carringer
11th Grade - Dani Prince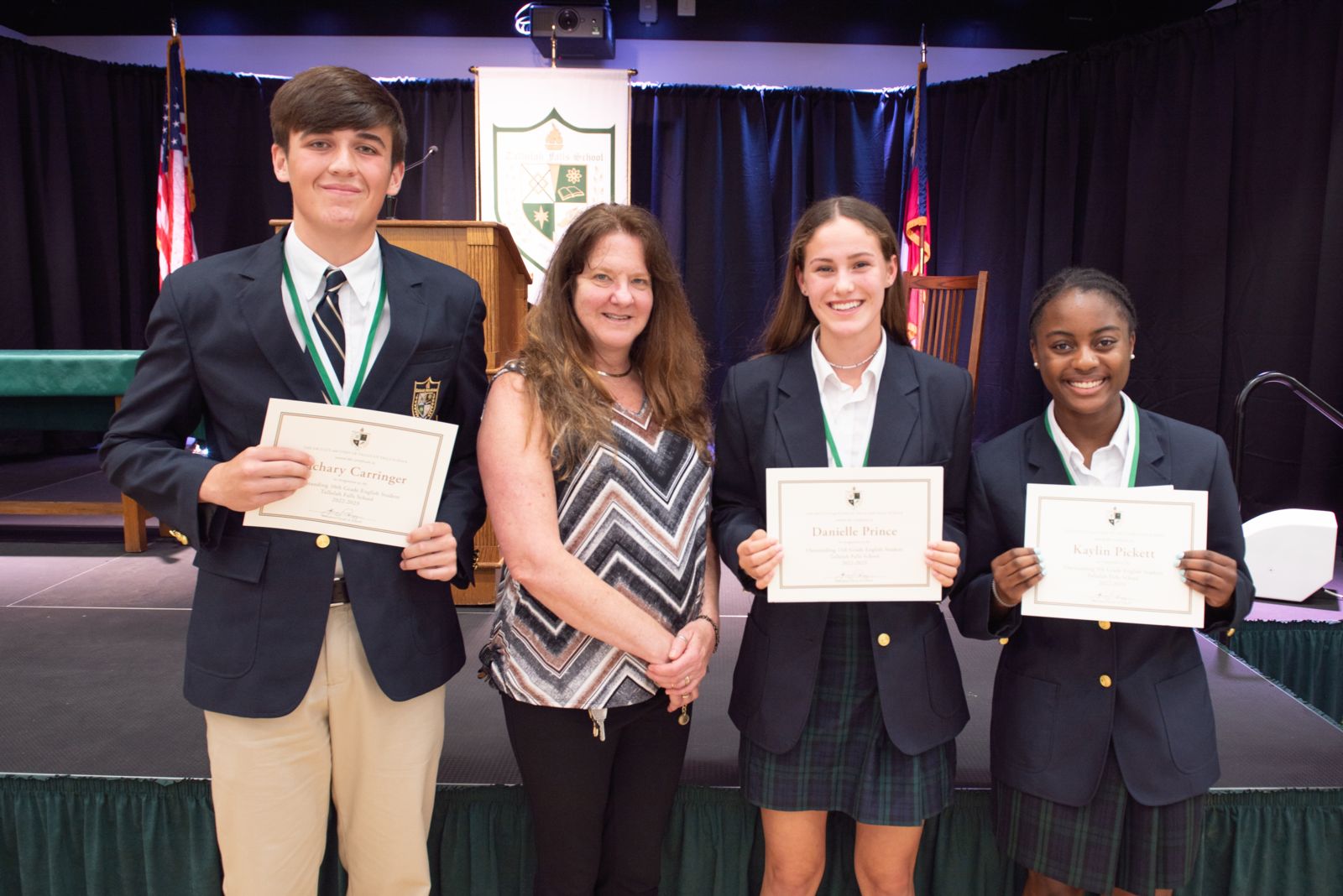 Zachary Carringer, presenter Kelli Bly, Dani Prince, Kaylin Pickett
INDIAN IRON AWARD - SAM KETCH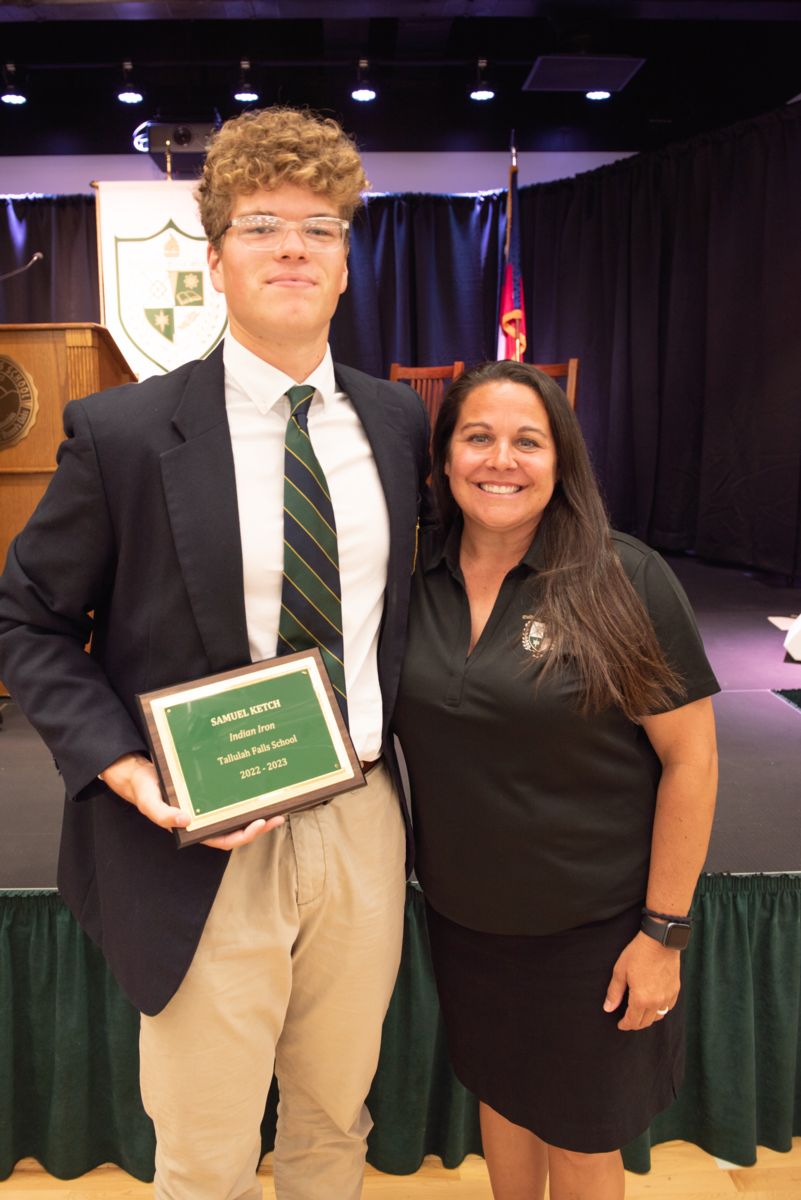 Sam Ketch, presenter Jinny Hanifan-Wagner
PHYSICAL EDUCATION AWARD - MERRICK CARNES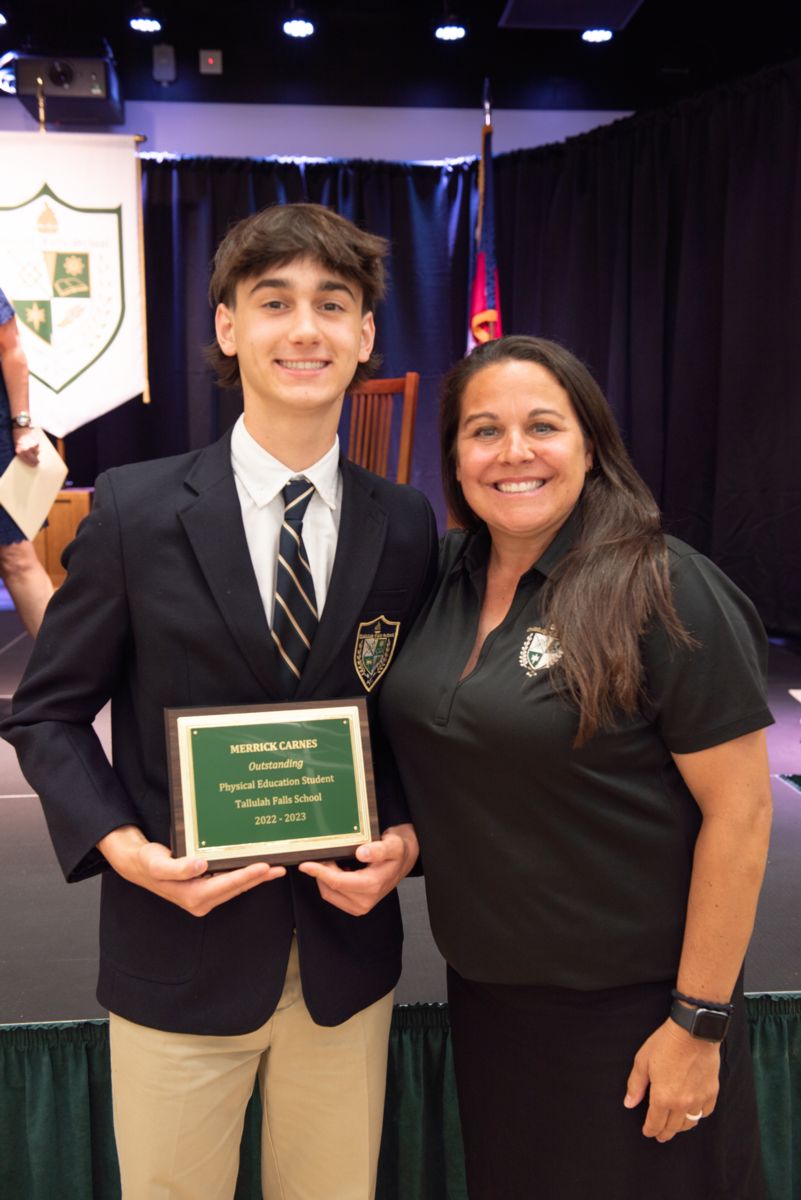 Merrick Carnes, presenter Jinny Hanifan-Wagner
MATHEMATICS AWARD
9th Grade - Lily Gaglio
10th Grade - Marina Dumas
11th Grade - David Vasic

Marina Dumas, Lily Gaglio, David Vasic, presenter Deborah Morrison
GMEA ALL-STATE CHORUS - CAROLINE SMITH & ALLISON YORK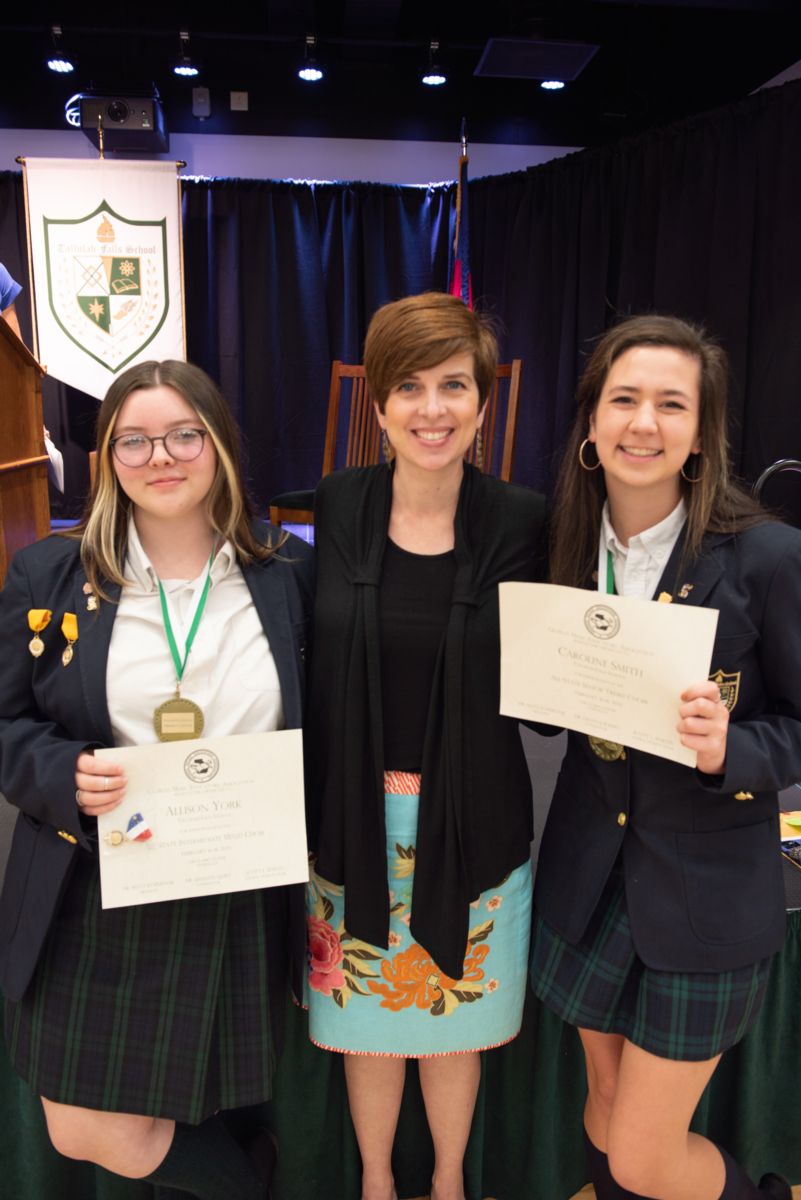 Allison York, presenter Mary Lauren Keeny, Caroline Smith
SCIENCE AWARD
9th Grade - Sarah Morris
10th Grade - Allison Bailey
11th Grade - Katarina Foskey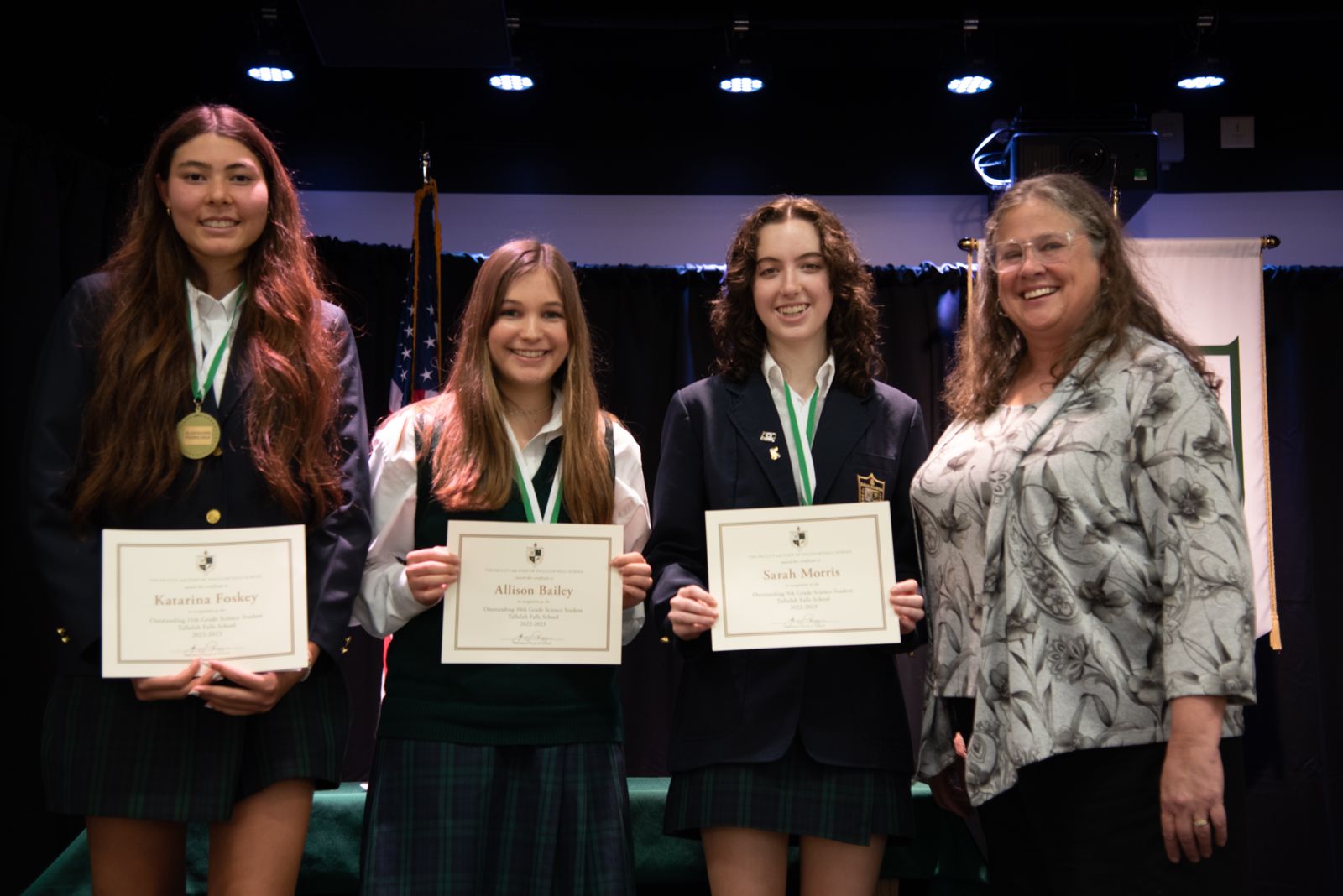 Katarina Foskey, Allison Bailey, Sarah Morris, presenter Beth Huebner
SOCIAL STUDIES AWARD
9th Grade - Charlotte Stafford
10th Grade - Elizabeth Wanner
11th Grade - Luka Burmazevic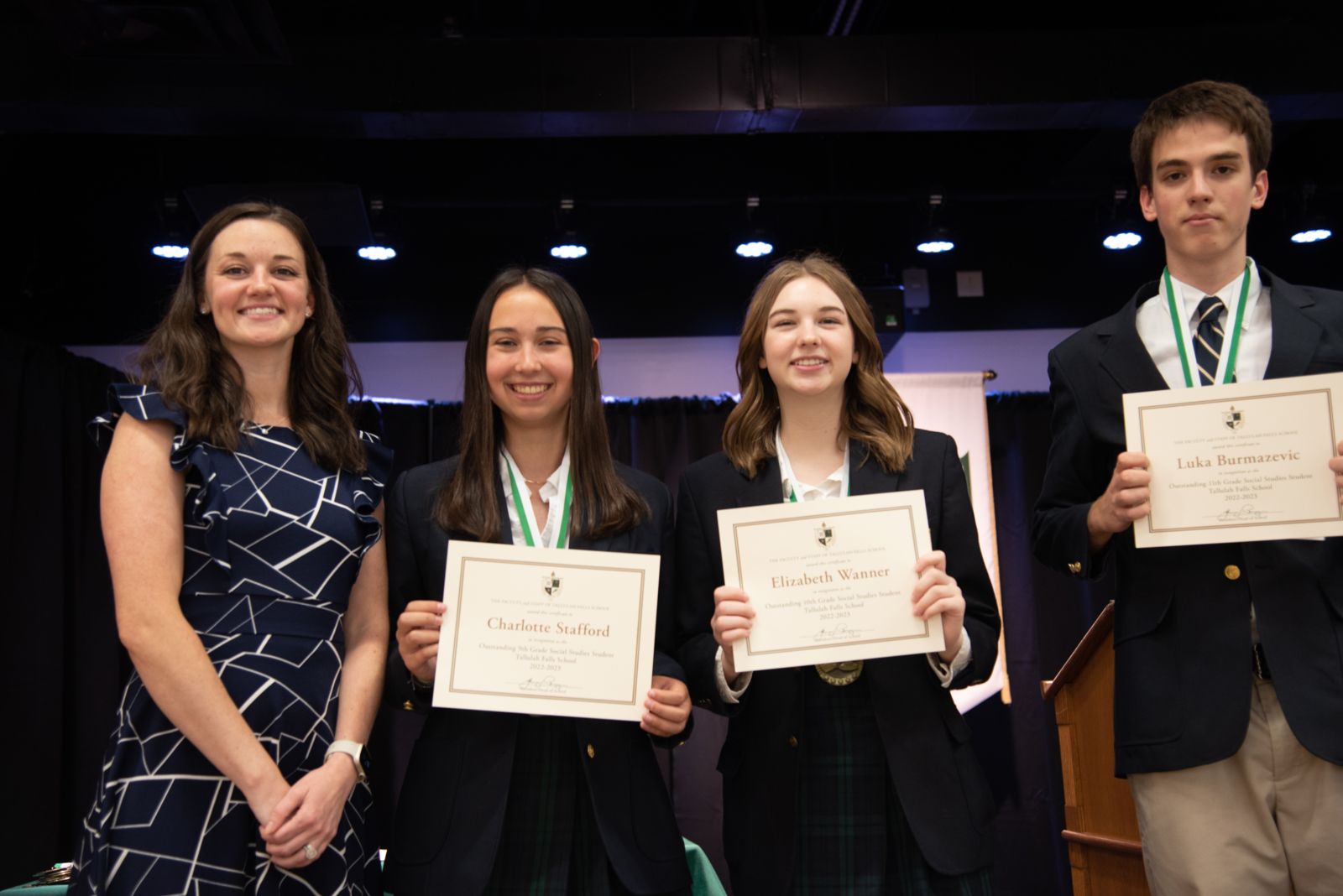 Presenter Dallas Barron, Charlotte Stafford, Elizabeth Wanner, Luka Burmazevic
VISUAL ARTS AWARD - DAVID YATES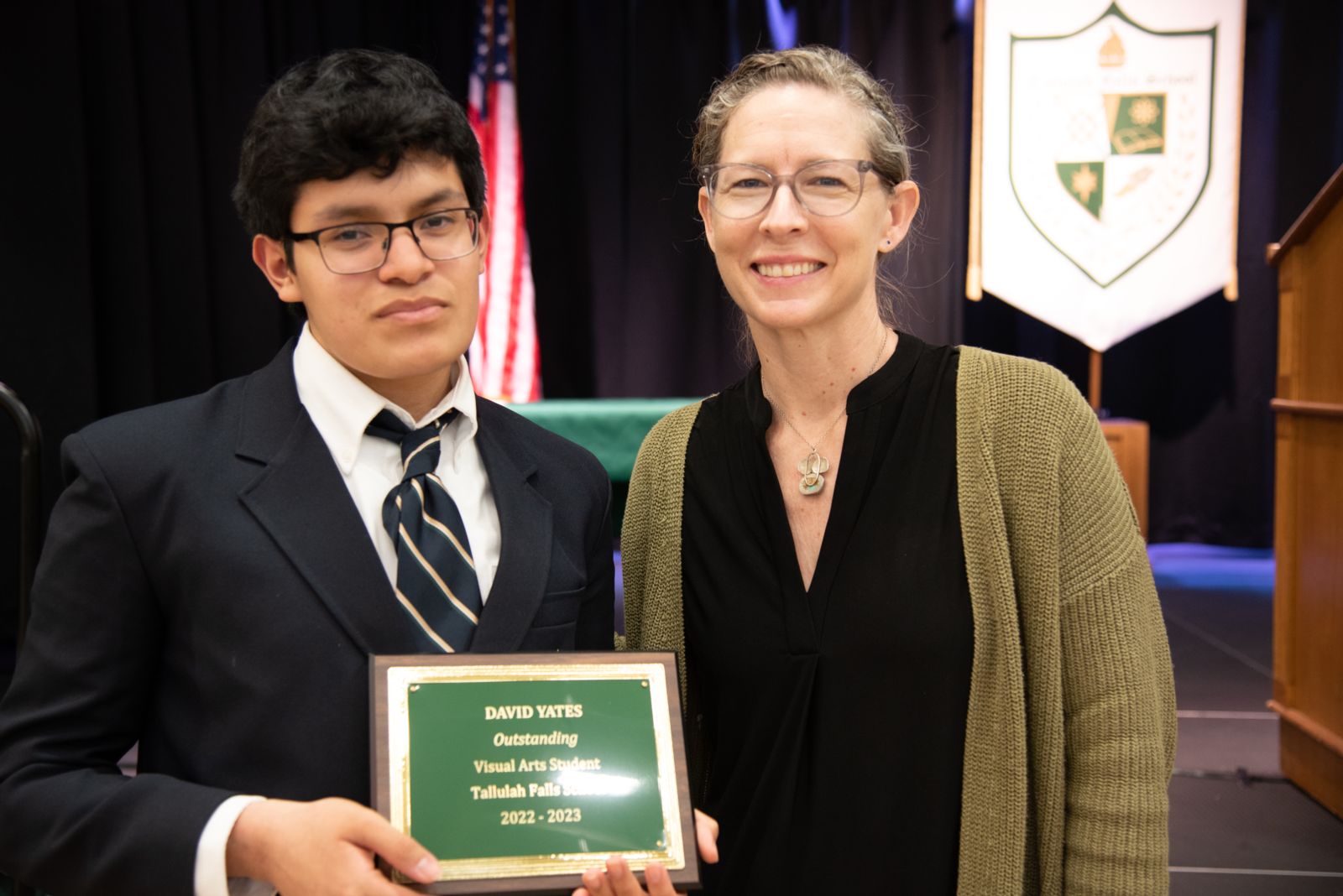 David Yates, presenter Stephanie Stuefer
POSITIVE ATHLETE GEORGIA AWARD - MARC CROTTA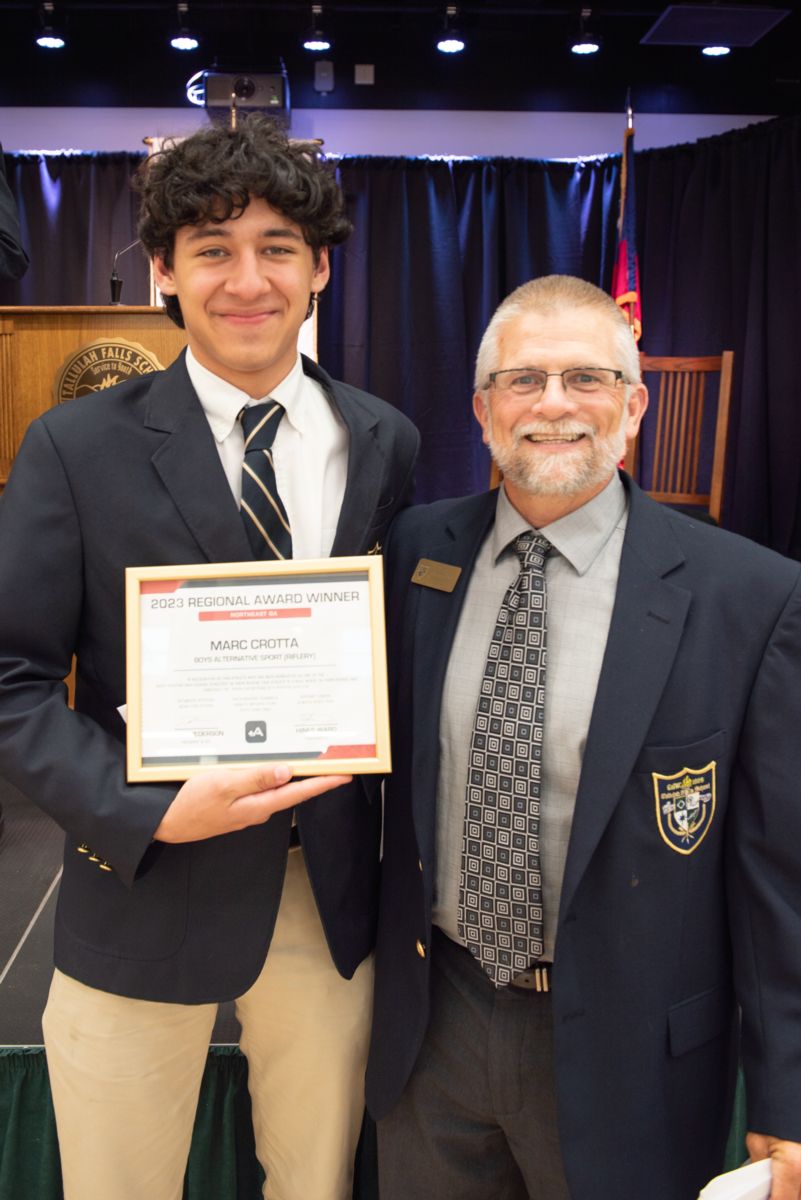 Marc Crotta, presenter Scott Neal
BLITZ PLAYER OF THE YEAR - MADISON DAMPIER
BLITZ TEAM OF THE YEAR - TFS VOLLEYBALL
GREAT LEADERSHIP AWARD - SAM KETCH & MOLLY MITCHELL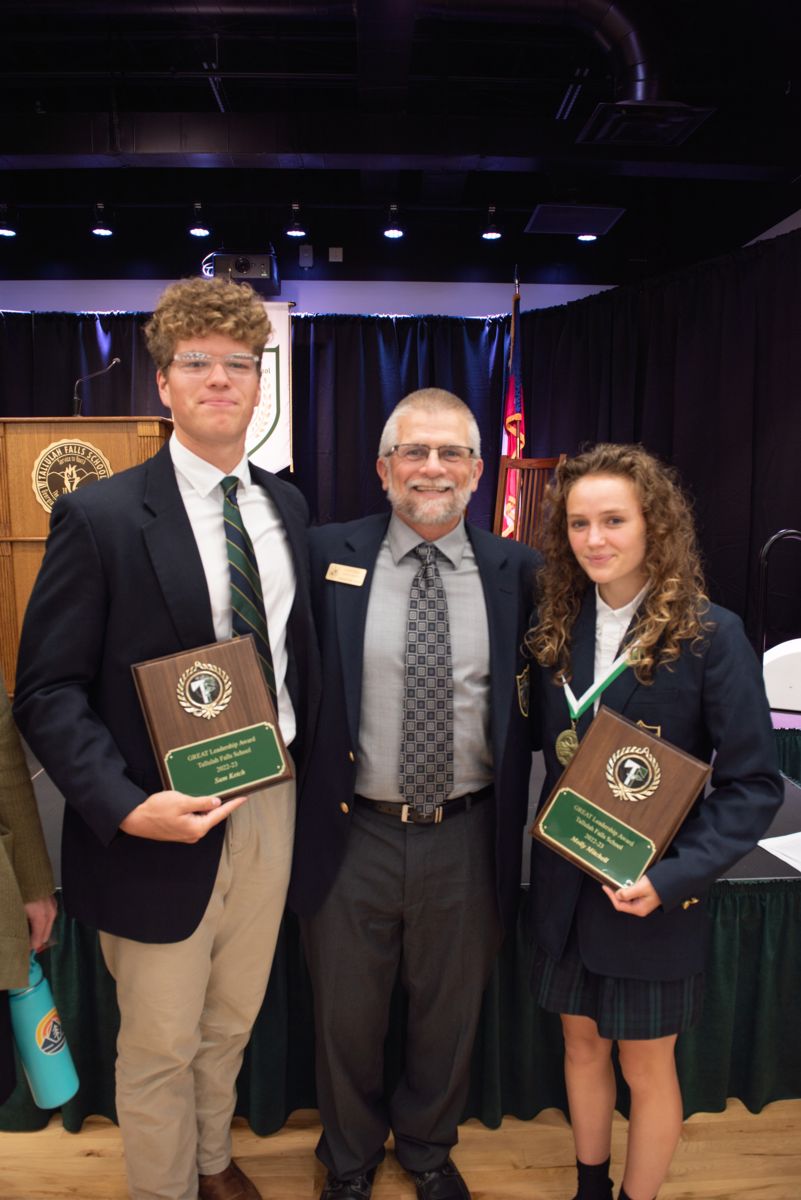 Sam Ketch, presenter Scott Neal, Molly Mitchell
INDIAN OF THE YEAR - JOSEPH MCGAHEE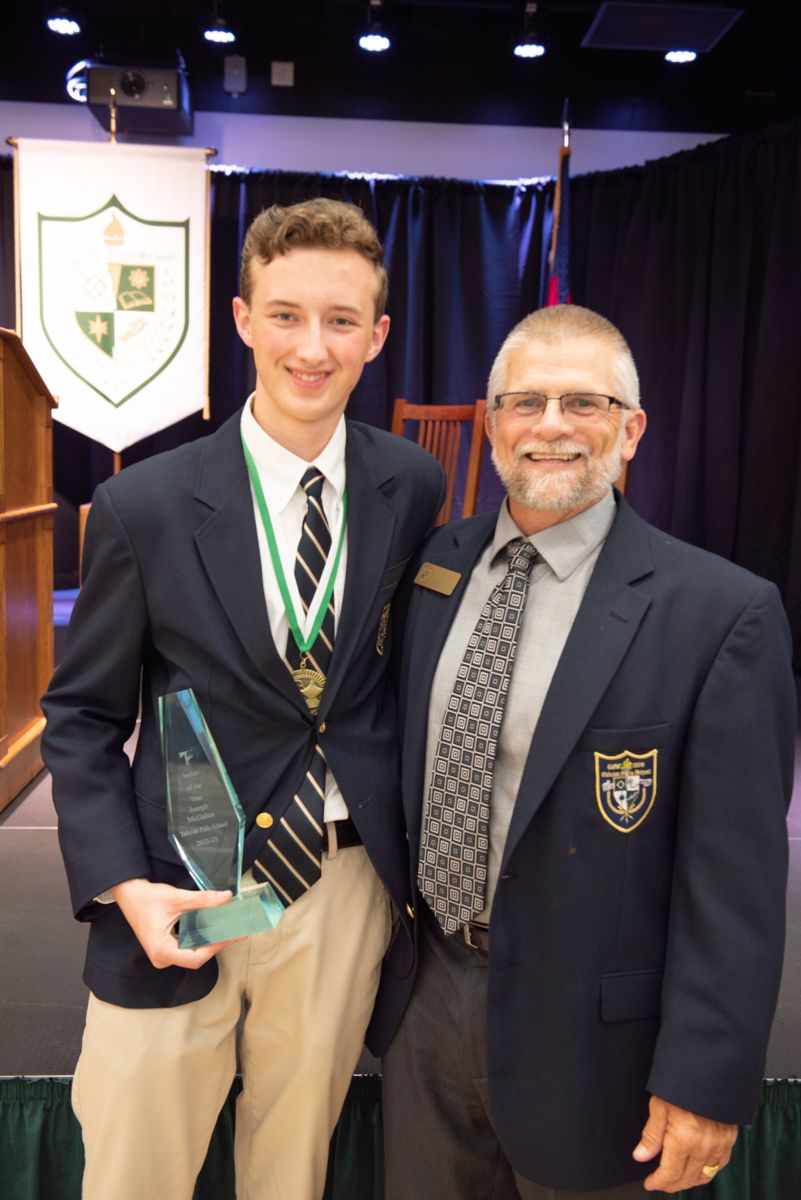 Joseph McGahee, presenter Scott Neal
GEORGIA CERTIFICATE OF MERIT
Emilee Jones, Jake Wehrstein, ChiChi Nwachukwu, Dani Prince, Sivheng Sun, Jane Ibemere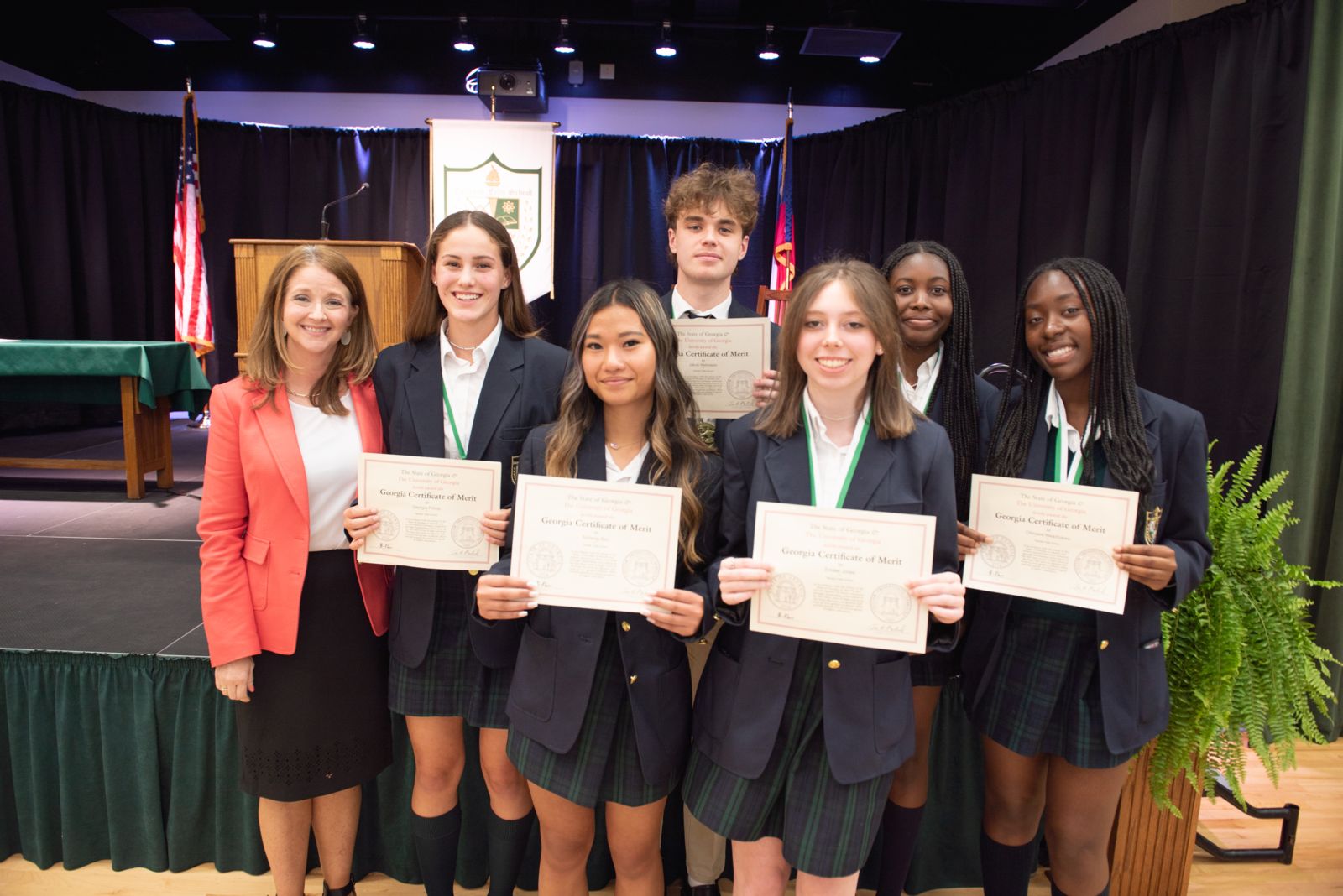 Presenter Michell Barron, Dani Prince, Sivheng Sun, Jake Wehrstein, Emilee Jones, Jane Ibemere, ChiChi Nwachukwu
FORWARD RABUN - DANI PRINCE & ANDREW WHITTLE
Recipients: Dani Prince & Andrew Whittle | New Members: Timothy Beck & Gemma Farris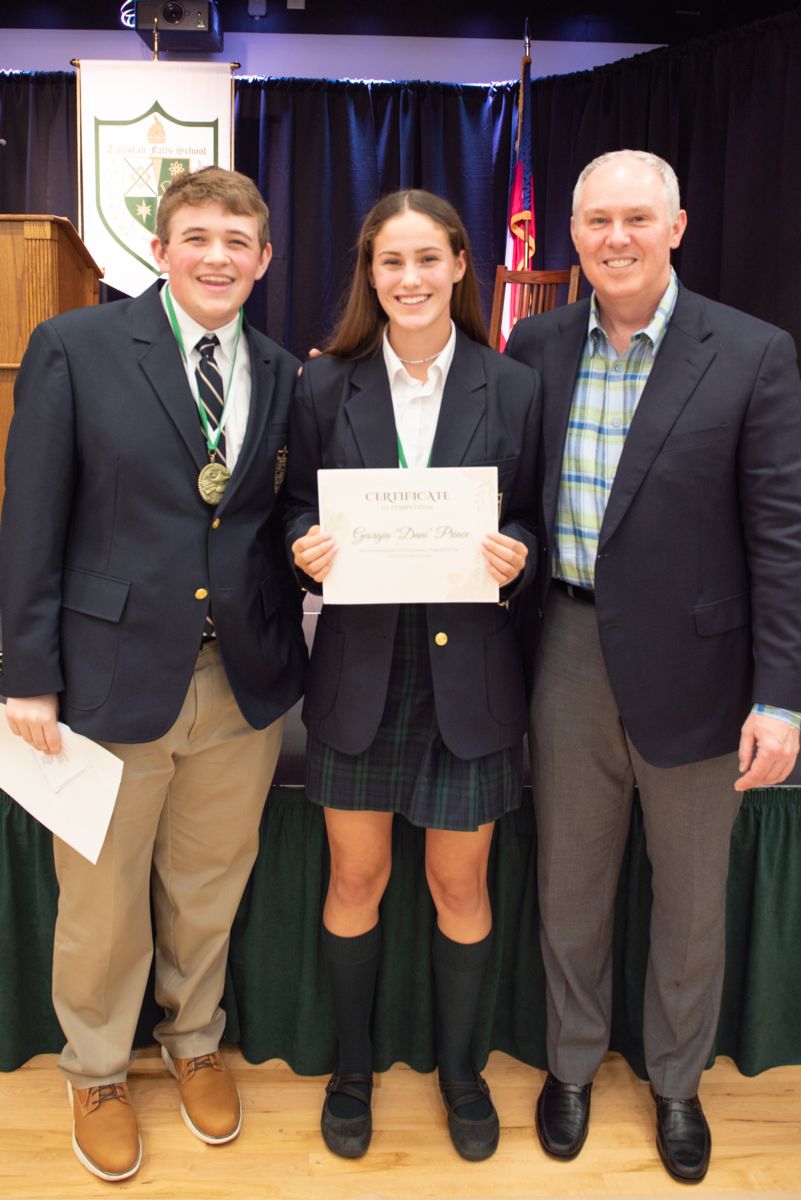 Andrew Whittle, Dani Prince, presenter Rick Story
WOODMEN LIFE - EMMA BURKE
YOUTH LEADERSHIP HABERSHAM
Anna-Reece Akers, Marc Crotta, Brooke Hayes, Maddie LeBlanc, Addy McCoy, Julianne Shirley, Ethan Simmons, Reese Wilson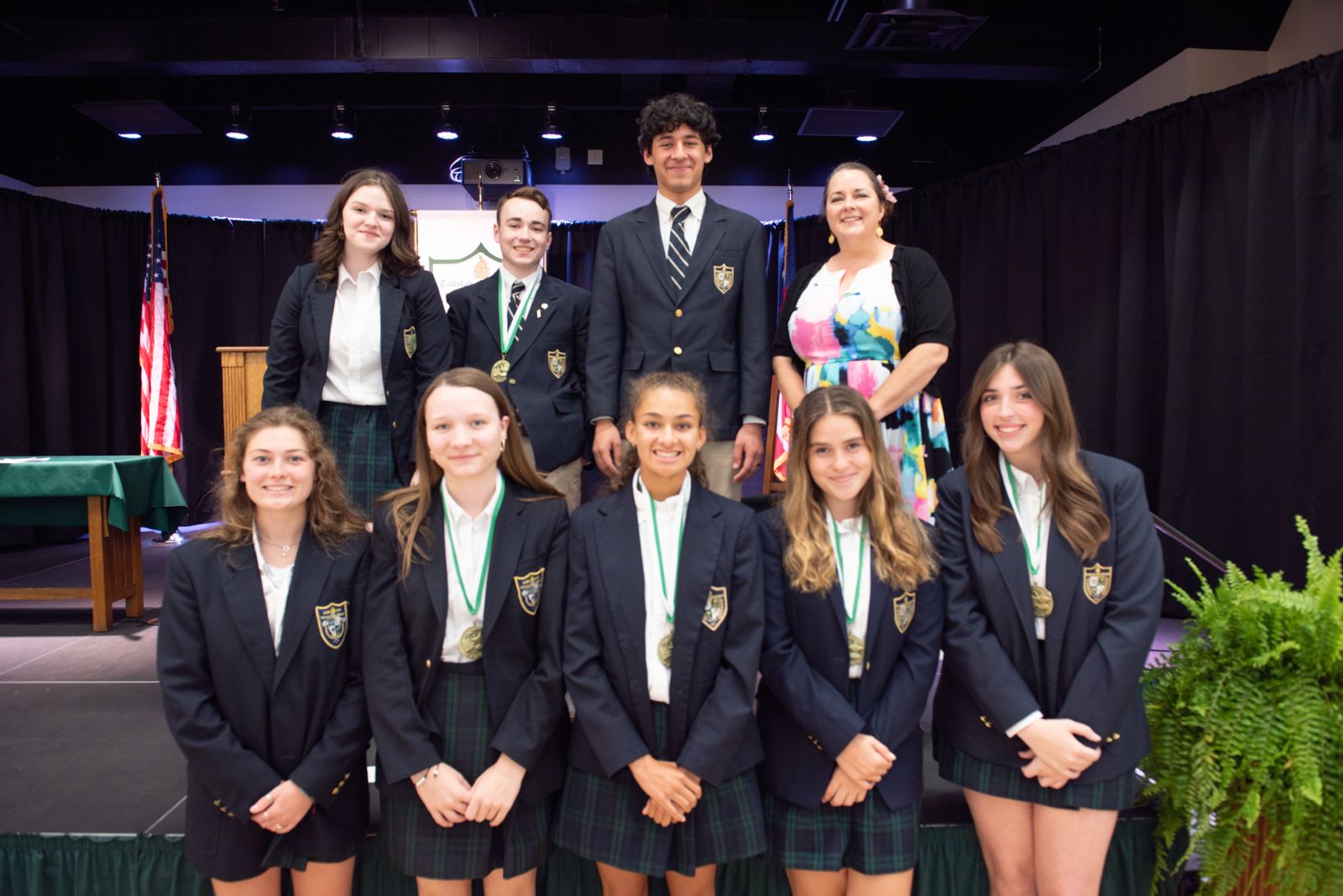 Front Row: Brooke Hayes, Reese Wilson, Julianne Shirley, Maddie LeBlanc, Addy McCoy
Back Row: Anna-Reece Akers, Ethan Simmons, Marc Crotta, presenter Ellie Van Doornum
EXTRA MILE AWARD - REBECCA HEYWORTH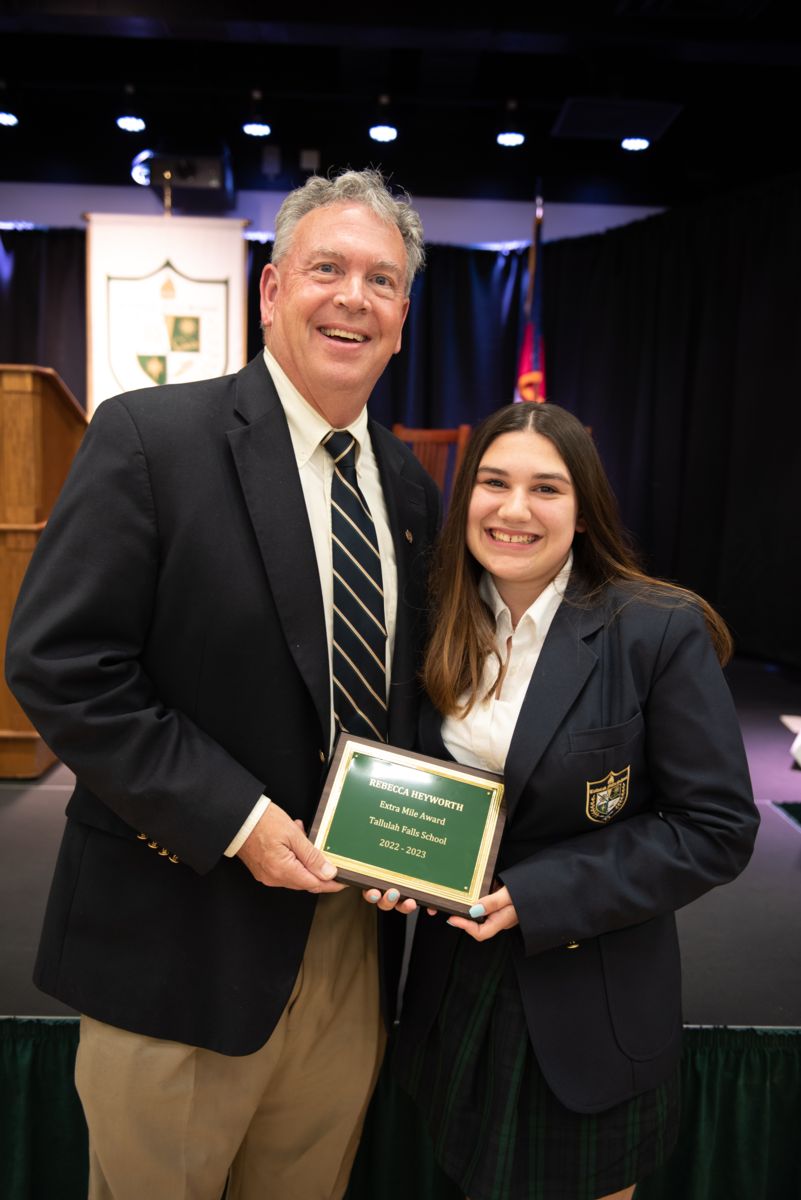 Presenter Jimmy Franklin, Rebecca Heyworth