About the team
The Tallulah Falls School Bass Fishing Team will compete in at least eight tournaments during the season including the State Classic (Championship).
While it is not mandatory to fish every event, fishing competitively is no different than any other sport. The more practice and participation, the better the team will be. For the 2017-18 competition season, the TFS Bass Fishing Club will be participating with four teams of two anglers:
Team Williams – Marshall Williams and Marshall Harrelson
Team Harrelson – Thomas Harris and Will Jackson
Team TBD – Luke Ferguson and George Ketch
Team Mitchell [Jr. Division] – Jacob and Koen Eller
Team James [Jr. Division] – Haygen James and Molly Mitchell
However, we invite, welcome and encourage anyone, male or female, who wants to join and compete as a part of the TFS Fishing Club team. A sanctioned fishing boat and an adult driver/captain are required for each fishing pair to be eligible to participate. Fishing boats are not provided by the school and drivers/captains serve on a volunteer basis.
These events are nationally sanctioned by B.A.S.S. and while it teaches these young men and women many valuable lessons about the environment, competition, safety, etc. It also gives them exposure to colleges searching for young anglers to award scholarships to for fishing on their school teams.
While the season has a starting and ending point, it is perfectly acceptable for anglers to go through the qualification requirements and get started after the season has begun. As illustrated in the schedule below, tournaments are held on lakes all across the state with more than 165 Georgia Bass Nation High School teams competing.
Anglers are allowed to fish that are from middle school through seniors. The teams generally practice the weekend before the tournament and the Friday before the tournament. All tournaments are on Saturdays except the State Classic which is usually a two-day event.
For more information, call Director of Community Relations E. Lane Gresham at 706-839-2024 or email at lane.gresham@tallulahfalls.org.
---
2018-19 Competition Schedule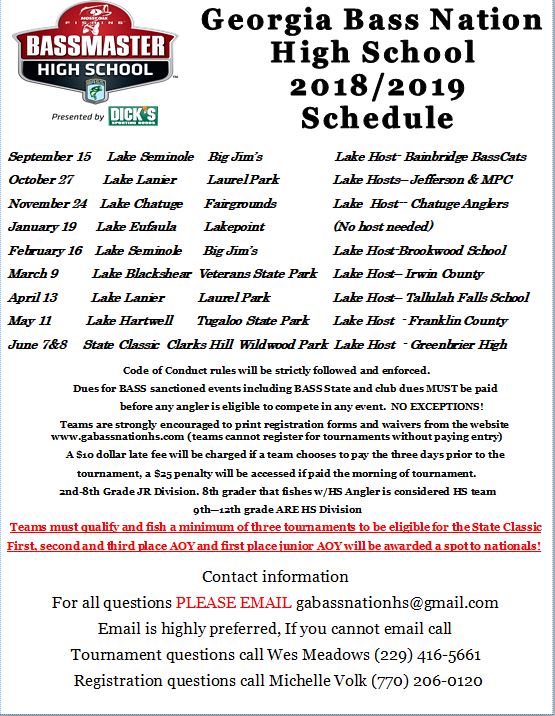 2018-19 Sponsors
Platinum Level – $1,000
All State Insurance
Big D Painting
Ron Cantrell Construction, Inc.
CMS Solutions & Logistics
Norton Agency-Insurance
Piedmont Metal Processing
Pro Truss
RGWilliams Construction, Inc.
---
Gold Level – $500
All Service Printing & Associates, Inc.
Amos, Maney & Payne
Branch Banking & Trust Company
Classic City Doors
Harry Norman Realtors
Lighting Associates
N&C Marine
RBC Aerostructures
Stuart Pro Air
United Roofing Contracting
---
Silver Level – $250
Armstrong Construction, Inc.
Burke Mulch & Supply
Castillo Family Dentistry
Clarkesville Veterinary Clinic
Clearwater Landscape LLC
Cornelia Dental | Dr. Ralph Jackson
Harbin Lumber
Chris Kitchens
McAllister Tree
Soque River Farms
South State Bank
TPC Wood Crafters
Traditions Banks
Yonah Coffee
---
---
Bronze Level – $100
A to Zinc
Anderson Carpet
Bob & Ted's
Boswell Painting
Clarkesville Motor Company
Eller Fence Company
Family Pride Mini Storage
George MacMillan
Hames & Co.
Harkness Law Firm
William and Patricia Ingram
Tom Skipper
Tony Cook Trucking
Wilbanks Body Shop
770 BAM Tree, Inc.*