TFS

Varsity Cross Country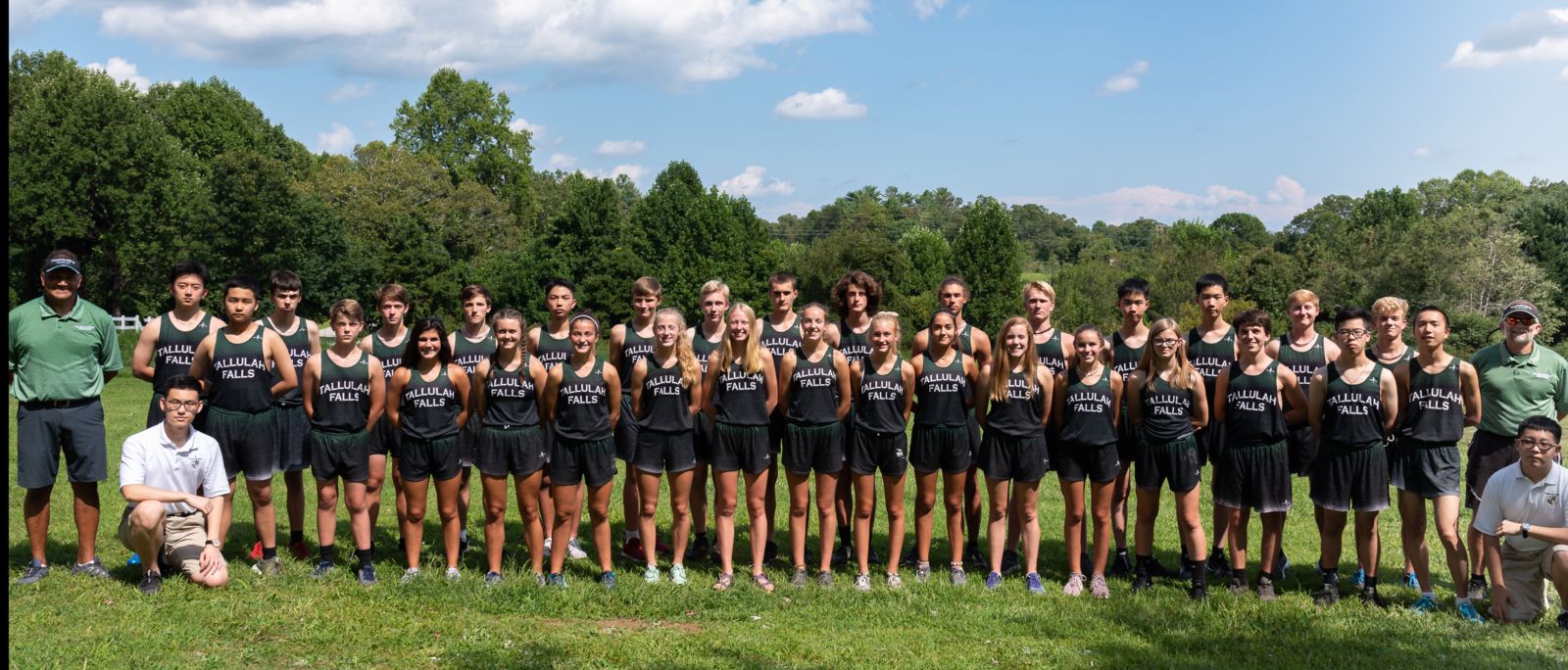 Schedules, Team Standards and Links
---
Team Information
Tallulah Falls School competes with Athens Academy, Athens Christian, George Walton Academy, Hebron Christian, Lakeview Academy, Pinecrest Academy, Prince Avenue, Providence Christian, Riverside Military Academy and Wesleyan in Georgia High School Association Area 2–A Private.
The TFS cross country vision is to develop citizen leaders who inspire, facilitate, and engage in a meaningful community by developing GREAT character, skill, and training while creating a season of significance.
Results and individual performances can be found at www.ga.milesplit.com.
---
The TFS cross country boys and girls teams organize four GREAT (an acronym for our character program) themed meets with a vision of distinctively highlighting competition and fun, utilize the process for leadership and life skills, and reflect after each meet what can be done better next time. Goals for meets are to provide a memorable experience, utilize innovation in prizes and interact actively and positively with guest teams. A packet with course maps and a Farm Course Legacy List (also available at www.tallulahfalls.org) are provided and sent to coaches. Mile times one and two are called out, results are immediately available via the PT Timing Group, and a course map banner and a themed banner are posted for all to see. There is plenty of team tent space, concessions are sold, themed and inspirational music blares, unique prizes are awarded, and an opportunity to donate to a team-chosen charity is available at the meet. ALL MEETS ARE ON THE UPPER / COLLEGE COURSE
TFS XC Relay Carnival (HS only) - Thur Aug 15. 3 person per gender relay teams scott.neal@tallulahfalls.org IPad timed.
An early-season relay oriented meet in the heat where runner #1 runs mile 1 & 5, #2 runs mile 2 & 6, and #3 runs mile 3 & 4. Immediately after the meet, teams are invited to interact with each other and play different carnival games based on popularity (ex/ corn hole, disc golf, terrific toss, horseshoes, etc.).
---
TFS Cookies 'n Quotes XC Festival (MS and HS) - Tue Sept 10. $100/HS - $100 MS; $150 both MS + HA
Timed by PT Timing Group.
Enter ga.milesplit. PW = CQXC Scott Neal scott.neal@tallulahfalls.org
Every runner, manager, and coach receives a decorated bag with their name on it and three homemade cookies and three inspirational quotes in it. Individual winners receive a prize donated by Tallulah Point Overlook. Burger, chips, PowerAde for $5 each.
---
TFS Heroes Invitational (HS only) - Sat. Sept 21. $100/school - Upper Course 9 a.m.
Timed by PT Timing Group. Enter ga.milesplit PW = Heroes19
(get password from Scott Neal scott.neal@tallulahfalls.org)
Each year, the Heroes Invite will honor those who serve our society, whether military, emergency or security personnel. Music, decorations, and prizes of a patriotic theme add to the aura.
---
TFS Harrier Harvest (HS only) - Tue Oct 15 $100/school - Organized by Piedmont College XC - Upper Course 4:30
Timed by PT Timing Group. Enter ga.milesplit. PW = Harvest19
(get password from Scott Neal scott.neal@tallulahfalls.org)
A fall harvest oriented meet adorned with team painted hay bales and pumpkins decorated by TFS art students, the Harrier Harvest incorporates a hay bale "jump" at each mile marker and a brief "maze" before mile three. Unique prizes are given to the top 10, the winners receive a homemade pumpkin pie, and the team winners receive the "World's Best Apple Pie."
Coaches
Scott Neal – Head MS & HS Track & Field Coach
M.S. Physical Education, University of New Mexico, CSCS, USATF Level II
scott.neal@tallulahfalls.org – 706-839-2004
For the 2019-20 academic year, Coach Neal begins his 36th year of coaching, 33rd year in education as a teacher or administrator and 21st year at Tallulah Falls School. Coach Neal leads the TFS athletic program, is the head coach of the girls and boys middle school and high school cross country and track & field teams, and directs the strength and conditioning program. Scott is a founding member and representative of the Georgia Track & Field and Cross Country Coaches Association, member of the GACA, GADA, NIAAA, USATF, GATFXCCA, USTFCCCA, and NSCA, and occasionally is a USATF Level I instructor. Coach Neal is a Certified Strength & Conditioning Specialist with the National Strength and Conditioning Association and has the USATF Level II certificate in four different areas. Coach Neal has received the 1995 and 1997 NMTFXCCA Coach of the Year, 1997 Section 6 T&F Coach of the Year and 2015 Georgia Region 8-A and Class A Athletic Director of the Year.
In spare time and on breaks, Coach Neal likes outdoor adventures, biking, hiking, reading about performance training and spending time with his wife Dianna and two dogs, Regal and Badger.
---
Tim Corbett, assistant coach
tim.corbett@tallulahfalls.org
706-839-2047
---
Tamara Griffis, assistant coach
tamara.griffis@tallulahfalls.org
706-949-5750