News & Announcements
Day earns advanced certification after expanding yearbook program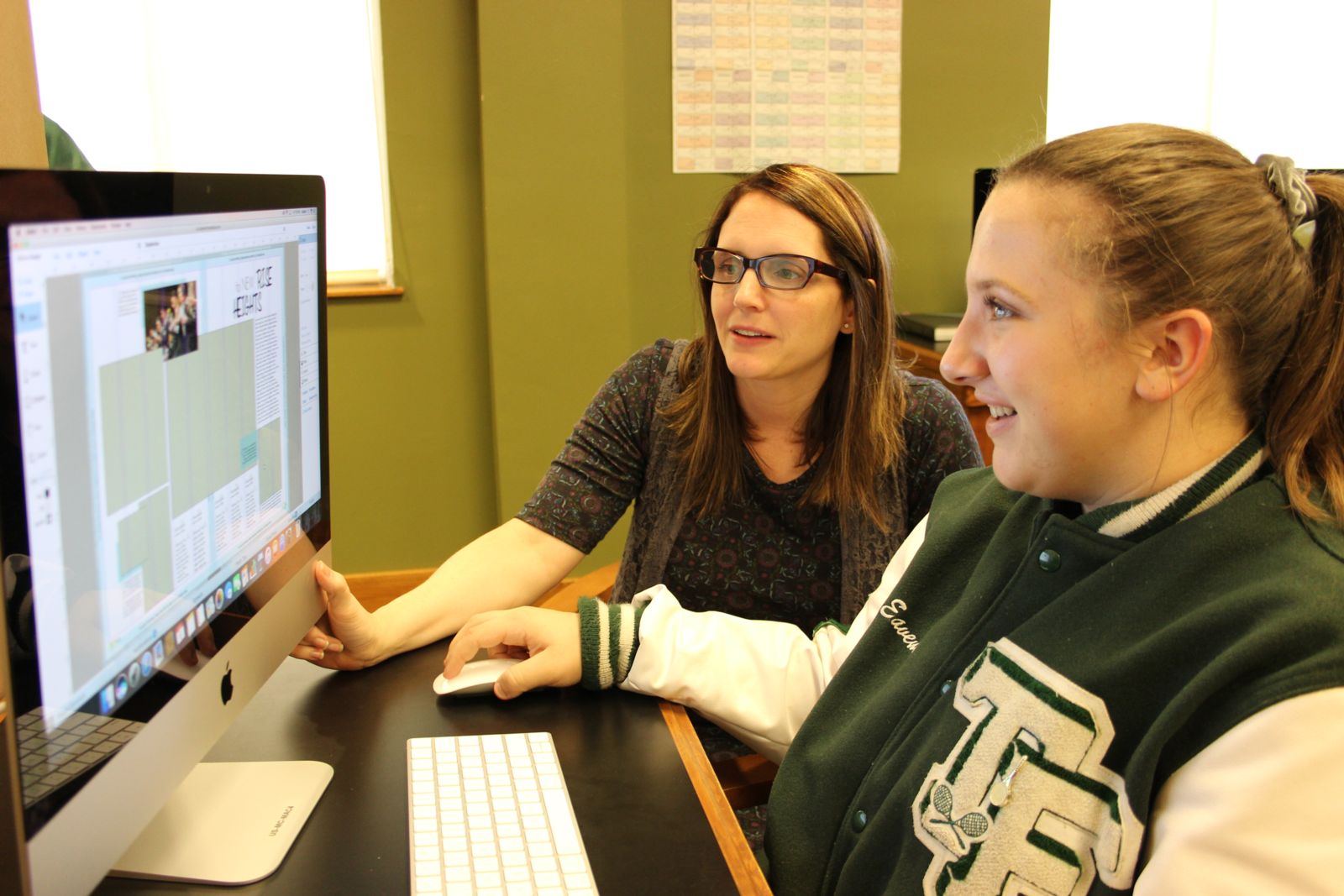 Shelby Day, Tallulah Falls School Upper School Media Specialist and Yearbook Adviser, recently received Certified Journalism Educator certification.
The CJE is given by the Journalism Education Association to teachers who demonstrate knowledge in the areas of writing, editing, graphic design and legal and ethical considerations in the world of scholastic journalism. The certification is comparable to National Teacher Certification in the scholastic journalism world.
For Day, this certification brings her full circle. She was involved in her own high school yearbook and served as editor her senior year. Her senior book received a top national award from the National Scholastic Press Association. After graduation, Day went on to the University of Georgia to earn a bachelor's degree in Journalism from the Henry W. Grady College of Journalism. She then worked in corporate America doing intercompany relations, public relations, charity campaigns and graphic design before deciding she wanted to return to school to become a teacher.
Day took over being the yearbook adviser and journalism teacher last year. She and her staff immediately rebranded the book by renaming it to fit better into the school culture. The student body voted on the new name. The book changed from being called The Retrospect to The Legend. She also added 64 pages to the book in order to cover more events and activities. She divided the yearbook into sections to allow more editors and leadership opportunities for staff members.
She expanded journalistic writing and photojournalism, making sure all yearbook staff members received the full journalism experience by teaching writing techniques, editing, design and photography.
Approaching the yearbook much like a coach does a team sport, she is there to teach initial skills, but then backs away to offer guidance and to facilitate student growth and creativity. Motivation is a key component for the staff and Day keeps them motivated with cupcakes, candy, flavored coffee creamer and lots of love and laughs.
Day credits much of her knowledge and experience to her own high school yearbook adviser, Ms. Bev Hall.
"Ms. Hall was an amazing leader who always had a witty comment to help us through yearbook deadlines and high school life in general. "I still keep in touch with her all these years later. She has been a huge influence and role model for me." Day said. "My five-year plan is for the TFS yearbook to win a national award. However, if I can inspire and make a lasting impression on some of my staff members, then that will also be its own kind of priceless reward."
Senior Grace Brewer of Clarkesville serves as the editor of The Legend. Grace is a four-year journalism/yearbook student and is on the National Scholastic Press Association Student Journalist Honor Roll.
"Every day when I walk into class, Mrs. Day brightens my day. She can always make me laugh when I am stressed out about meeting a deadline or finalizing a spread," Brewer said. "She has inspired me to pursue journalism and photography and been an amazing mentor along the way. She has set a new bar for what the yearbook should look like and I am so excited to see what we will accomplish this year."
Upper School Academic Dean Kim Popham said Day's amazing vision for the yearbook and her journalism students that is exhibited daily in her classroom.
"She continues to increase her knowledge by attending multiple conferences where she brings back many new innovative ideas to push the students to achieve their goals," Popham said. "Mrs. Day and her yearbook staff presented our high school theme which was quickly embraced by our faculty, "All In", that describe the level of commitment our students and faculty possess. Mrs. Day is a great example of this."
Photo:
Grace Brewer/Tallulah Falls School