News & Announcements
TFS junior travels to Disney for All-National Honor Ensembles showcase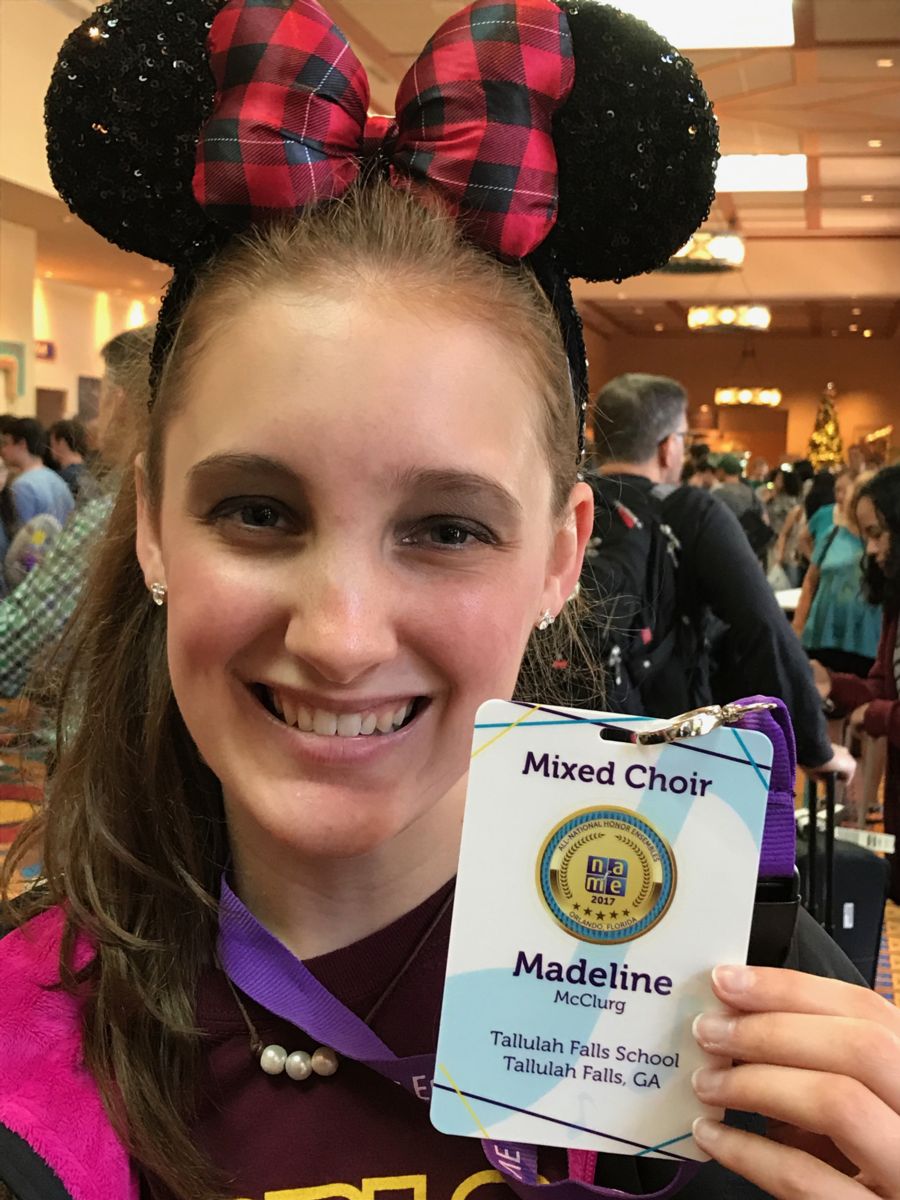 During the 2016-17 school year, along with other talented music students across the United States and overseas in military base schools, Tallulah Falls School junior Madeline McClurg practiced with dedication to gain a chair or part in her local, district, and state music honor ensembles.
McClurg, of Clarkesville, joined the "best of the best" for the National Association for Music Education's (NAfME) 2017 All-National Honor Ensembles in late November at Walt Disney World in Orlando, Florida.
"Participating in All-National Chorus has truly been life-changing. It has been the best chorus event I have participated in, and it has reminded me of how important music is and has even given me inspiration for my future," McClurg said. "That it was at Walt Disney World made it even more special! When different people from many states can come together and produce one beautiful sound, it is truly magical."
McClurg has taken voice and piano lessons for 11 years, and she has won numerous vocal awards. She also has 13 years of dance experience and has attended numerous ballet summer intensives, including Atlanta Ballet, Orlando Ballet, Ballet Tennessee, and Joffrey South. She has appeared in many stage productions at Habersham Community Theatre, including Spamalot, Charlotte's Web, Shrek the Musical, The King and I, Sound of Music, Damn Yankees, Annie, and Seussical the Musical. She also takes guitar lessons at TFS.
The All-National Honor Ensembles performers represent collaboration and creativity in its highest musical form. The All-National Honor Ensembles consist of a concert band, symphony orchestra, mixed choir, and jazz ensemble. Students were chosen through an audition process. The concert band and symphony orchestra each had 155 and 152 instrumentalists, respectively, the jazz ensemble 20 instrumentalists, and the mixed choir 281 vocalists. Eligible students have qualified for their state-level honor ensemble program and competed against top students for a spot in these national honor ensembles.
"It was amazing to look around me and see every single person so focused, dedicated, and having a constant positive attitude," McClurg said. "All-National Chorus was truly a blast, and it was an experience that I will carry with me forever."
"Our pride in Madeline and her many accomplishments is great," said President and Head of School Larry A. Peevy. "It has been a delight to see her artistic gifts nurtured here at TFS and in our community. We are always thrilled when the creativity of our students is recognized and applauded."
National Association for Music Education, among the world's largest arts education organizations, is the only association that addresses all aspects of music education. NAfME advocates at the local, state, and national levels; provides resources for teachers, parents, and administrators; hosts professional development events; and offers a variety of opportunities for students and teachers. With more than 60,000 members, the organization is the national voice of music education in the United States.