News & Announcements
TFS educator lauded for five decades of service to students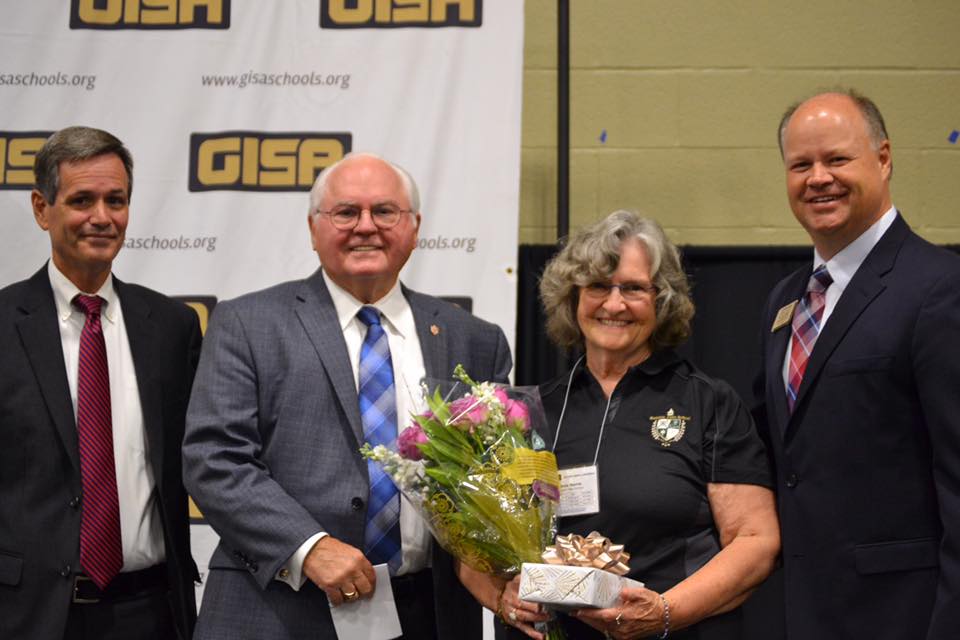 At the recent Georgia Independent School Association Conference, long-serving Tallulah Falls School math teacher Linda Harris of Demorest celebrated a rare honor – more than 50 years of teaching.
TFS President and Head of School Larry A. Peevy presented the award to Harris on Nov. 5.
"Solomon Ortiz stated that teachers are our greatest public servants; they spend their lives educating our young people and shaping our nation for tomorrow," Peevy said. "This teacher has given 54 years to educating young people – 50 of them at Tallulah Falls School and she continues strong with each day that passes."
Harris has taught math from seventh grade through AP Calculus and in recent years, dual-enrollment college algebra, college pre-calculus, college calculus.
While teaching math, she also earned her media specialist degree, and she works in the media center after school.
"Linda has not only given millions of hours to students but has been the lead faculty member for all of our teachers, new and veteran," Peevy said. "She has served behind the scenes on our hospitality committee making sure all our teachers feel special throughout the year. Alumni often contact her to ask about a math problem or have her tutor them or their children over the summer.
She serves a mentor to many, he said.
"Linda can also be observed during faculty meetings giving great advice and encouragement to her fellow teachers," Peevy added.
Harris said it was a surprise to receive the recognition at the GISA event.
"It was humbling to see the audience give me a standing ovation," she said. "I was honored that Dr. Peevy had arranged it all with the GISA staff and that Mrs. Popham had initiated the process. It was gratifying to receive so many congratulations from the other attendees as I went from place to place holding the beautiful bouquet of flowers presented to me. I am grateful the Lord has blessed me with the health and energy to get this far and that the successive presidents of the school have continued to allow me to teach at the best school in the state."
---
Photo courtesy of the Georgia Independent School Association
Shown, from left, are Georgia Independent School Association President Jeff Jackson, TFS President Head of School Larry A. Peevy, Linda Harris and GISA Vice President Stan Whitlock.