News & Announcements
TFS basketball girls match best start in three years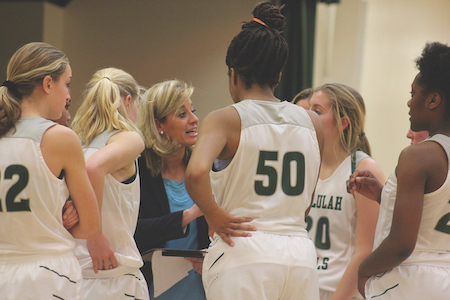 Published with permission of The Clayton Tribune
By Glendon Poe, sports editor

TALLULAH FALLS — There was a time when Brandy Corbett didn't think she would coach again.

Corbett, who is in her first year as the head coach of the Tallulah Falls School varsity girls basketball team, was juggling coaching and administrative duties at her alma mater, Jefferson High School, in the early 2000s. Add being married with two preschool-age children to the list, and it amounted to an overwhelming workload.
"It's very hard to be a good mother and be a good coach. It was even back then," Corbett said.
She had to make a change.
Corbett elected to get out of coaching. Not because she wanted to, but because it was what she determined was best for her family.
Now she's led the TFS girls to their best start in three years at the holiday break. At 8-3, the Indians matched the Tom Tilley-coached team's start from the 2015-16 season, a year it finished 13-12.
The Indians went 5-0 for the first time since 2015, as well. It's been surprising for both players and coaches.
"It was definitely a surprise for me because we've never started off that strong for as long as I've been here," senior Nyah Williams said. "And I think that's due to us working so hard in practice and really working as a team during games.
"The past few years it's really been a lot of individual play instead of working together as a team."
Williams scored a season-high 33 points to help the Lady Indians recover from a 16-point first-half deficit to beat Highlands (N.C.) 63-58 and earn their eighth victory at home on Dec. 14.
"(Highlands) shot really well and we struggled, but I don't know that I've had a team overcome a deficit like that, so I was really proud of them," Corbett said.
Williams shot 8 for 12 from the floor, scoring 21 of her 33 in the second half. Katy Corbett scored 11 points and Santy Dembele finished with 10.
The Lady Indians trailed 34-25 at halftime after outscoring Highlands 16-13 in the second period. TFS overcame 14 turnovers.
Corbett was an assistant with the team last season, in addition to serving as head coach for the volleyball team — something she hadn't done before.
"I was way out of my comfort zone," she said.
Tilley had a son playing basketball for the middle school. Corbett's daughter Katy played for Tilley's varsity girls at the same time. With Tilley interested in being a part of a staff that works with his son and Corbett feeling similarly about her daughter, Corbett agreed to advance from an assistant to become the varsity girls' head coach. Tilley left to coach the middle school boys.
Corbett's admittedly having a lot more fun in her return to head coaching with the TFS girls.
"My favorite thing has always been to coach young women the game of basketball," she said. "It's always great to see young women, who maybe haven't experienced as much success, begin to understand that they're getting better. That's fulfilling. Another part is that I get to coach my daughter, and that makes it all the more special."
Corbett is seeing her girls mature in the game. The Indians have been tested by opponents throughout the early portion of their schedule. Six of their 11 games were decided late in fourth quarters. They earned two wins by a single point, another win by two points and two more wins by fewer than 10 points.
"We had a foundation we built during the summer and that grew coming into the first day of practice," senior Mali Danavall said. "We're getting after it and just working better together as a team than we were the past couple of years."
Corbett said the biggest lesson she hopes her players take away from their start is to never concede and believe in what the team is trying to accomplish. She said the team still has work to do when it comes to playing with consistency, but she's liked the second-half responses.
"Even though we may create a large deficit for ourselves, if we just focus on defending, pulling down rebounds, getting in an offense and finding the open shooter, we can still come away with a win," Corbett said.
The Indians continue finding strength through their coach and energetic bench, Danavall said.
"Our coach is so dedicated to basketball that when she gets excited, it gets us all excited," Williams said. "And when we work together, magic happens. And it's just a really good feeling."
The Indians are dedicated to three goals this season: finish with a winning record, make the playoffs and establish a strong bond. Corbett said she sees the girls on track to reach all three of those goals.
With the exception of Williams, TFS didn't have many players with a lot of varsity playing experience coming into this season. Dembele, a junior, is in the starting rotation after rarely playing last year. Sophomores Katy Corbett and Brinson Hall were shoved into action after an injury left the team shorthanded last year, and both are playing significant minutes this season.
The coach, who believes in "tough love and expectations," said she feels blessed for the opportunity to be a head coach again and appreciates the work the girls are doing to improve themselves and the team.
The players know Corbett's loving-but-stern approach and make sure to fulfill their part of the plan.
"She's very good at scaring us into working hard on the court because we don't want to feel her wrath," Williams joked. "She's so passionate about the sport and inspires me to play hard."
Added Danavall: "She's a no-nonsense kind of woman. If you're a senior who doesn't have the right attitude, she won't take that."