News & Announcements
Next-Level Indians make lifelong dreams a reality on National Signing Day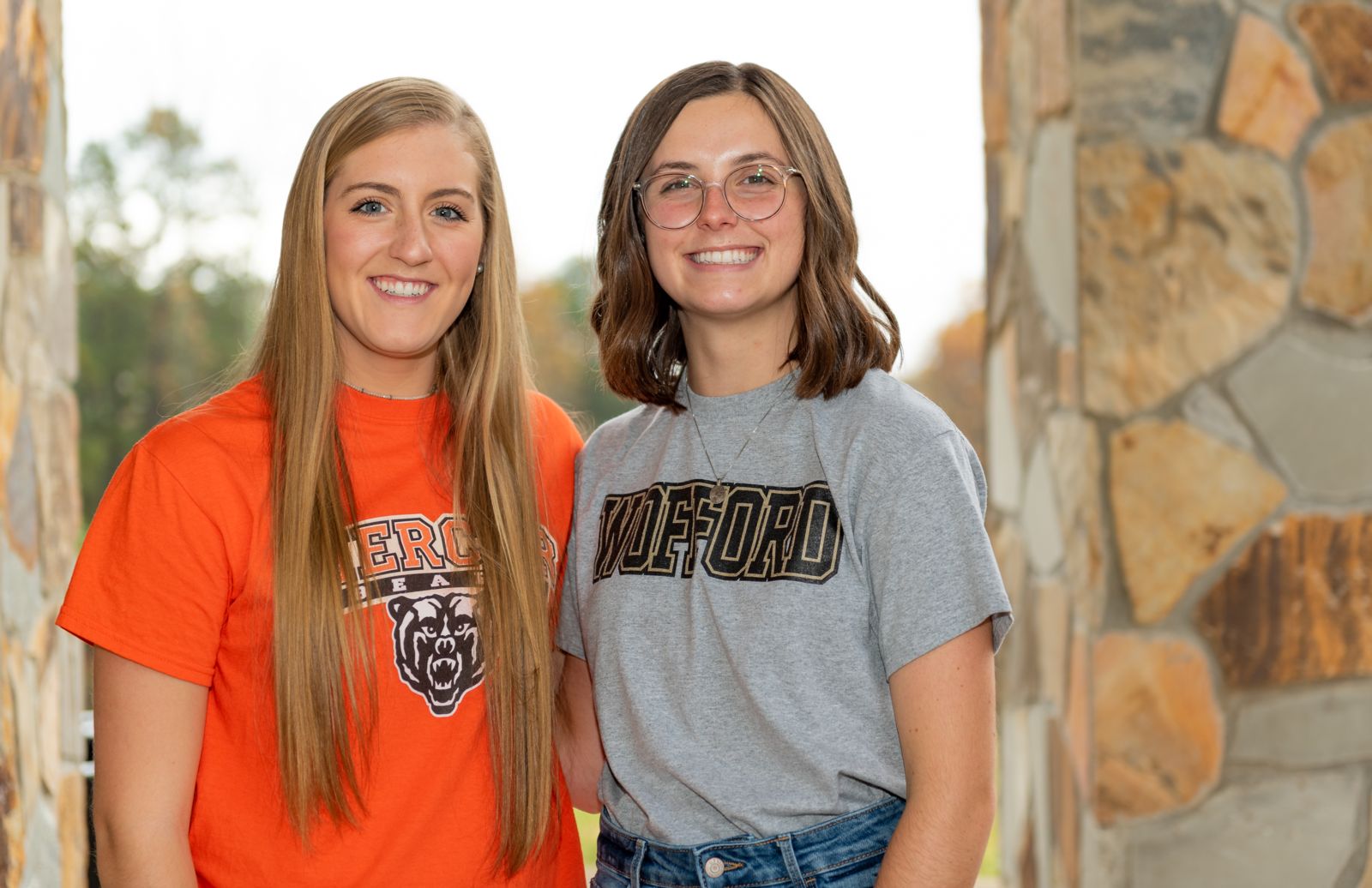 A pair of star student-athletes at Tallulah Falls School put pen to paper, making good on their verbal commitments to their respective college of choice. Maggie Jackson and Katy Corbett each had a separate signing ceremony on Wednesday, November 11, which was early National Signing Day.
MAGGIE JACKSON
Jackson, of Clarkesville, signed a national letter of intent to compete in golf for the gold and black Wofford College Terriers. Wofford is an NCAA Division-I school in the Southern Conference, located in Spartanburg, SC.
"Maggie has proven herself an outstanding student and athlete," says Wofford coach Angie Ridgeway. "No doubt, she will make an impact for us on the golf course and in the class room, as well as in the Wofford Community. I'm thrilled for her to become a Wofford Terrier and join us in 2021! Go Terriers!"
Jackson's teammates, coaches, and support system were in attendance as she saw a lifelong dream come to fruition.
"I am so happy for Maggie," says TFS golf coach Allen Campbell, who has worked with Jackson for many years. "She has worked so diligently since she was in middle school to accomplish this goal. Wofford will be getting a well-rounded and excellent student, golfer and above all an excellent person. I feel fortunate to have been a part of the process and know she will accomplish great things in the future."
Athletic Director Scott Neal said Jackson has been highly engaged and been a significant contributor to the golf program throughout her time at TFS.
"Maggie is the epitome of our slogan 'Be GREAT!,'" says Neal. She embodies the necessary traits of high-level education, golf, leadership and significance. She represents herself, family, and school with utmost integrity and honor. We are so proud of her many, many long, early and arduous hours of preparation, her 'better together' mentality, and her desire to serve others meaningfully. She has made a legacy leaving impact upon TFS golf."
The senior made her commitment to Wofford after what was a stellar summer season of tournament play. A top-ten ranked golfer in the state of Georgia, Jackson climbed her way up the rankings in the spring and summer of 2020. She finished 3rd (+4) at the GSGA Girls Championship in Savannah, 4th at Chateau Elan, 1st at Apple Mountain, 3rd at the Ga Club Junior Classic, and 7th in another tournament.
Jackson was the Area 2 individual low medalist in 2018 as a freshman and third in 2019 as a sophomore. She finished sixth at state in the sophomore season as well. She holds a share, or out-right owns, nearly every shooting record in school history.
KATY CORBETT
Corbett, of Lakemont, signed a national letter of intent to compete in beach volleyball for the orange and black Mercer Bears. Mercer is an NCAA Division-I school in the ASUN Conference, located in Macon, GA.
Corbett recently led the TFS Lady Indians to a sixth straight state playoff appearance, and second-ever Sweet 16.
Athletic Director Scott Neal said Corbett has been a stellar leader in both the volleyball and basketball programs. She also serves on the GHSA Student Athlete Advisory Council and is the TFS winner for the High School Heisman.
"Katy's TFS athletic career includes four state volleyball playoff appearances and two sweet 16 basketball teams," says Neal. "Her leadership is compelling, uniting and effective. Driven, humble, and a connector of people, she consistently helps others be their best while pursuing excellence herself. We are so proud of her accomplishments, but even more so of who she is every day!"
Volleyball coach Matt Heyl spoke at the ceremony about Corbett's growth as a player and as a person, and valued that in his program.
"Seeing that leadership, and how much you've grown, it's been amazing," says Heyl. "At the next level, in athletics and in academics, just being around those people, you're going to make that college even more special."
Heyl talked about how Corbett had been a leader from the very beginning, both on and off the court, and being a vocal, skill, and mental leader for the Lady Indians.
She will leave TFS as the record holder for single-game, single-season, and career kills, as well as all three categories for digs. The senior is a standout in basketball in addition to volleyball.