TFS

Varsity Boys Basketball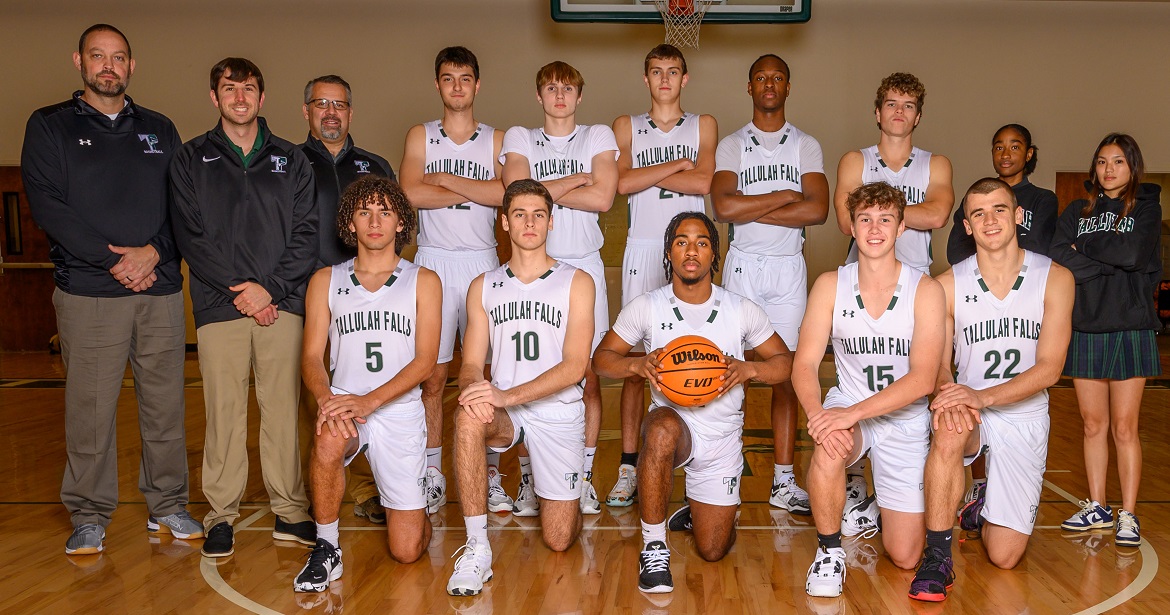 RECORD
0-0 (0-0 in Region 8-A DI)
| # | NAME | GRADE | HOMETOWN |
| --- | --- | --- | --- |
| 1 | Joey Lamm | SR | Nassau Bahamas |
| 4 | Anfernee Hanna | SR | Nassau, Bahamas |
| 5 | Diego Crotta | SR | Cornelia, GA |
| 10 | Vlad Popescu | SR | Ploiesti, Romania |
| 12 | Lazar Grujanic | SR | Belgrade, Serbia |
| 14 | Krystian Jankiewicz | SR | Warsaw, Poland |
| 15 | Lincoln Hall | SR | Mt. Airy, GA |
| 21 | Teryk Tilley | SO | Tallulah Falls, GA |
| 22 | Zakhar Valasiuk | JR | Kobrin, Belarus |
| 24 | Sam Ketch | JR | Clarkesville, GA |
| MGR | Angelina Kim | JR | Buford, GA |
State: '05-'06 • '06-'07 • '16-'17 • '17-'18 • '19-'20 • '20-'21 • '21-'22 • '22-'23
SWEET 16: 2021-22 • 2016-17 • 2006-07
Region Champions: 2020-21
Region Runner-Up: 2021-22
NEXT LEVEL INDIANS
Anfernee Hanna ('23) - Motlow State Community College
Krystian Jankiewicz ('23) - Iowa Western Community College
Keith Kersey ('99) - Piedmont College
Daniel Lampl ('07) - Piedmont College
Wilfred Moise ('00) - Hostos Community College
Sanson Navarette ('17) - Montevallo College
George Tabi ('02) - Reinhardt College
Michael Van Hooser ('17) - Middle Tennessee State University
The boys basketball team plays its home games in the Student Activity Center on the Middle School campus.
LINKS
Order Team & Individual Photos
COACHES
Cody Coleman – Head Coach
cody.coleman@tallulahfalls.org
Cody Coleman enter his 5th season (65-35) over the Indians basketball team, and in 2021-22 led the program to its third 20-win season in school history and also third-ever Sweet 16. In 2020-21, his Indians team won its first-ever Region Championship. In his four full seasons at TFS, Coleman has guided the team to state each year, and a #2 state ranking in '21-'22. He was named Region Coach of the Year in '20-'21. Coleman played basketball at Rabun County High School and later at the University of North Georgia. At UNG, he was recognized as a Presidential Scholar-Athlete and received the Department of Athletics All-Academic Award. He graduated from UNG with an undergraduate degree in history and a graduate degree in Public Administration. Coleman teaches history at the Upper School.
Cody Coleman Coaching Record at TFS
| | | |
| --- | --- | --- |
| YEAR | W-L | ACCOMPLISHMENTS |
| 2022-23 | 17-10 | State Rnd 1, #4 State Ranking |
| 2021-22 | 20-6 | State Sweet 16, Region Runner-Up, #2 State Ranking |
| 2020-21 | 18-5 | State Rnd 1, Region Champions, #9 State Ranking |
| 2019-20 | 10-14 | State Rnd 1 |