TFS

Varsity Boys Basketball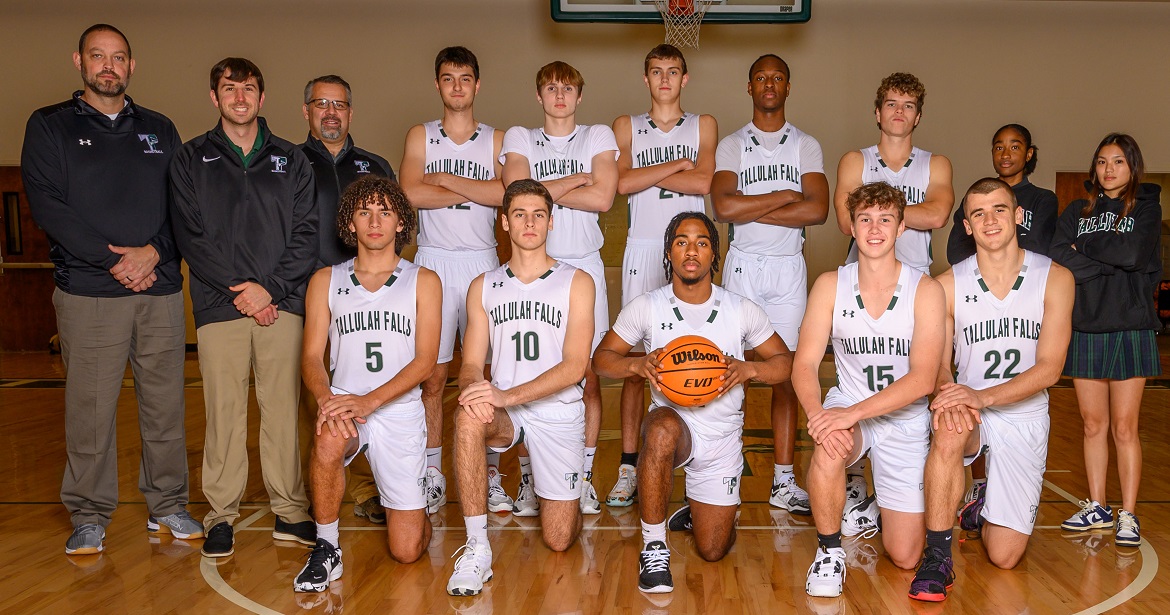 RECORD
4-1 (0-0 in Region 8-A DI)
#5 State Ranking
| # | NAME | GRADE | HOMETOWN |
| --- | --- | --- | --- |
| 1 | Joey Lamm | SR | Nassau Bahamas |
| 4 | Anfernee Hanna | SR | Nassau, Bahamas |
| 5 | Diego Crotta | SR | Cornelia, GA |
| 10 | Vlad Popescu | SR | Ploiesti, Romania |
| 12 | Lazar Grujanic | SR | Belgrade, Serbia |
| 14 | Krystian Jankiewicz | SR | Warsaw, Poland |
| 15 | Lincoln Hall | SR | Mt. Airy, GA |
| 21 | Teryk Tilley | SO | Tallulah Falls, GA |
| 22 | Zakhar Valasiuk | JR | Kobrin, Belarus |
| 23 | KC Respress | SO | Cornelia, GA |
| 24 | Sam Ketch | JR | Clarkesville, GA |
| MGR | Angelina Kim | JR | Buford, GA |
State: '05-'06 • '06-'07 • '16-'17 • '17-'18 • '19-'20 • '20-'21 • '21-'22
SWEET 16: 2021-22 • 2016-17 • 2006-07
Region Champions: 2020-21
Region Runner-Up: 2021-22
NEXT LEVEL INDIANS
Keith Kersey ('99) - Piedmont College
Daniel Lampl ('07) - Piedmont College
Wilfred Moise ('00) - Hostos Community College
Sanson Navarette ('17) - Montevallo College
George Tabi ('02) - Reinhardt College
Michael Van Hooser ('17) - Middle Tennessee State University
The boys basketball team plays its home games in the Student Activity Center on the Middle School campus.
LINKS
Order Team & Individual Photos
COACHES
Cody Coleman – Head Coach
cody.coleman@tallulahfalls.org
Cody Coleman enter his 4th season (48-25) over the Indians basketball team, and in 2021-22 led the program to its third 20-win season in school history and also third-ever Sweet 16. In 2020-21, his Indians team won its first-ever Region Championship. In his three full seasons at TFS, Coleman has guided the team to state each year, and a #2 state ranking in '21-'22. He was named Region Coach of the Year in '20-'21. Coleman played basketball at Rabun County High School and later at the University of North Georgia. At UNG, he was recognized as a Presidential Scholar-Athlete and received the Department of Athletics All-Academic Award. He graduated from UNG with an undergraduate degree in history and a graduate degree in Public Administration. Coleman teaches history at the Upper School.
Cody Coleman Coaching Record at TFS
| | | |
| --- | --- | --- |
| YEAR | W-L | ACCOMPLISHMENTS |
| 2021-22 | 20-6 | State Sweet 16, Region Runner-Up, #2 State Ranking |
| 2020-21 | 18-5 | State Rnd 1, Region Champions, #9 State Ranking |
| 2019-20 | 10-14 | State Rnd 1 |
---
Corey Page – Assistant Coach
corey.page@tallulahfalls.org
Corey Page is an alumni from Rabun County High School where he played all four years of basketball and baseball. He comes from a long line of coaches where his father has coached for 35 years and his bother and brother in law are also head varsity coaches in the state of Georgia. His love for the game started as young as birth for the fact he was raised in a gym with his dad. Corey has been an assistant varsity coach for 4 years and also has coached travel ball for 4 years. One of his favorite quotes from Phil Jackson, "The strength of the team is each individual member. The strength of each member is the team." Corey is married to his wife Savannah Page and have two children, Reeves Page and Kyler Page and another on the way. He is part of the Reeves Ace Hardware family in Clayton, GA where he manages the building supply store.
---
Matt Crotta – Assistant Coach
matt.crotta@tallulahfalls.org
Matt Crotta currently serves as an Upper School Spanish teacher as well as the Head Varsity Golf Coach. Crotta brings 40-plus seasons of coaching experience to Tallulah Falls Athletics. He spent the previous 13 years prior to TFS within the New England Preparatory School Athletic Council (NEPSAC) as head coach for various levels of lacrosse, soccer, basketball, and tennis. In 2007 and 2008, Coach Crotta assisted in coaching the Hudson Valley Hawks in the National Professional Basketball League in which the Hawks won the 2007 championship. In his spare time, Coach Crotta travels to various Spanish speaking countries, contributes to local community outreaches, and spends time with his wife Veronica, his four children, and his dog, Landon.