Athletics News
TFS recognizes cross country seniors at Harrier Harvest meet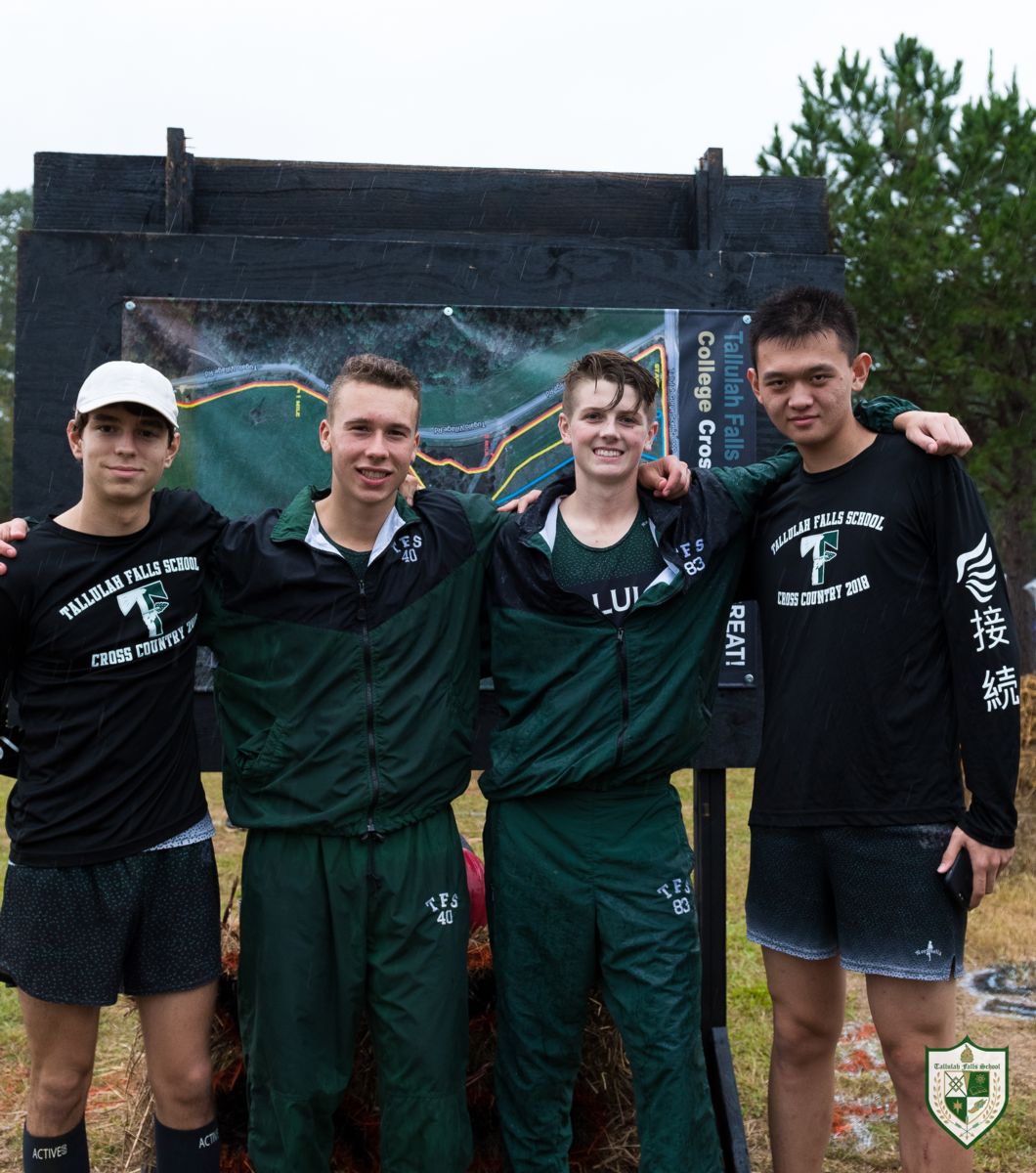 Drizzle, rain, short slippery hills and water pooled in the path of the former Tallulah Falls rail line couldn't dampen 341 Harrier Harvest runners in the 5K quest one week before Area/Region meets, especially for Senior Day.
According to Athletic Director Scott Neal, team leader Collin Kelly, a sophomore from Demorest (meet logistics) and Sarah Edwards, a junior from Sautee Nacoochee (senior recognition: team posters, individual senior sunflowers, TFS shadow boxes) helped to create a unique experience unlike regular cross country meets. Large decorated hay bales, smaller square bales to jump over at each mile, eclectic music blaring and loyal fans shouting encouragement provide unforgettable memories, Neal said.
TFS girls placed fourth of 11 scoring schools. "Junior Lucy Alexander of Clarkesville, junior Maria Whitson of Alto and freshman Sophie Alexander of Clarkesville ran in a pack the whole race – fueling each other – to place 17th through 19th, respectively," Neal said.
Freshman Sophie Herrera of Mt. Airy was only four spots back, Neal said. Juniors Laurel Smith of Clayton and Edwards ran a course personal best. [Lucy] Alexander and Whitson moved onto the TFS College Course Legacy List (those under 25:00) despite the course being slightly longer and soggier than last year, he said.
TFS boys, sans 10 sophomores away on the annual sophomore trip – two of which run with the varsity team – managed to still place ninth of 13 teams.
Seniors Zac Smith of Clarkesville, Caleb Griffis of Martin, Will Jackson of Clarkesville and Xing Fan of China finished their home course careers with a myriad of memories. Junior Darren Fortner of Mt. Airy, freshman Ethan Wanner of Toccoa and junior Matthew Justice of Tiger ran within about a minute of their personal record, a solid feat on this course, Neal said.
"I am quite proud of the ownership the TFS runners display in the cross country program, seeking to host and lead GREAT races, to create a "Season of Significance," and to share with their peers from other schools that intense competition, a little imagination, and a concerted effort to create fun can leave a legacy," Neal said.
Neal expressed thanks to Susan Chester for continuing the tradition of the winning teams receiving the "world's best apple pie."
"Thanks, too, to the Edwards and Whitson families providing pies for individual winners, to TFS staff members Steve Wagner, Justin Holbrook and Lowell Hamilton for their hours in meet preparation, our security staff and to our volunteers for making this growing event a memorable event for the hundreds of guests who visit our beautiful TFS campus," Neal said.
Full results: http://ga.milesplit.com/meets/318788/results#.W8abshNKgWq
TFS results: http://ga.milesplit.com/meets/318788/teams/4745#.W8cmlxNKgWo
---
Photos courtesy of Tallulah Falls School
Shown, from left, are Tallulah Falls School seniors Zac Smith of Clarkesville, Caleb Griffis of Martin, Will Jackson of Clarkesville and Xin Fan of China. The TFS cross country team recognized these student-athletes prior to the start of the Harrier Harvest meet.